44 Democrats Exempted Awans From Background Checks Before Granting Access To Classified Intel
ZeroHedge.com
As the Russian "hacking" episode continues to mire the Trump administration in nebulous innuendo and daily claims of collusion, Luke Rosiak of the Daily Caller reminds us that House Democrats participated in an actual data breachconducted by Pakistani-nationals who were given access to highly sensitive intelligence as part of their duties providing IT support to members of Congress – and in particular, Reps. Debbie Wasserman Schultz (D-FL) and Gregory Meeks (D-NY).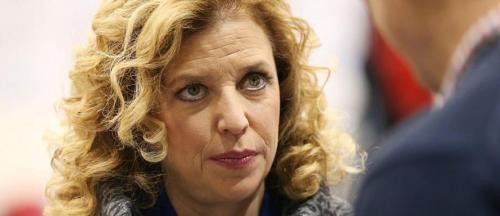 "Every one of the 44 House Democrats who hired Pakistan-born IT aides who later allegedly made "unauthorized access" to congressional data appears to have chosen to exempt them from background checks," writes Rosiak.
All of them appear to have waived background checks on Imran Awan and his family members, even though the family of server administrators could collectively read all the emails and files of 1 in 5 House Democrats, and despite background checks being recommended for such positions, according to an inspector general's report. The House security policy requires offices to fill out a form attesting that they've initiated background checks, but it also includes a loophole allowing them to simply say that another member vouched for them. –Daily Caller 
Had any of the 44 House Democrats performed background checks, they would have discovered several red flags in Abid Awan's past – including "a $1.1 million bankruptcy, six lawsuits against him or a company he owned; and at least three misdemeanor convictions including for DUI and driving on a suspended license, according to Virginia court records," notes Rosiak.
Meanwhile, Schultz introduced a bill on Monday that would require background checks on all Americans purchasing ammunition. "Without bullets a gun is just a hunk of useless metal," she said, describing ammunition the "loophole" when it comes to gun control.
Let's pause to appreciate Rep. Louie Gohmert's reaction when he learns that the Awans were telecommuting and had full access to House Democratic computer systems from Pakistan.
A background check would have also revealed that The Awans operated a used car dealership known as "CIA" in court filings, which has all the markings of a money laundering operation:
On its Facebook page, CIA's "staff" were fake personalities such as "James Falls O'Brien," whose photo was taken from a hairstyle model catalog, and "Jade Julia," whose image came from a web page called "Beautiful Girls Wallpaper."

If a customer showed up looking to buy a car from Cars International A, often referred to as CIA, Abid Awan – who was managing partner of the dealership while also earning $160,000 handling IT for House Democrats – would frequently simply go across the street to longstanding dealership called AAA Motors and get one. –Daily Caller
The Awans allegedly borrowed, laundered and never repaid a $100,000 from a shady Iraqi expat physician linked to Hezbollah (and who oddly advised the Bush administration on rebuilding Iraq). When the Awans stopped paying vendors of their 'CIA' dealership, a U.S. Congressman from Florida, Theo Deutch, began paying a monthly salary to a man who had threatened to sue the Awans.
The brothers had numerous additional sources of income, all of which seemed to disappear. While they were supposedly working for the House, the brothers were running a car dealership full-time that didn't pay its vendors, and after one – Rao Abbas – threatened to sue them, he began receiving a paycheck from Rep. Theodore Deutch (D-FL), who like Wasserman Schultz represents Florida. –Daily Caller
Pakistani spies?
"Based on the modest way Awan was living, it is my opinion that he was sending most of his money to a group or criminal organization that could very well be connected with the Pakistani government," said Wayne Black – a private investigator who worked in Janet Reno's Miami public corruption unit, adding "My instincts tell me Awan was probably operating a foreign intelligence gathering operation on US soil," sentiment echoed by Fox's Judge Andrew Napolitano.
Meanwhile, an internal House investigation concluded that the Awans impersonated at least 15 U.S. House members for whom they did not work – using their credentials to log into Congressional servers, before migrating data to a single server, which was stolen during the investigation, all while covering their tracks – reports Luke Rosiak of the Daily Caller.
This, and much more is detailed in a presentation assembled the House's internal watchdog – the Office of the Inspector General, after a four-month internal probe.
The presentation, written by the House's Office of the Inspector General, reported under the bold heading "UNAUTHORIZED ACCESS" that "5 shared employee system administrators have collectively logged into 15 member offices and the Democratic Caucus although they were not employed by the offices they accessed." -DC
One systems administrator "logged into a member's office two months after he was terminated from that office," reads the investigative summary.
There are strong indications that many of the 44 members' data — including personal information of constituents seeking help — was entirely out of those members' possession, and instead was stored on the House Democratic Caucus server. The aggregation of multiple members' data would mean all that data was absconded with, because authorities said that entire serverphysically disappeared while it was being monitored by police. -DC
The OIG also concluded that the Awans' behavior appeared to be a "classic method for insiders to exfiltrate data from an organization," as well as indications that a House server was "being used for nefarious purposes and elevated the risk that individuals could be reading and/or removing information," and "could be used to store documents taken from other offices," the Caller reports.
A House committee staffer close to the probe told The Daily Caller that "the data was always out of [the members'] possession. It was a breach. They were using the House Democratic Caucus as their central service warehouse."
"All 5 of the shared employee system administrators collectively logged onto the Caucus system 5,735 times, an average of 27 times per day… This is considered unusual since computers in other offices managed by these shared employees were accessed in total less than 60 times," the presentation reads.
The internal document also shoots down any notion that the access was for some legitimate purpose – indicating "This pattern of login activity suggests steps are being taken to conceal their activity."
A second presentation shows that shortly before the election, their alleged behavior got even worse. "During September 2016, shared employee continued to use Democratic Caucus computers in anomalous ways:

Logged onto laptop as system administrator
Changed identity and logged onto Democratic Caucus server using 17 other user account credentials
Some credentials belonged to Members
The shared employee did not work for 9 of the 17 offices to which these user accounts belonged."
Without even considering espionage, Under the Computer Fraud and Abuse Act (CFAA), simply accessing a computer and obtaining information carries a sentence of up to 10 years for more than one conviction of the same abuse. Trespassing on a government computer also carries a 10 year sentence. You can see the rest of the CFAA penalties below, many of which appear to fit the Awan case: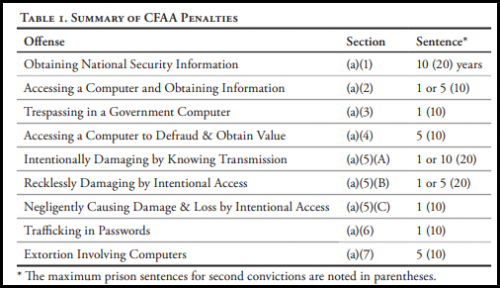 While each violation above carries its own penalties, let's look at the first one; National Security violations Under the CFAA, a felony: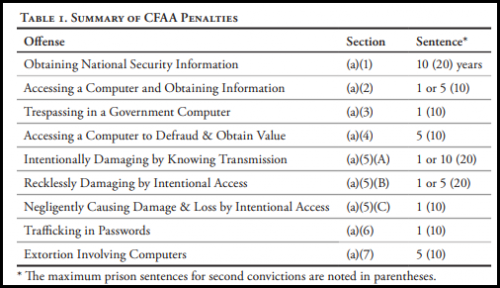 Double standards
Meanwhile, Wasserman Schultz was the chair of the DNC when Wikileaks published leaked emails from the organization, along with Hillary Clinton and her campaign manager John Podesta. Schultz and other Democrats have called the breach "an act of war" and "an assault on our democracy," notes Luke Rosiak.
But there is no indication Democrats put those concerns into practice when they entrusted the Pakistani dual citizens with their data, nor when suspicious activity was detected. Police banned the suspects from the network after the IG report, but Wasserman Schultz kept Imran on staff anyway. He was in the building and in possession of a laptop with the username RepDWS months later, according to an April 6, 2017 police report.

The House security policy, HISPOL16, says "House Offices shall… Ensure background checks, as defined in this policy, have been conducted on Privileged Users." It includes quarterly reviews of privileged accounts' appropriateness. By the time the policy was enacted, some members had dropped the Awans for assorted reasons, including Kyrsten Sinema of Arizona in early 2015 for what her spokesperson called "incompetence." –Daily Caller
Every one of the 44 House Democrats who hired Pakistan-born IT aides who later allegedly made "unauthorized access" to congressional data appears to have chosen to exempt them from background checks. https://t.co/0BDiOg44mo

— Nick Short (@PoliticalShort) April 2, 2018
That said, the same Democrats whose hair is on fire over the Russian hacking narrative simply didn't care about Pakistani foreign nationals infiltrating their network.
And a reminder:
As we learn 44 Dems waived background checks on the #AwanBrothers, let's not forget Hillary let Platte River Networks work on her server & MOVE IT with CLASSIFIED INFO before they signed a contract. No background checks

Dems don't care about Nat'l Security

Vault Part 1; pgs 5-7 pic.twitter.com/TayqJcd3AF

— Katica (@GOPPollAnalyst) April 2, 2018
To read more about the Awans, take a look at the extensive reporting below by Luke Rosiak:
Imran Awan: A Continuing DCNF Investigative Group Series
___
http://www.zerohedge.com/news/2018-04-02/44-democrats-exempted-awans-background-checks-granting-access-classified-intel