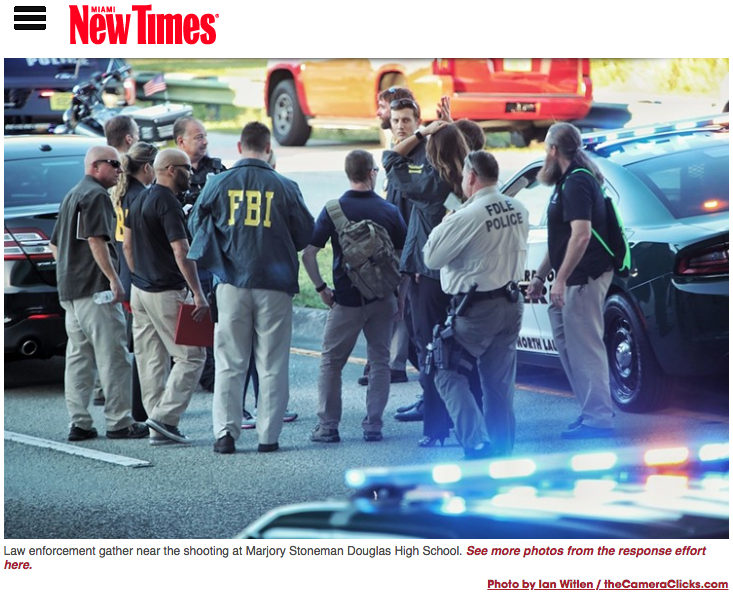 Stoneman Douglas High Shooter Nikolas Cruz Killed 17 People
JERRY IANNELLI | FEBRUARY 14, 2018 | 3:12PM
A gunman has apparently opened fire at Marjory Stoneman Douglas High School in Parkland, just west of Deerfield Beach. The Broward County Sheriff's Office (BSO) announced moments ago that multiple victims had been reported at the scene. The nearby Coral Springs Police Department has instructed residents to avoid the area and told teachers and students to remain on lockdown until further notice.
Broward County Sheriff Scott Israel confirmed in a press conference just before 6:30 p.m. that 17 people had died. Israel said the suspect, 19-year-old Nikolas de Jesus Cruz, used an AR-15 rifle to spray bullets across the school. Israel said he had "countless" magazines on his person. Twelve people were killed inside the school, two victims were shot outside on school grounds, and another person was shot on the street. Two other victims later died at the hospital.
Israel said three people are in critical condition, while three more are in stable condition at Broward Health North hospital. He added that 16 people, in total, were treated for gunshot wounds within the Broward Health system. Cruz was also treated at Broward Health North for injuries he sustained while conducting the attack.
BSO has confirmed that police have apprehended one possible suspect who had fled. Israel told reporters that Cruz was a recent graduate who had been reported in the past for making threats at the school. Israel said Cruz had ultimately been thrown out of school for "disciplinary reasons." The Miami Herald spoke to one Douglas High math teacher who said Cruz had been banned from entering the school while wearing a backpack.
"Students/Teachers #Douglas High School: Remain barricaded inside until police reach you," Coral Springs Police warned via Twitter earlier this afternoon. Nearly 3,000 students attend the school. 
#UPDATE: Broward Sheriff: Shooting suspect was expelled for disciplinary reasons pic.twitter.com/IjXAiU2OxI

— WSVN 7 News (@wsvn) February 14, 2018
http://twitter.com/TheCaptainAidan/status/963868088683900931?ref_src=twsrc%5Etfw&ref_url=http%3A%2F%2Fwww.miaminewtimes.com%2Fnews%2Fparkland-school-shooting-in-south-florida-10086655
Suspect Nikolaus Cruz, 19, is in custody. #stonemandouglasshooting

— Broward Sheriff (@browardsheriff) February 14, 2018
One student posted graphic video of the shooting from inside the school. The clip shows a group of students huddling in a corner as shots ring out through the building:
My little brother just sent me this video of the swat team evacuating his classroom at stoneman douglas. So scary but glad he's safe. @nbc6 @CBSMiami @NBCNews @wsvn @CBSNews pic.twitter.com/XNTtra221q

— Melody (@Melody_Ball) February 14, 2018
According to news cameras hovering over the scene, the school appears to be in a state of chaos: Blood can be seen on the sidewalk, and students have been filmed receiving CPR. Students ran out of the school just before 3:10 p.m.:
Students at Stoneman Douglas High School in Parkland, Florida flee amid reports of a shooting at the school. https://t.co/O0pXTKDQ3y pic.twitter.com/s53xK8mcBp

— ABC News (@ABC) February 14, 2018
Traffic outside the school has frozen amid the chaos: 
— Grumpyhaus (@Grumpyhaus) February 14, 2018
This is a breaking story. This post will be updated.