How is this gender transitioning of children even legal?!
SOTN Editor's Note:
The first article posted below clearly proves that Angelina Jolie and Brad Pitt were dressing up their 3 year old daughter Shiloh in preparation for a gender transition later on in life.
The second article posted below the first one indicates that "later on" is now.
These two parents ought to be prosecuted for child abuse to the fullest extent of the law.  Shiloh's entire gender transition scheme was obviously planned out well in advance.
There is something very wrong in America these days. Very wrong indeed!
State of the Nation
August 23, 2017
---
Mag: Brangelina Dressing Shiloh Boyish
By LUCHINA FISHER
ABC News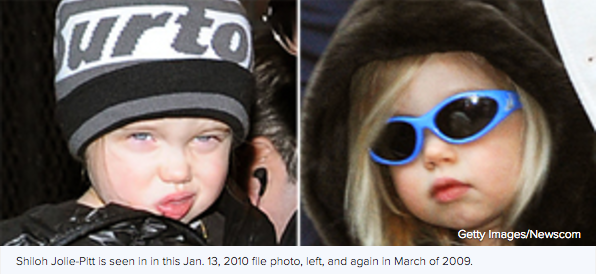 Wearing boys' clothes and a new boyish haircut, Shiloh Jolie-Pitt looks more like famous father Brad Pitt these days than equally famous mom Angelina Jolie.
The 3-year-old's tomboyish look has tongues wagging, and last week's cover of Life & Style magazine asking, "Why Is Angelina Turning Shiloh into a Boy?"
But one parenting expert thinks everyone should simmer down and let the child be a child.
"What Shiloh is doing now at 3 is very age-appropriate," Michelle Golland, a clinical psychologist and MomLogic.com expert, told ABCNews.com. "Kids take on different identities. And she has older brothers. In some ways, she's going to aspire to be like them."
Golland said she thinks Jolie and Pitt are taking a healthy approach to Shiloh's self-expression. "I think they are doing exactly what they should do," she said.