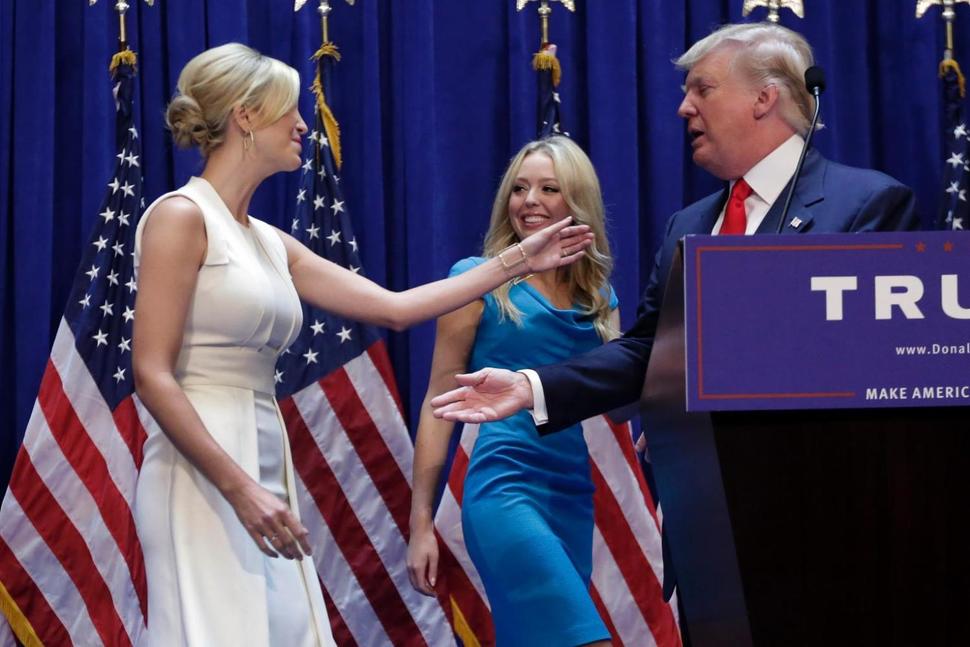 Donald Trump with daughters Ivanka Trump, left, and Tiffany Trump, after his announcement that he will seek the Republican nomination for president in June.  
RICHARD DREW/AP
By NANCY BENAC, Associated Press
WASHINGTON (AP) — Six-year-old Ivanka Trump was furious: She'd gotten a Barbie for Christmas while her two brothers got Legos and an Erector Set.
So she grabbed some super glue, locked the bedroom door and built an unbreakable Lego model of Trump Tower.
"My father, in scolding me, was never so proud," she recounted years later.
That headstrong little girl is now a trusted political adviser to her father, and a willowy walking advertisement for her own line of jewelry, clothing, shoes and more, as well as a power player in the Trump real estate empire.
Ivanka Trump Shows Off Tiny Baby Bump and Pregnancy Glow at NYC Ballet  •  Entertainment Tonight
She's the rare executive vice president whose skill set includes an ability to walk the job on a construction site in stilettos.
("If you do so," she once warned, "you better be able to walk without too much drama around it.")
Her father, by contrast, is the very definition of drama — in his presidential campaign, with his three marriages and in his brash approach to life.
Ivanka Trump's speech is as measured as her father's is unrestrained. Her Instagram, Facebook and Pinterest accounts project an oh-so-curated image that is equal parts fashionista, doting mother, corporate deal-maker and cheerleader for her hashtagged cause, #WomenWhoWork.
Sometimes she achieves harmonic convergence.
For example, her back-to-school photo on IvankaTrump.com documenting the contents of daughter Arabella's preschool backpack. It included the 4-year-old's "favorite Ivanka Trump sandals."
As for politics, Trump, 33, plays down her influence in her father's quest for the White House.
But Donald Trump volunteers Ivanka's name when asked whose advice he values. It was Ivanka who introduced her father when he announced his campaign for president. It was Ivanka who huddled with him during the breaks when the Republican debates heated up.
"She's got great sensibility," he says, with obvious admiration.
In one debate, he even suggested her for a place on the $10 bill (with Rosa Parks as an alternative.) And, years ago, there was the time when he complimented her figure and joked that if she "weren't my daughter, perhaps I'd be dating her."
Ivanka Trump declined to be interviewed and her father's campaign declined to define what she's doing for the campaign. But a person familiar with their interactions, who spoke on condition of anonymity because discussion of internal conversations was not authorized, says Ivanka has helped with campaign messaging and helped develop her father's tax plan.
When he was criticized for making derogatory remarks about women, he pushed back with a testimonial of sorts from Ivanka and his current wife, Melania. Both, he says, have attested to his "great respect for women."
Trump the candidate has promised that both women will be "out very much on the campaign trail." But his wife, a former model, appears content to let Ivanka take the lead.
It's a role Ivanka is comfortable with — in business if not in politics.
As a college student, she already was looking past modeling gigs to bigger things. She liked to scan the New York skyline and imagine which "patch of sky maybe one of my buildings will be in."
She laid out those aspirations In "Born Rich," a 2003 documentary that a fabulously wealthy classmate made about his fabulously wealthy friends. While some of the others were conflicted about their lives of wealth and privilege, Trump had gotten over any angst about life in her famous family's shadow.
"It's not a bad shadow to be under," she said.
As for her dream of altering skylines, it's now her reality as the Trump Organization's executive vice president for development and acquisitions. Deals in Rio de Janeiro and Vancouver are in the pipeline. She helped land the Doral Resort & Spa deal in Florida while nine months pregnant with Arabella. Now five months pregnant with her third child, she was in Washington last week checking on redevelopment of the Old Post Office Pavilion as a Trump hotel.
One measure of her intensity: "When I write with a ball point pen, I press so hard it's like Braille on the opposite side of the paper," Trump says on her website.
But she also says she tries to leave the office by 6 p.m. for family time at her Park Avenue apartment before resuming work later in the evening, resigned to five hours or less of sleep. Trump converted to Judaism before marrying her husband, real estate developer and publisher Jared Kushner, and the family puts business on hold to observe the Sabbath.
"From Friday to Saturday we don't do anything but hang out with one another," Trump told Vogue this year.
If anything, her position in the Trump real estate realm has only increased as her father spends more time on the campaign. She and her two brothers from Trump's first marriage all work in the Trump Organization, one floor down from their father's 26th floor suite — in that tower she once replicated with Legos. There are also two younger Trump children from her father's second and third marriages.
Trump is circumspect about her own politics — she donates about equally to Democrats and Republicans, and counts Chelsea Clinton as a good friend — but says her father would be "excellent as a president."
She's as generous with superlatives as he is, calling him an "unbelievable leader" and saying she's "incredibly proud" of him.
Trump made those remarks at a recent Fortune magazine "Most Powerful Women Summit," where her arrival on stage in a sleek black dress and towering leopard-print heels triggered murmurs of admiration. The audience applauded at word of her pregnancy, and laughed along when she joked about a new baby "adding another layer of chaos" to life.
She spoke of her various enterprises as all about building the Trump brand. She seemed keenly aware that getting too deeply involved in a polarized political race wouldn't necessarily be advantageous when pushing Ivanka Trump bangles and bags to millennials of all political persuasions.
"Regardless of where you fall on the political spectrum," she said of her father's candidacy, "I think everyone can appreciate the fact that he's creating dialogue around some very real issues."
Associated Press writer Jill Colvin contributed to this report.