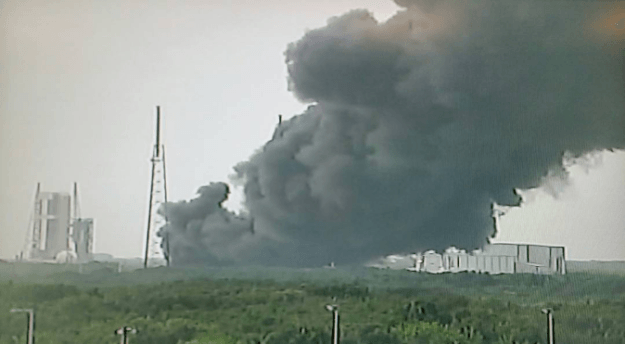 A SpaceX Falcon 9 rocket just exploded at Cape Canaveral
by Matt Burns
TechCrunch.com
According to numerous eyewitness reports, a SpaceX Falcon 9 rocket just exploded during a test on a launch pad at Cape Canaveral. This rocket was set to launch on Saturday, September 3 on a mission to deliver Facebook's first satellite to orbit. The status of the payload is unknown at this time.
The Associated Press is now stating that the rocket exploded during a test.
We reached out to SpaceX for confirmation and details of the explosion. They have yet to release a statement or respond.
This rocket was scheduled to launch the Amos-6 communication satellite, which among other functions included the capabilities for Facebook to spot-beam broadband for Facebook's Internet.org initiative. Facebook and France-based satellite provider Eutelsat spent $95 million for a five year lease on the satellite's Ka-band communication array.
The local county emergency management office states there is no threat to the general public in the surrounding areas.
Developing…
Pic of damage to launch tower from @SpaceX test firing explosion pic.twitter.com/ZPCiQ0p94B

— Todd Harrison (@ToddHarrisonDC) September 1, 2016
For anyone who wondered why launch prep takes weeks & why no one is allowed near, this is why #Falcon9 #SpaceX pic.twitter.com/ukCPmAhOhD

— ZEALANDIA IS EARTH'S 8TH CONTINENT (@hunter_blaeser) September 1, 2016
It does look pretty localized. Falcon 9 appears to have had a RUD well within her pad area. Still awful of course. pic.twitter.com/wdf09P6bKQ

— Chris B – NSF (@NASASpaceflight) September 1, 2016
http://twitter.com/TigernBear/status/771335016198639616?ref_src=twsrc%5Etfw
@murphypak @SpaceX @NASASpaceflight @CwG_NSF something exploded according to a friend working the shoreline. pic.twitter.com/S8Q0QdpQiF
— TraumahawkTV (@TraumahawkTV) September 1, 2016
Explosion at #spacex. Can't be good. pic.twitter.com/sK5tvFCZGP

— Erin Head (@ErinHead_HIM) September 1, 2016
#Breaking| #SpaceX Falcon 9 explodes at launch site at Cape Canaveral, #Florida.
(pic via @Dehreeus ) pic.twitter.com/YzaeRkXuAG

— SafetyPin-Daily (@SafetyPinDaily) September 1, 2016
Significant non-precipitation plume showing up on radar following incident at Cape Canaveral #CapeCanaveral #SpaceX pic.twitter.com/QFSbVsjbw5

— Kerrin Jeromin (@KerrinJeromin) September 1, 2016