Cruz Campaign Violates Campaign Laws in Iowa

SOTN Editor's Note:
By calling the IOWA primary a fraud, Donald Trump is simply calling a spade a spade. The Iowa primary has always been a massive fraud, just as the New Hampshire has always been. These two states — Iowa and New Hampshire — are systematically used by those who really control the electoral process to manipulate the ultimate outcome of the general election.
Just how is that done?
Will the 2016 Primaries Be Electronically Rigged?
In the present case the Republican Party fixed the Iowa vote in favor of Ted Cruz and explicitly against Donald Trump.  Not only were the vote-counting process and IT equipment rigged, the Cruz campaign knowingly engaged in fraudulent conduct to 'win' the vote.  The tweet that Cruz sent out about Ben Carson was responsible for "spreading a rumor that the former neurosurgeon had dropped out of the race."  Talk about outright fraud!  Then they lied about the the original source of the strategically place 'rumor'.
Then the Cruz campaign lied about the source of the lie about Ben Carson
Of course, this has gone on for many decades without detection until now with Trump rightfully screaming about it.  He has also correctly pointed out that Cruz has big money behind him.  It doesn't get any bigger than Goldman Sachs, does it?!  Not only did Cruz receive loans from Goldman totaling over $1.2 million, his wife was until recently a senior executive with the notorious investment banking operation.
Why Senator Cruz' Undisclosed Goldman Loan Is A Real Problem
What is particularly disconcerting about the loans is that Cruz never reported the total indebtedness to Goldman as required by campaign laws.  Furthermore, his wife Heidi conveniently took a leave of absence from Goldman in order to assist with the campaign. What better rainmaker than a wife who works at Goldman, but who is now unconstrained to raise the hefty campaign dollars necessary to compete with an independently wealthy Trump.
How else are the Iowa and New Hampshire primaries used to manipulate both candidates and election alike?  Because each is a bellwether state, those who control the American electoral system can use the primary vote tallies to show the candidates just how much power they really have.  In this way the primary winners have not always won the general election or even their party's nomination.  That's because their loss (or another's win) was used to send a message to them and/or to other targeted candidates.
In fact these two critical primaries are also utilized to test the obedience of the various candidates from both parties.  What they do and don't do in return for the delivery of a specific voting outcome is well noted by their handlers.  Subsequent backing, both in the form of financial support and favorable media, is then doled out based on their performance or lack thereof.
The Establishment Candidates are All Bought and Paid For
Each of the bought-and-paid-for candidates from the two main parties is closely watched throughout the primary season to determine who will take orders well, especially when they are elected to the presidency.  In this exacting manner they are actually vetted and monitored. The very last thing that the ruling elites want is another President John F. Kennedy.  No one will ever again be elected who left the reservation as JFK did.  This is precisely why the whole election cycle is turning out to be such a wacky and loony circus.  TPTB will do everything and anything to guarantee the success of their pre-selected future president.
Donald Trump Accuses Ted Cruz Of 'Fraud,' Demands A Rematch In Iowa Caucus
The article posted below provides the MSM perspective from the other side of the pond.
State of the Nation
February 4, 2016
~~~~~~~~~~~~~~~~~~~~~~~~~~~~~~~~~~~~~~~~~~~~~~~~~~~~~~~~~~~~~~
Donald Trump wants Iowa rematch, accusing Cruz of 'fraud'
BBC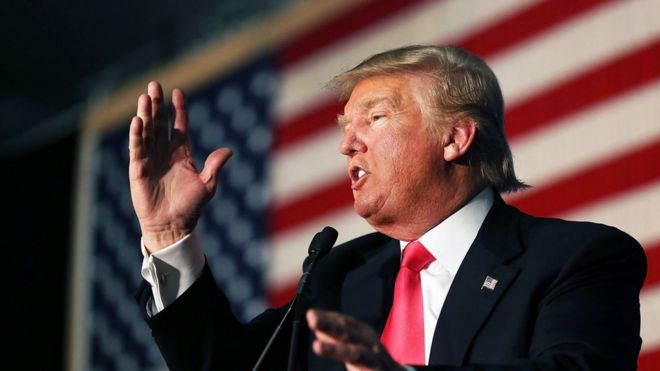 Image caption: Mr Trump said the Iowa results should be 'nullified'
Presidential candidate Donald Trump has called for a new election in Iowa, accusing the Republican winner, Ted Cruz, of fraud.
Mr Trump pointed to the fact that during the caucus the Cruz campaign told voters rival Ben Carson planned to quit the race, which was not true.
The Cruz campaign apologised to Carson, saying it was a misunderstanding.
Mr Trump came second in the first state-by-state contest to pick each party's presidential nominee.
Next up is New Hampshire, where voters will make their choice in the Republican and Democratic races on Tuesday.
"Ted Cruz didn't win Iowa, he stole it. That is why all of the polls were so wrong and why he got far more votes than anticipated. Bad!" Mr Trump said.
Earlier, he wrote on Twitter that Mr Cruz "illegally" won the caucus, but later deleted the tweet.
Paul Pate, the top election official in Iowa, condemned Cruz campaign leaflets sent out prior to voting that accused Iowans of "voting violations".
The leaflets graded Iowans and their neighbours for how much they had voted in the past and told them to turn out to improve their scores.
Mr Pate said Mr Cruz's leaflets "misrepresent Iowa election law" and that they were "not in keeping in the spirit of the Iowa caucuses," but he stopped short of any official action.
---
More on the race for the White House

---
The reaction contrasts with his concession speech on Monday night, which was seen as a humble departure from his usual bombastic style.
Mr Trump called second place "a long-shot great finish" in an earlier tweet.
Mr Cruz's camp is not taking the accusations too seriously.
"Reality just hit the reality star – he lost Iowa and now nobody is talking about him, so he's popping off on Twitter," Mr Cruz's communications director Rick Tyler told Politico in an email.
"There are support groups for Twitter addiction, perhaps he should find his local chapter."There is no precedent for re-staging a caucus.
Mr Carson accepted Mr Cruz's apology about the drop-out rumours, but his campaign called the tactics "dirty tricks".
The remaining candidates are now in New Hampshire, the next state to hold a primary vote, where Mr Trump is leading in the polls.
Also on Wednesday, Kentucky Senator Rand Paul and former Pennsylvania Senator Rick Santorum dropped out of the Republican race after disappointing finishes in Iowa.
___
http://www.bbc.com/news/world-us-canada-35486983