Planned Parenthood Has Somehow Bought Prosecutor Nationwide To Advance Their Criminal Agenda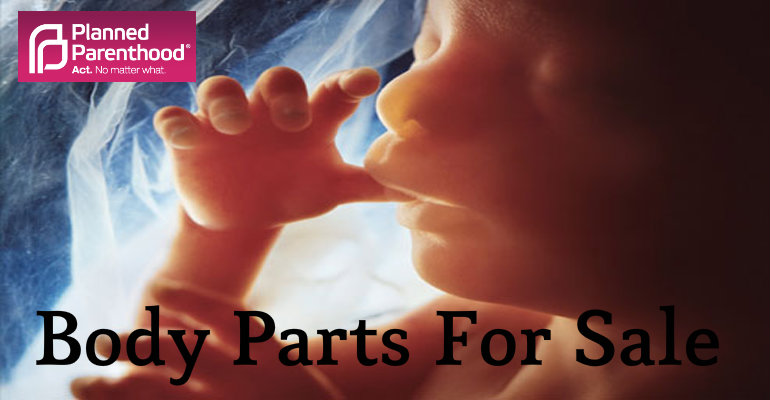 SOTN Editor's Note:
There is only one way to properly comprehend the outrageous indictment of the investigators who caught Planned Parenthood killing and mutilating living fetuses and then illegally selling their valuable organs, tissues and other body parts.
I N S T I T U T I O N A L    C R I M I N A L I T Y
For those who are uninitiated in this realm of institutional criminality, especially on the part of Planned Parenthood, the following articles lay bare a literal crime spree of murder and mutilation, body part black marketing and theft.
Planned Parenthood Senior Director Dr. Deborah Nucatola: Admits To Selling Body Parts Of Aborted Fetuses
Another Planned Parenthood Physician & Senior Executive Haggles Over Aborted Fetus Body Parts
Planned Parenthood Ought To Be Renamed 'Fetal Body Parts Harvesting Company'
Planned Parenthood Dissect Organs And Tissues From Living Aborted Fetuses
Shocking Video: 'StemExpress CEO Joking about receiving entire dead babies from Planned Parenthood'
Planned Parenthood caught: We make 'fair amount' selling 'fresh' baby eyes, gonads
There is perhaps no other state in the union like Texas whereby the major city district attorneys and county courts have undertaken baseless political prosecutions at the direction of their overly zealous legal leadership.  Cities like Austin and Houston, where ultra-liberal elements have literally hijacked the criminal justice system, continue to launch unsupported cases of harassment against innocent parties only to let off the real criminals.
This well-established pattern of outright deception and prosecutorial abuse in Austin and Houston, in particular, has reached a crescendo of institutional criminality that must be addressed by the Texas State government.  The history of blatant judicial and prosecutorial misconduct regarding the most political cases in that state has reached a breaking point.
The primary purpose of these groundless and frivolous prosecutions regarding the fetal body parts scandal is to so intimidate and threaten those who might also advocate against the patently criminal enterprise known as Planned Parenthood.  Planned Parenthood has engaged in criminal behavior toward the unborn since their very inception.  This illicit enterprise was actually set up as a fraudulent front to grow the abortion factory and killing machine nationwide.
Just how far will Planned Parenthood go to defend their abominable turf?
CO Planned Parenthood Clinic Ambushed To Short-circuit Senate Investigation Of Aborted Fetal Body Part Selling
Planned Parenthood Hacked Themselves To Deflect The Gathering Storm
Will Planned Parenthood Be Prosecuted Under The RICO Act (Organized Crime And Racketeering)?
Clearly, this nation is at the crossroads.  The nexus of state-funded organizations which methodically kill the unborn, and the legal institutions which both advocate and support this criminal conduct, must be eliminated.  This type of profound immorality and institutional wrongdoing that is found within the criminal court systems around the country must also be fully exposed post-haste.
Likewise, the judges and district attorneys, prosecutors and lawyers who have enabled this thoroughly corrupt process and depraved system must be barred from practice and prosecuted to the fullest extent of the law.
What follows is an MSM article that quite vaguely details this sordid affair and legal injustice in Houston.  The comments posted at the original Yahoo news website are particularly telling.
State of the Nation
January 26, 2016
~~~~~~~~~~~~~~~~~~~~~~~~~~~~~~~~~~~~~~~~~~~~~~~~~~~~~~~~~~~ 
Planned Parenthood cleared by Texas jury over videos, activists indicted
By Jon Herskovitz
REUTERS
AUSTIN, Texas (Reuters) – A Texas grand jury has indicted two anti-abortion activists in a case involving covert videos on fetal tissue procurement talks with Planned Parenthood and found there was no wrongdoing on the part of the health group, a district attorney said on Monday.
The grand jury decision was a result of a probe launched last year under Texas Governor Greg Abbott, a Republican, who accused Planned Parenthood of the "gruesome harvesting of baby body parts." No evidence was provided by Texas to back the claim.
The videos released last summer led Texas and several other Republican-controlled states to try to halt funding for local Planned Parenthood operations.
"After a lengthy and thorough investigation by the Harris County District Attorney's Office, the Texas Rangers, and the Houston Police Department, a Harris County grand jury took no action Monday against Planned Parenthood Gulf Coast," the Harris County District Attorney's office said in a statement.
Planned Parenthood has denied the accusation and called the probe politically motivated.
David Daleiden discusses the campaign on 'Hannity'
David Daleiden and Sandra Merritt have been indicted by the grand jury for tampering with a governmental record, said prosecutors for the county in which Houston is located.
The two were involved in covert videos last year in which a discussion was held with a Planned Parenthood official on the procurement of fetal tissue.
Daleiden, founder of the Center for Medical Progress that released the videos, was also charged with violating a prohibition on the purchase and sale of human organs, a misdemeanor, the Harris County District Attorney said.
The videos purported to show Planned Parenthood officials trying to negotiate prices for aborted fetal tissue. Under federal law, donated human fetal tissue may be used for research, but profiting from its sale is prohibited.
Shortly after the release, Texas, the most populous Republican-controlled U.S. state, said it would launch a probe of Planned Parenthood.
"These people broke the law to spread malicious lies about Planned Parenthood in order to advance their extreme anti-abortion political agenda," said Eric Ferrero, vice president of Communications for Planned Parenthood Federation of America.
"As the dust settles and the truth comes out, it's become totally clear that the only people who engaged in wrongdoing are the criminals behind this fraud, and we're glad they're being held accountable," he said.
The Texas governor said: "Nothing about today's announcement in Harris County impacts the state's ongoing investigation."
In October, Texas raided several Planned Parenthood facilities in the state.
(Reporting by Jon Herskovitz; Editing by Matthew Lewis, Bernard Orr)
___
http://news.yahoo.com/planned-parenthood-cleared-texas-jury-over-videos-activists-224615990.html