THE PLOT THICKENS?
Webb Attacks Clinton With Eye on Independent Run
If he declared an outsider presidential bid, the former Democratic candidate could have an outsize effect on the race.
Ben Brody
Bloomberg Politics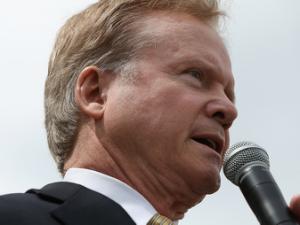 When Jim Webb quit the Democratic presidential race on Oct. 20 amid low poll numbers and a minimal debate presence, the former Virginia senator left open the possibility he'd return for a White House run in a different political guise. Now he appears to be edging closer to making good on it.
On Saturday morning, Webb used Twitter and his Facebook page to attack Democratic front-runner Hillary Clinton for her handling of Libya during her time as secretary of state.
Hillary Clinton's failed vision in Libya & the Arab Spring are foreign policy leadership at its worst. https://t.co/NC80rbKLfP

— Jim Webb (@JimWebbUSA) December 26, 2015
The lengthy condemnation on Facebook, which said, among other things that "Clinton should be called to account for her inept leadership that brought about the chaos in Libya," came just days before the end of the year, which his team had previously told CNN would be reasonable time for them to make a decision about an independent bid.
Since dropping out of the race for the Democratic nomination, Webb has continued to maintain his Webb2016 website, which he has updated with posts about the possibilities of an independent run. On Twitter, he and his fans have been promoting a #WebbNation hashtag.
A run by Webb, who often manages his own social media accounts and has also used them recently to promote a petition in favor of his run and to deliver kudos to Bernie Sanders in his battles with the Democratic National Committee ("nothing more than an arm for the Clinton campaign," Webb tweeted), could further complicate the already unpredictable 2016 election.
While observers typically have analyzed the prospect of a third-party or independent run by Republican front-runner Donald Trump—or even one from Sanders—Webb could still alter the dynamics of the race even with his smaller profile.
A recent CNN poll, for instance, forecast tight races between Clinton and several Republican contenders in hypothetical match-ups for the general election. Webb's campaign has told Bloomberg Politics it would concentrate on mobilizing voters in the ideological middle, along with people who have become dissatisfied with politics.
In a tight race, even a small base of support could make him a factor. Ralph Nader, for instance, famously won only small percentages of the vote in many states in the 2000 presidential election, yet that arguably helped tip the Electoral College vote to then-Texas Governor George W. Bush, denying Democratic Vice President Al Gore, the winner of the popular vote, the presidency.
Webb could also get a boost from the organizers of the general election debates, who are preparing for the possibility of three candidates onstage, albeit ones who thus far, have managed to command far more support than Webb the roughly one percent of Democratic support Webb managed to muster by the time he quote the race.
There's no ensuring that Webb would be a spoiler for Clinton even as he attacks her. Although he ran as a Democrat to serve in the Senate, he is a highly decorated Vietnam veteran who also served for a time as President Reagan's secretary of the navy and has won conservative plaudits. Even Saturday's attack echoed the talking points of Republican candidates and groups.
His public statements, meanwhile, have focused economic populism and breaking the monopoly of the two-party system.
Despite the apparent escalation of his interest in an independent bid and his aides previously stated interest in making Webb's intentions known by the beginning of 2016, history suggests he could toy with voters for quite some time. Webb missed his own self-imposed deadline for getting into the Democratic race and blatantly disregarded conventional wisdom on political timing when finally declared hours before the beginning of the July 4 holiday.
In addition, the earliest state deadline for submitting signatures for an independent presidential run is May 9 in Texas, according to Ballot Access News. Given that most filing deadlines occur in August, Webb's post-Christmas social activity could be another trial balloon.
Craig Crawford, a top aide on the small campaign, did not immediately return request for comment on Saturday on the prospect that Webb is planning an imminent return to the race, nor did a Clinton spokesman respond to the attack.
Crawford, though, told Bloomberg Politics in October that he has been studying the Nader playbook and that an outsider bid is easier than it was 15 years ago but still "requires a lot more multitasking."
Yet the main question was the feasibility of that multitasking, including primarily gathering signatures to get on the ballot, rather than Webb's belief in his message, Crawford added.
"Are we comfortable that there's actually a chance to get on enough ballots to actually have a mathematical chance?" Crawford said the campaign was asking. "Jim's not going to do this as a protest thing."
(An earlier version of this story included an erroneous date, since corrected by the source of the information, for the first state filing deadline for independent presidential candidates.)
—
http://www.bloomberg.com/politics/articles/2015-12-26/webb-attacks-clinton-with-eye-on-independent-run