Transformer Explosion At The Indian Point Nuclear Facility Near New York Is 'Contained'
ZeroHedge.com
The words "explosion", "New York", "black smoke", and "nuclear" strike fear into the heart of most people but according to Entergy – who runs Indian Point, "the nuclear facility has been safely shutdown following a transformer failure." Reports of a loud blast at the nuclear facility just 38 miles north of New York, with dense black smoke rising from Unit 3 are no concern and represent "no danger to public health and safety." The plant, which dates back to 1962 (although the currently used reactors were installed later in the 70s) had just been brought back online on Friday, after being shut down for a steam leak repair.
Indian is just 38 miles north of New York City, and as RT reports, produces some 25 percent of New York City's and Westchester's electricity. The combined power generated by the two units amounts to over 2000 megawatts. The facility employs some 1,600 people.
The plant has been a subject of controversy due to its proximity to NYC. Several environmental groups have been calling for Indian Point's permanent shutdown for years. It also has a history of transformer accidents and various leaks, including a 2012 explosion in the main transformer that spilled oil into the river and caused Entergy to pay a fine of a $1.2 million.
Witnesses posted alarming images of smoke billowing from the plant on social media, saying it followed a large blast and fire. "It was a huge black ball of smoke and alarms went off immediately," tweeted Gustavus Gricius, a witness near the scene.
The plant's Unit 2 reactor has continued operating and the fire was put out by the automatic sprinkler system and on-site personnel, Entergy Corp spokesman Jerry Nappi told Reuters. No people were reported injured.
The facility's operator tweeted…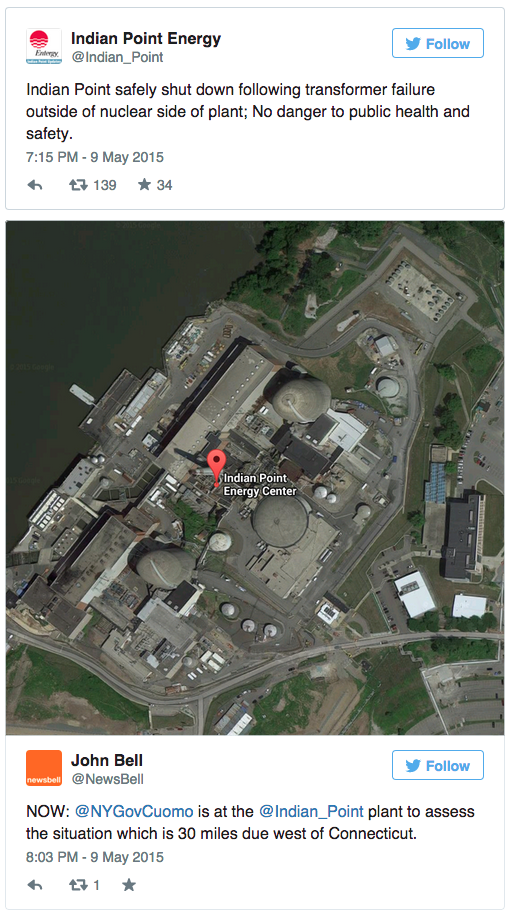 * * *
One wonders what the rate for a good Geiger counter is in NYC these days?