Bahamas Tax Haven Under Attack
Why did media report landfall at 911 millibars then change it to 910 millibars?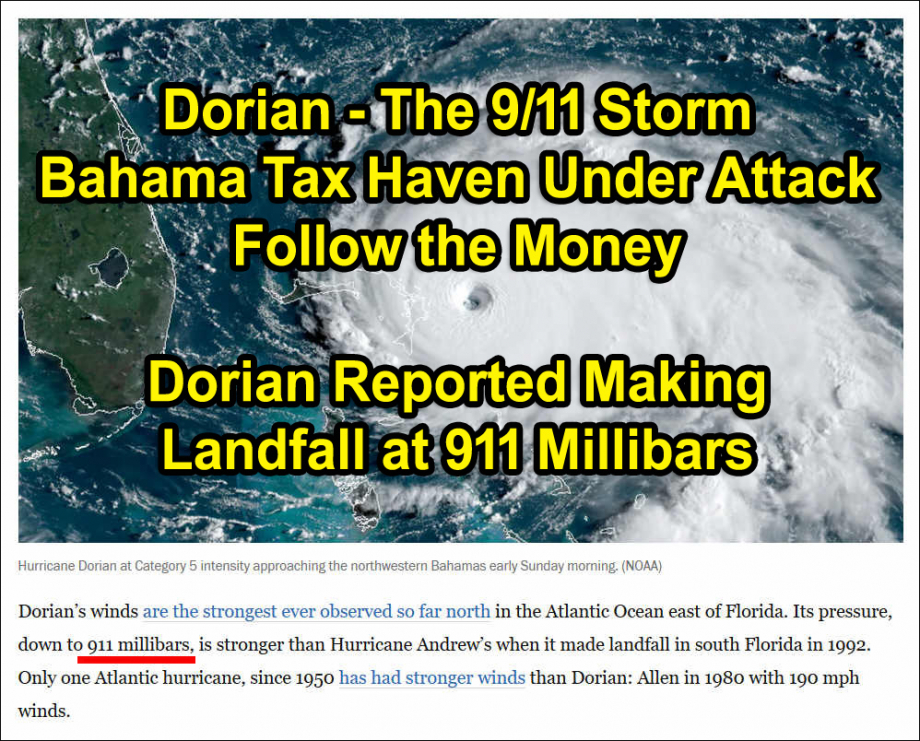 MOTIVES: BAHAMA TAX HAVEN UNDER ATTACK by 911 Hurricane
The Bahamas became an independent British Commonwealth realm in 1973 with Elizabeth II as its queen. In term of GDP per capita, the Bahamas is the second richest country in the Americas next to the USA with an economy based on tourism and offshore finance.
The Commonwealth of the Bahamas owes its tax haven status to its tax- and business-friendly laws for foreign investors. This is because citizens of the Bahamas and resident aliens pay no taxes on personal income, inheritance, gifts, or capital gains. (Investopedia)
WIKI: The Bahamas
International Offshore Jurisdiction Review – Bahamas as a Tax Avoidance Center — Why Choose The Bahamas as an Offshore Tax Haven?
WAPO: Dorian came ashore at Elbow Cay with a barometric pressure of 911 Millibars. (Archive)
(NOTE: Exept for the Washington Post, MSM that initially reported "911" millibars changed the number to "910" millibars. Wiki also published the 910 millibar number when posted on their CIA controlled page.)
___________________________
See below: Wikipedia initially reported 911 millibars but revised the number to 910 millibars