A Woman Claimed She Recruited a 13-Year-Old Girl for Donald Trump and Jeffrey Epstein to Rape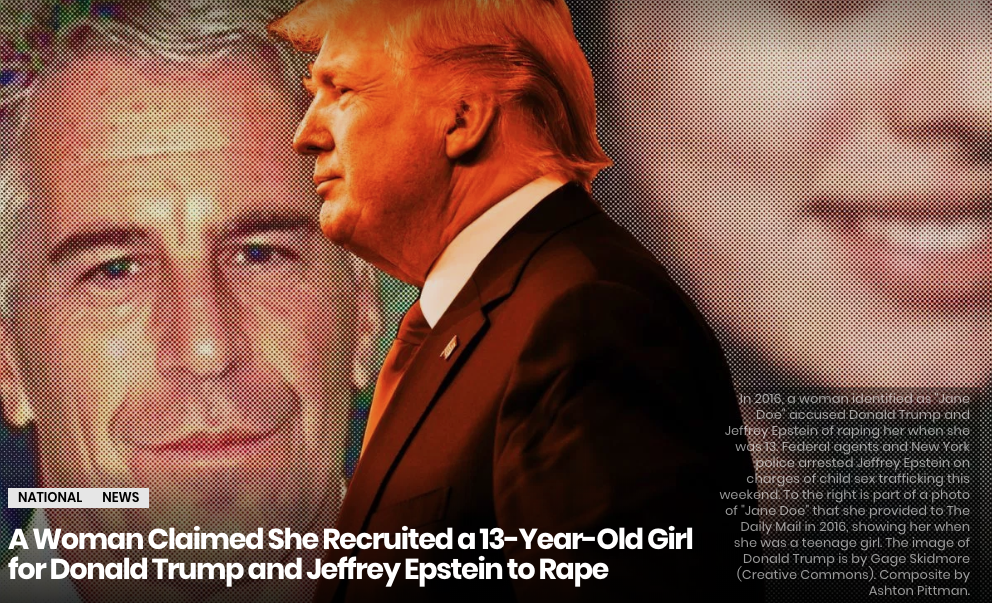 by Ashton Pittman
Deep South Voice
A woman claimed she not only witnessed billionaire Jeffrey Epstein and his friend, Donald Trump, rape a 13-year-old girl, but that she was tasked with recruiting her and other underage girls for Epstein and friends of his like Trump. On Saturday, FBI agents arrested Epstein for crimes involving the sex-trafficking of dozens of underage girls in New York and Florida between 2002 and 2005, thanks in large part to report by Miami Herald investigative reporter Julie K. Brown.
In court documents filed in 2016, a woman identifying only as "Tiffany Doe" corroborated claims by another woman, who identified as "Jane Doe," that Trump and Epstein raped her at a party when she was a teenage girl in 1994.
"I personally witnessed four sexual encounters that the Plaintiff was forced to have with Mr. Trump during this period, including the fourth of these encounters where Mr. Trump forcibly raped her despite her pleas to stop," Tiffany Doe said in a sworn affidavit in June 2016.
Trump has denied the allegations. The women's court filings are attached to the bottom of this story.
Any sexual contact with a 13-year-old would have been tantamount to rape because she was an underage girl, even if it had not been "forcible."
Tiffany Doe claimed she was Epstein's "party planner" from 1991 to 2000.
Though these filings were made and claims were known to the press in 2016, much of the media ignored it, even as Trump came under scrutiny after dozens of adult women accused him of sexually assaulting them.
A 'Savage Sexual Attack'
In her complaint, Jane Doe claimed that Epstein grew angry that Trump took her virginity instead of him.
"Defendant Epstein then attempted to strike me about the head with his closed fists while he angrily screamed at me that he, Defendant Epstein, should have been the one who took my virginity, not Defendant Trump . . .," she claimed.
Jane Doe also claimed that Trump tied her to a bed in a "savage sexual attack" in which he raped her and, when she begged him to stop, slapped her in the face and threatened to have her family "physically harmed if not killed" if she told anyone.
"Defendant Trump stated that I shouldn't ever say anything if I didn't want to disappear like Maria, a 12-year-old female that was forced to be involved in the third incident with Defendant Trump and that I had not seen since that third incident, and that he was capable of having my whole family killed," Jane Doe alleged.
In her affidavit, Tiffany Doe also claimed that Trump had sex with a 12-year-old named "Maria," and that Trump threatened Jane Doe would "disappear" if she told anyone.
Like Jane Doe, Tiffany Doe said she was afraid of coming forward.
"I am coming forward to swear to the truthfulness of the physical and sexual abuse that I personally witnessed of minor females at the hands of Mr. Trump and Mr. Epstein … I swear to these facts under the penalty for perjury even though I fully understand that the life of myself and my family is now in grave danger," she said in her affidavit.
On Nov. 4, 2016, Jane Doe suddenly withdrew the complaint just days before the election that would send Trump to the White House, with little explanation. In the weeks before that, Trump had ordered his lawyer, Michael Cohen, to pay off multiple women to hide up affairs, including adult actress Stormy Daniels and Karen McDougal, a Playboy Bunny model.
Cohen has since pled guilty to campaign finance crimes related to the payments, with Trump listed in court documents as an unindicted co-conspirator. In testimony to Congress earlier this year, Cohen said he is working with federal and state prosecutors on other investigations involving Trump.
Jane Doe Withdrew Complaint Days Before the Election; Said She Had Been Threatened
Trump's relationship with Epstein is well-known. In 2002, he praised Epstein—and acknowledged, glowingly, that Epstein likes "beautiful women" who are "on the younger side."
"I've known Jeff for fifteen years. Terrific guy," Trump told New York Magazine back then. "He's a lot of fun to be with. It is even said that he likes beautiful women as much as I do, and many of them are on the younger side. No doubt about it—Jeffrey enjoys his social life."
Neither Jane nor Tiffany Doe have resurfaced since they dropped the charges and Trump narrowly won the 2016 election. At the time Jane Doe dismissed her own lawsuit, her attorney, Lisa Bloom, wrote on Facebook that it had been a "tough week" for her.
Days before she withdrew, Jane Doe had planned to hold a press conference in which she would reveal herself, but she did not show up, saying at the time that she was "too afraid" and had become the subject of "threats."
Look, it's Jeffrey Epstein and some other sexual predator pic.twitter.com/AIOp2B8D8C

— Thor Benson (@thor_benson) July 7, 2019
On the day she withdrew her complaint, The Daily Mail posted ran an interview with Jane Doe that she had granted them earlier. In that interview, she used the pseudonym Katie Johnson, and explained why she came forward.
"We would have a rapist in the White House. I would feel horrified every single day if I stay in this country," she told the Daily Mail.
She did not know who Trump was at the time of the rape, The Daily Mail reported her as saying, but could never forget his face. She recognized him years later, she claimed, when she saw an episode of The Apprentice.
"As much as I try to forget about everything that happened, it always affects everything in my life," she told the Daily Mail. "I mean it affects my relationships, I don't think I've ever had a successful relationship, one that I feel I can trust that person, there's always that mistrust."
Before Jane Doe withdrew, her attorney, Bloom, criticized the media's reluctance to cover the story. The lawsuit's withdrawal barely registered in the media at the time, both because the lawsuit had been largely ignored, but also because most of the national media's focus was once again on Hillary Clinton's emails and on documents that the Russian government had stolen and leaked through Wikileaks in an effort to damage her campaign.
Trump Boasted About Watching Teen Girls Undress
During the 2016 election, a radio interview from 2005 emerged in which Trump bragged about how he would walk into the changing rooms at Miss Teen USA, a pageant which he owned, to watch "incredible looking women"—by which he meant teenage girls as young as 14—get undressed.
"You know they're standing there with no clothes. Is everybody OK?" Trump recalled to host Howard Sten. "And you see these incredible looking women. And so I sort of get away with things like that."
Multiple women who were in the 1997 pageant told BuzzFeedNews about how "creepy" Trump had been, walking into the changing rooms while they were removing their clothes.
Those reports came in the wake of an Access Hollywood tape that surfaced in October 2016 in which Trump bragged about sexually kissing women and grabbing their genitals without their consent. More than a dozen women accused him of sexual assault in the lead up to the election.
"You know, I'm automatically attracted to beautiful—I just start kissing them," Trump said at the time. "It's like a magnet. Just kiss. I don't even wait. And when you're a star, they let you do it. You can do anything."
Accusations of Sexual Violence by Trump Go Back Decades
Last month, well-known writer E. Jean Carroll wrote in New York Magazine that Trump sexually assaulted her in the 1990s after pushing her into a dressing room.
"The moment the dressing-room door is closed, he lunges at me, pushes me against the wall, hitting my head quite badly, and puts his mouth against my lips," she wrote. "I am so shocked I shove him back and start laughing again. He seizes both my arms and pushes me up against the wall a second time, and, as I become aware of how large he is, he holds me against the wall with his shoulder and jams his hand under my coat dress and pulls down my tights. … The next moment, still wearing correct business attire, shirt, tie, suit jacket, overcoat, he opens the overcoat, unzips his pants, and, forcing his fingers around my private area, thrusts his penis halfway — or completely, I'm not certain — inside me.
"It turns into a colossal struggle. I am wearing a pair of sturdy black patent-leather four-inch Barneys high heels, which puts my height around six-one, and I try to stomp his foot. I try to push him off with my one free hand — for some reason, I keep holding my purse with the other — and I finally get a knee up high enough to push him out and off and I turn, open the door, and run out of the dressing room."
Trump denied Carroll's claim, saying he had never met her. In the New York Magazine story, though, a photo shows him with his accuser. There are no known witnesses to the alleged attack, but two women claim Carroll told them about it at the time it allegedly happened.
Women have accused Trump of violent sexual assaults since at least 1989, when his first wife, Ivana Trump, swore under oath in a 1989 deposition that he ripped out her hair, held her down, and penetrated her without her consent. She claimed he was angry because she had referred him to a cosmetic surgeon who botched a procedure to cover up a bald spot on his scalp. She recanted years later, saying she did not mean to use the word "rape" in a "criminal" way.
In 1997, then 34-year-old Jill Harth filed a federal lawsuit accusing Trump of multiple sexual assaults and attempted rapes. She withdrew after a settlement agreement. In 2016, Trump defended himself when that lawsuit resurfaced, claiming it was she who pursued him. Harth told The Guardian in 2016 that she stood by her claim.
PBS has a complete list of sexual assault claims that have been made against Trump over the years. Trump has denied them all.
On Sunday, Julie K. Brown, the investigative reporter in Florida whose work led to Epstein's arrest, told MSNBC on Sunday that "quite a few powerful and important names" will likely come up during Epstein's trial. Epstein is known to have connections to former President Bill Clinton and Prince Andrew.
Years ago, prosecutor Alexander Acosta negotiated a now-defunct plea deal that would have let Epstein get off with little penalty. In February, a federal judge found that the plea deal was illegal. Acosta now serves in Trumps cabinet as U.S. Secretary of Labor.
Epstein will appear in court on Monday.
___
http://www.deepsouthvoice.com/index.php/2019/07/07/a-woman-claimed-she-recruited-a-13-year-old-girl-for-donald-trump-and-jeffrey-epstein-to-rape/