Andrew Gillum and the Mystery of 311 East Jennings Street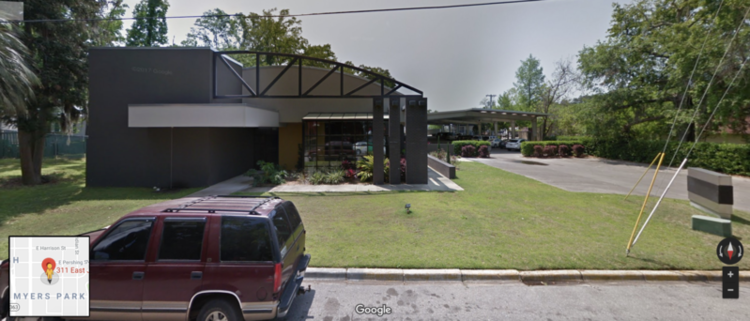 By Steve Miller, RealClearInvestigations
Among the many questions about an FBI corruption probe nagging Tallahassee Mayor Andrew Gillum – one that could follow the Democrat uptown to the governor's mansion if he wins election next week – is something few people outside Florida are asking: What does his political rise have to do with 311 E. Jennings St.?

Andrew Gillum on the stump. Top photo:
Google Street View image of 311 E. Jennings St. in 2013.
AP Photo/John Raoux  Top: Google
An arcane question, perhaps. Yet the Tallahassee address offers a window into how politics is done in Florida's capital, and may say a lot about how the Bernie Sanders-endorsed leftist has mastered the game.
It starts with money. In the first three months after Gillum announced his bid for mayor in April 2013, the decade-serving city commissioner received $8,000 from a host of companies using that address. And businesses there have received a number of financial favors from the city and the mayor, who, as a member of the Community Redevelopment Agency Board, voted for the subsidies.
Those dealings are receiving heightened scrutiny since the FBI last year issued subpoenas to 38 individuals and companies, more than a dozen of which are connected to the Jennings Street address. Among the names on the subpoenas is Adam Corey, Gillum's former campaign treasurer. Corey is a local lobbyist, developer and Gillum's friend since college. Gillum, as part of the redevelopment agency, voted in 2013 to give a Corey-affiliated group $1.3 million in taxpayer money to develop a restaurant.
Adam Corey, ex-campaign treasurer.  Twitter
The ultimate aim of the investigation – and any direct connection to Gillum – remains unclear, as does its connection to a separate, ongoing state ethics probe into Gillum's relationship with donors. The latter includes an allegation Gillum accepted from an undercover agent a ticket to see "Hamilton" on Broadway.
Gillum denies any wrongdoing. His narrowly trailing Republican opponent in the Governor's race, Ron DeSantis, Wednesday suggested impeaching Gillum over the ethics charges.
The FBI has asked the city and the state's revenue department for records connected to dozens of Tallahassee businesses and their owners, including bids, tax reports, and emails, as well as documents related to financial transactions between the city and those entities. Many of the records sought are connected to economic development work by private companies and tax breaks and subsidies provided to them, primarily by the Community Redevelopment Agency. The city has turned over more than 200,000 records.
A recurrent name in them, along with Jennings Street, is local businessman J.T. Burnette, a major Gillum backer who in 2014 received $883,000 in city subsidies for developing a downtown hotel. He declined to comment for this story.
Burnette, in fact, has become a major political player supporting candidates of both parties – by taking advantage of what's known as the LLC loophole. Florida is one of several states that allows limited liability corporations – even if they have the same ownership — to contribute as separate individuals, permitting donors to give the maximum amount of $1,000 from each of their subsidiaries.

Gillum fist bumps his Republican opponent, Ron DeSantis,
after a debate last month. AP Photo/Wilfredo Lee, Pool
In all, 52 LLCs listing the Jennings Street address, many of which are run by Burnette, have donated to state and local campaigns. Those businesses include Hunter & Harp, a partnership between Burnette and former bank executive James Kittrell, and Sunnyland Solar, another Burnette-related business connected to a city-subsidized clean energy project now under FBI scrutiny. Gillum voted in 2011 to give Sunnyland Solar up to $5.4 million in subsidies.
The Jennings Street address also houses KaiserKane, a national security contractor with millions of dollars in federal contracts, including multimillion-dollar deals with the Department of Defense and the Department of Justice.
KaiserKane, also named in the FBI subpoena, actually bought the Jennings Street property in 2013 for $1.15 million, records show. The building was sold in 2016 to 311 Jennings LLC, a company that lists Burnette's home as its corporate address.
The Jennings building was sold again in March 2017 to the PACE Center for Girls, a Jacksonville-based nonprofit. KaiserKane still uses the address for its Tallahassee office on its website "contact" page.
Cynthia Montgomery, a lawyer representing PACE, said her client is the lone occupant of the 12,000-square-foot building. KaiserKane President Melissa Oglesby did not return a call.
Sharon Lettman-Hicks with Gillum.  Facebook
The federal probe aside, Gillum's actions have prompted other questions. Until last month, his campaign was operating out of 1550 Melvin St., owned by longtime confidante Sharon Lettman-Hicks. It's the same building he has worked out of in his side gigs, first as director of youth leadership for the advocacy group People for the American Way, then for Lettman-Hicks' P & P Communications, where Gillum was vice president. Just what he did for P & P, though, is not known. The company has no website, no dedicated phone line and has not formally disclosed its clients.
The building was bought with funding from the Northwest Florida Black Business Investment Corporation, a tax-exempt group that provides investment funding. Two of the investment corporation directors, Harold Knowles and Keith Bowers, are part of a group that in July received $281,000 in community development money for exclusive rights to a development project in the city.
All told, it's a morass of addresses, interconnections, swaps and deals raising questions about Gillum's alliances — questions that will not be answered before Tuesday's vote.
"It's reasonable to say the mayor is responsible for everything under his watch," said Matthew Pietryka, an assistant professor of political science at Florida State University. Voters, he added, may not be able to discern between culpability and cloudy inference and "people who might vote for him may choose to stay home."
Gillum, who was elected to the city commission in 2003 and became mayor in 2014, insists he has been told he is not the target of the FBI inquiry.
The race is one of the tightest major contests in the country. Gillum leads in the latest RealClearPolitics polling average by just a few percentage points.
Erwin Jackson, a Tallahassee businessman and gadfly who this year filed a state ethics complaint against Gillum, said the mayor "is doing much better than you would expect, especially in the face of all this crap that's going on."
___
http://www.realclearinvestigations.com/articles/2018/10/30/andrew_gillum_and_the
_mystery_of_311_east_jennings_street.html