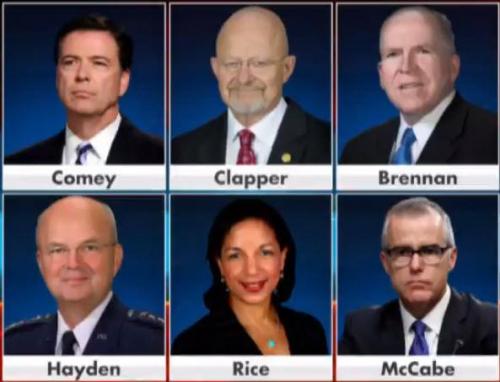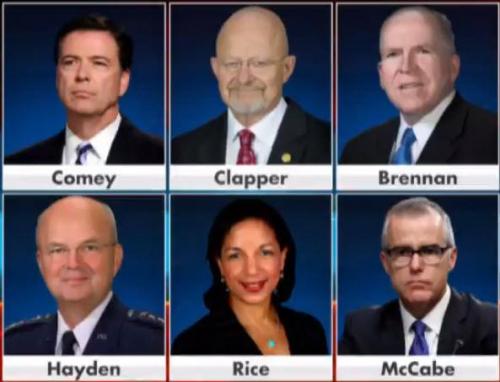 Trump To Revoke Security Clearance For Brennan, Clapper, Comey, McCabe, & Rice
ZeroHedge.com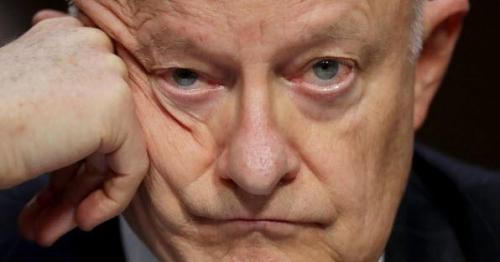 Update: The responses have begun. James Clapper spoke on CNN this afternoon, calling Trump's actions "a petty way of retribution."
"Well, it's interesting news. I'm reading it and learning about it just as you are. I think it's off the top of my head it's a sad commentary,"

Clapper said. "For political reasons, this is a petty way of retribution, I suppose for speaking out against the president, which I think, on the part of all of us, are born out of genuine concerns about President Trump."

"It's frankly more of a courtesy that former senior officials and the intelligence community are extended the courtesy of keeping the security clearance. Haven't had a case of using it. And it has no bearing whatsoever on my regard or lack thereof for President Trump or what he's doing," he continued.
*  *  *
President Trump is exploring ways to strip several former Obama officials of their security clearances over politicized statements, including John Brennan, James Clapper, James Comey, Susan Rice, and Andrew McCabe, according to White House press secretary Sarah Huckabee Sanders.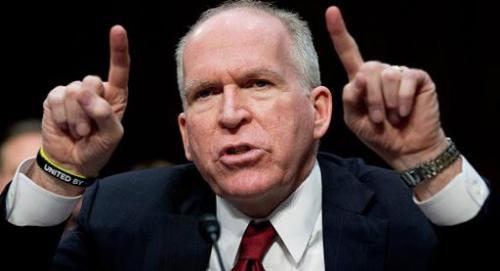 Responding to a question about comments tweeted earlier in the day by Senator Rand Paul (R-KY) that former CIA Director Brennan should have his clearance stripped, Sanders replied:
"Not only is the President looking to take away Brennan's security clearance, he's also looking into the clearances of Comey, Clapper, Hayden, Rice and McCabe," said Sanders, reading from a prepared statement, "because they've politicized, and in some cases, monetized their public service and security clearances. Making baseless accusations of improper contact with Russia or being influenced by Russia, against the President, is extremely inappropriate."

"The fact that people with security clearances are making these baseless charges provides inappropriate legitimacy to accusations with zero evidence." 
Sanders says Trump is considering taking away security clearances from Brennen, Comey, McCabe, Clapper, and Rice "because in some cases they have monetized their security clearances." pic.twitter.com/Y12JYq9Z1R

— Aaron Rupar (@atrupar) July 23, 2018
Earlier in the day, Senator Rand Paul tweeted: "Is John Brennan monetizing his security clearance? Is John Brennan making millions of dollars divulging secrets to the mainstream media with his attacks on @realDonaldTrump ?"
Is John Brennan monetizing his security clearance? Is John Brennan making millions of dollars divulging secrets to the mainstream media with his attacks on @realDonaldTrump ?

— Senator Rand Paul (@RandPaul) July 23, 2018
Brennan, a senior national security and intelligence analyst for NBC News and MSNBC, said that President Trump's comments following the Helsinki summit with Russian President Vladimir Putin "rises to & exceeds the threshold of "high crimes & misdemeanors," adding "It was nothing short of treasonous."
Donald Trump's press conference performance in Helsinki rises to & exceeds the threshold of "high crimes & misdemeanors." It was nothing short of treasonous. Not only were Trump's comments imbecilic, he is wholly in the pocket of Putin. Republican Patriots: Where are you???

— John O. Brennan (@JohnBrennan) July 16, 2018
Of course…
Recall: From April 2016 to July 2016, according to leaked stories in the British press, Brennan assembled a multi-agency taskforce that served as the beginnings of a CI probe into the Trump camp. During these months Brennan was "personally briefing" Obama. https://t.co/6ZA3f1RMje

— Nick Short (@PoliticalShort) July 23, 2018
James Clapper, meanwhile, is an employee of CNN, while former FBI Director James Comey has been traveling around the country peddling his book, telling people to vote Democrat – just not "Socialist Democrat."
___
http://www.zerohedge.com/news/2018-07-23/trump-revoke-security-clearance-brennan-comey-clapper-mccabe-rice