HOGG WILD! David Hogg Rallies Democrats in DC: "If You Listen Real Close You Can Hear the People in Power Shaking" (VIDEO)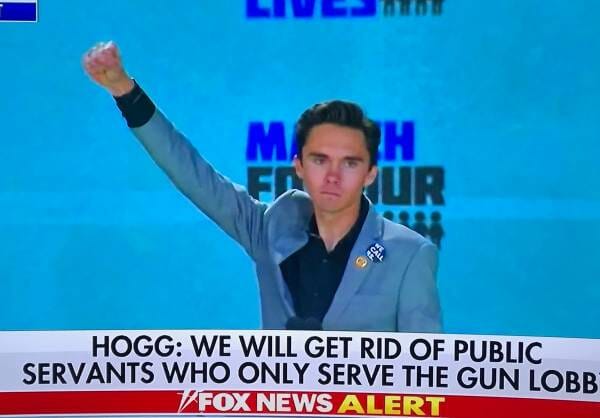 Jim Holt
Gateway Pundit
DAVID HOGG GOES HOGG WILD!
The anti-gun lobby held protests across the nation today against gun rights.
Democrat protest leader David Hogg spoke at the massive rally in Washington DC on Pennsylvania Avenue to tens of thousands of anti-gun protesters.
David Hogg rallied the young Democrat voters: The cold grasp of corruption shackles the District of Columbia. The winter is over. Change is here. The sun shines on a new day. And the day is ours. First time voters show up 18% of the time in midterm elections. not any more. (applause) Now who here is going to vote in the 2018 election. If you listen real close you hear the people in power shaking.
Hogg ended his speech with the black power salute.
Good grief.
Watch this end of Hogg's speech.
This guy is one angry kid!

UPDATE: CSPAN did not show the fist pounding salute.
___
http://www.thegatewaypundit.com/2018/03/hogg-wild-david-hogg-rallies-democrats-in-dc-if-you-listen-real-close-you-can-hear-the-people-in-power-shaking-video/