Schiff Claims "Ample Evidence Of Collusion" Amid 'Closed-Door' Hearings With Bannon
ZeroHedge.com
Special Counsel Robert Mueller and his staff must've broken a record for the fastest-ever leak of "closed-door" Congressional testimony because NBC News – one of the team's go-to leak receptacles – has already published details gleaned from parts of Bannon's multiday meeting with the Mueller team this week, which only wrapped up this morning.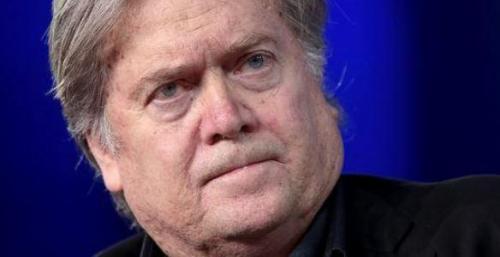 Given that Bannon has burned his bridges with the Republican party establishment AND the party's pro-Trump wing, Mike Conway, the Republican leading the House investigation after Devin Nunes' recused himself last year over allegations he went over his colleagues' heads and shared information with the White House before giving it to them.
Steve Bannon, who served as President Trump's chief strategist, was interviewed by special counsel Robert Mueller over multiple days this week, NBC News has learned from two sources familiar with the proceedings.

Bannon spent a total of some 20 hours in conversations with the team led by Mueller, who is investigating possible collusion between the Trump campaign and Russia as well as other issues that have arisen around the probe.

Bannon left his job as a senior White House adviser in August and returned to a leadership role at Brietbart, the right-wing news site based out of Washington. But he fell out of favor with the site's financial backers, the Mercer family, after criticizing the president and his family in "Fire and Fury," a book about the Trump administration published earlier this year by author Michael Wolff.
Bannon has reportedly been asked by the White House not to share details about his time in the West Wing, and to invoke executive privilege – an ask with which he has complied as he insists that he still thinks the president is a "great man" who has his full support.
And after reportedly sitting through 20 hours of testimony this week, the questions apparently touched on some of these sensitive issues, because, according to Schiff, Bannon refused to answer all but 25 questions (although Conway said Bannon answered at least 25 questions).
The former White House chief strategist was also booted out of Breitbart, where he was the executive chairman, after Michael Wolff's "Fire and Fury" book quoted him as saying he would have support from the Mercer family to run against Trump in 2020.
Meanwhile, Intel Committee ranking member Adam Schiff claimed the committee's investigation showed "ample evidence" of collusion…
"There is already, in my view, ample evidence in the public domain on the issue of collusion if you're willing to see it," Schiff told reporters.

"If you want to blind yourself, then you can look the other way."
If what Schiff says about the evidence is true, maybe he could point out the specifics to us.
___
http://www.zerohedge.com/news/2018-02-15/bannon-again-invoked-executive-privilege-during-meetings-mueller-week