And Especially By The FBI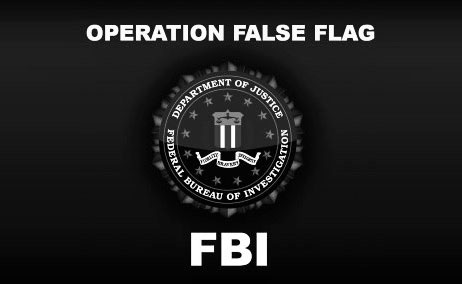 SOTN Editor's Note: The following article is just another example of how the Alt Media is being set up to disseminate a false narrative fabricated by the FBI.  Why is it always narrowed down to just one convenient patsy suspect in all of these mass shootings when multiple gunmen are obviously involved.
---
Answer: Because that's the easiest way to control the actual government conspiracy and its cover up.
Remember the cold-blooded murder of LaVoy Finicum.
---
Nikolas Cruz Was Reported to FBI As Potential School Shooter in September (Screenshot of Threat)
by Cassandra Fairbanks
The Gateway Pundit
Nikolas Cruz, the suspect in Wednesday's horrific massacre at a Florida high school, was allegedly reported to the FBI in September after he left a comment on a bail bondsman's YouTube channel saying that he was going to be a "professional school shooter." 
The former student at Marjory Stoneman Douglas High School had previously been expelled for disciplinary problems prior to the mass shooting that left 17 people dead.
In a YouTube video published on the evening of the attack, Ben Bennight, a Mississippi bondsman, explained that he was contacted by the FBI at approximately 3 p.m. about a comment on one of his videos that he had reported last fall.
"The FBI just left my house in regards to this situation," Bennight stated. "September 24th 2017, I sent a screenshot of a comment on one of my videos — now people keep asking me which video was it, but I don't know, I don't remember what video it was — when I saw the comment come through on my Studio app on my iPhone I screenshot the comment and hit the report button to report it to YouTube. Of course, they removed the comment."
The video then scrolled through the screenshot and his report to YouTube.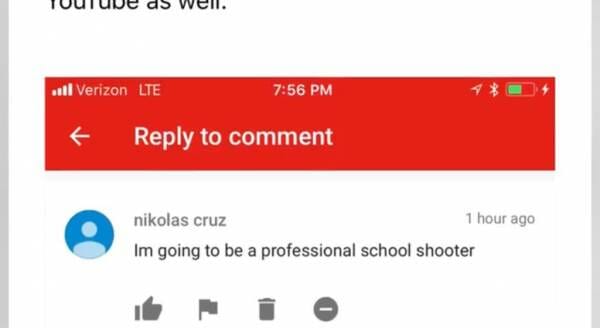 Bennight proceeded to report the comment to the FBI.
"I looked up the number to my local field office and I called and left them a message. The next day I had two FBI agents standing in my office taking down the information and copies of the screenshot. They were asking me questions that of course I couldn't answer. All it was on my channel was a comment, people leave pretty heinous comments on a pretty regular basis," Bennight continued.
"This comment said 'I am going to be a professional school shooter' and I knew that I could not just ignore that," he said. "I screenshotted the comment, I sent it to the appropriate authorities — and I imagine that from there they did a pretty thorough investigation and tried to find out who this person was," he explained.
The bondsman continued on to explain that the YouTube comment did not come from an anonymous account, but from one with the name Nikolas Cruz.
"It wasn't a generic screen name, the screen name was Nikolas Cruz — which I'm sure as you know by now, is the name of the guy that did the shooting in Florida today," Bennight said.
Bennight explained that the first contact from the FBI today came in a phone call from his local field office shortly after the shooting. He stated that an agent called him, asked where he was and asserted that he was on his way to his house. Immediately after that, he says that he received a call from an agent from the Miami field office.
"I called him back and he's like, 'hey, you know, I'm just following up on a report that you made a couple months back' — and I was like yeah, I just got off the phone with an agent over here," Bennight said. "I emailed the Miami agent everything I had — well, everything I had was just that screenshot."
Within an hour, the agent from his local office was at his home.
When the agent arrived at his home, he was questioned about if he had any previous contact with Cruz, which he says he did not. He was also questioned about how his report was handled at the time.
"I would like to think they were already investigating this guy and they had him at the top of their radar and that's how they ended up contacting me so quickly," Bennight said. "I wish I could have given them more information, but it was just a comment on my channel."
The YouTube channel as well as all other social media belonging to Cruz appeared to have been taken offline by Wednesday evening.
___
http://thegatewaypundit.com/2018/02/nikolas-cruz-reported-fbi-potential-school-shooter-september-screenshot-threat/