"No Deal" – Government Shutdown Begins
ZeroHedge.com
Update 12:03am ET: The shutdown has begun.
Per Reuters, the White House says it will reopen negotiations on immigration reform 'when the Democrats start paying our armed forces and first responders'.
* * *
Update 10pm ET:
*SENATE LACKS VOTES TO ADVANCE STOPGAP PLAN AS SHUTDOWN LOOMS
The New York Times headline summed things up well: Senate Democrats Kill Bill to Keep Government Open Past Midnight
Despite last minute 'compromise' meetings, and continued "hopes" from various sides, The Senate failed to reach the 60 votes necessary to keep the government funded (even for a stopgap) and so, as of midnight tonight, the government will shut down.
http://twitter.com/DRUDGE/status/954553590718214145?ref_src=twsrc%5Etfw&ref_url=http%3A%2F%2Fwww.zerohedge.com%2Fnews%2F2018-01-19%2Fwatch-live-white-house-holds-emergency-press-conference-shutdown-talks-stall
John Cornyn, the second-ranking Senate Republican, said the two parties haven't yet found an agreement that would provide short-term funding for the government with a little more than two hours before the deadline.
"No deal," Cornyn said as the Senate prepared to take up a House-passed funding bill that Democrats have the votes to block.
A group of lawmakers has been working on a plan for a three-week funding bill that would give Democrats and Republicans time to negotiate a long-term compromise on immigration, the chief sticking point in the spending fight.
CNN's Phil Mattingly explained on air: "Democrats aren't looking for a reduction in time in the continuing resolution, they're looking for substantive policy, commitments, changes or actual legislative text before they are willing to come on board with that."
This is what America will wake up to…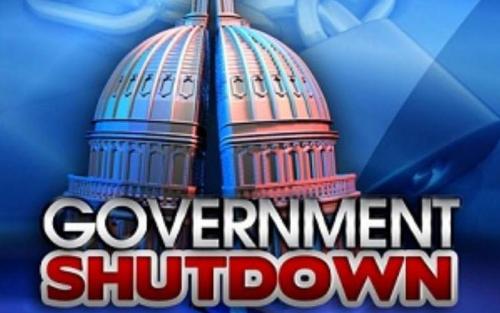 This is the 19th US government shutdown in the last 40 years…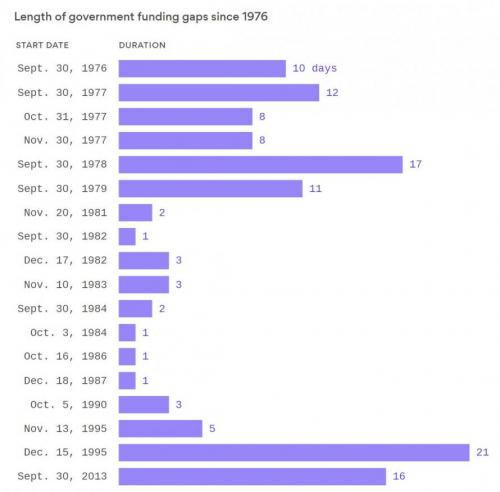 President Trump tweeted before the vote:
Not looking good for our great Military or Safety & Security on the very dangerous Southern Border. Dems want a Shutdown in order to help diminish the great success of the Tax Cuts, and what they are doing for our booming economy.

— Donald J. Trump (@realDonaldTrump) January 20, 2018
While the blame-scaping may have begun days ago, tonight has already seen a full court press of finger-pointing.
Sen. John Kennedy (R-La.) blasted Congress on Friday as a government funding deadline approached, slamming the government as being "run by idiots."
"Our country was founded by geniuses, but it's being run by idiots," Kennedy told reporters hours before the government was set to enter a shutdown.
Lindsey Graham issued a statement suggesting a three-week compromise CR to Feb 8th:
My statement on funding the government. pic.twitter.com/SVEuBU2Nhs

— Lindsey Graham (@LindseyGrahamSC) January 20, 2018
The White House has estimated 1056 staff will be furloughed during the shutdown.
EXECUTIVE OFFICE OF THE PRESIDENT
Updated Contingency Plan For Shutdown Furlough
A. Summary of Contingency Plan
Should Congress not pass a Fiscal Year 2018 ("FY2018") appropriation or continuing resolution ("CR") by January 19, 2018, the Executive Office of the President ("EOP") would be without authority to incur any financial obligations in FY2018, with very limited exceptions, and would therefore implement a contingency plan for shutdown furlough (the "Contingency Plan"). The Contingency Plan entails placing an estimated I 056 ofthe 1715 EOP staff in furlough status ("Non-Excepted Staff'), while an estimated 659 EOP staff would continue to report to duty because they are (i) designated as excepted to perform emergency or excepted functions; (ii) Presidentially Appointed, Senate Confirmed staff; (iii) otherwise exempt from the Anti-deficiency Act; (iv) alternatively funded during a government shutdown (collectively, the "Excepted Staff'). Any EOP personnel that are other government employees ("OGEs" or "Detailees") would be furloughed or continue to report to duty at the discretion of their respective home agencies.
B. Implementation of Contingency Plan
Once it becomes clear that neither an appropriations bill nor a CR will be enacted prior to January 19, 2018, the White House Office of Management & Administration ("M&A") will notify EOP components to begin an orderly shutdown of unfunded functions. Non-Excepted Staff will receive shutdown and furlough notices. Detailees will be notified by their home agencies whether they are to be furloughed.
On Monday, January 22, 2018, Excepted Staff will report to duty. Non-Excepted Staff will also report on January 22, 2018, either in person or via telework for no longer than four hours and for the sole purpose of engaging in orderly shutdown activities. Each EOP component will issue instructions to their employees for orderly shutdown.
C. Specifics of EOP Component Contingency Plan
Each EOP component has carefully considered the number of personnel required not only to complete orderly shutdown activities but also to ensure that the emergency or excepted operations of each EOP component can be carried out during shutdown. The chart below summarizes component-by-component the Excepted Staff that will be required to sustain minimal emergency or excepted operations.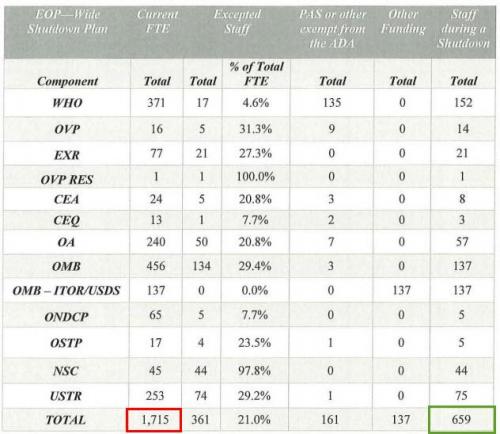 Federal employees will work without pay: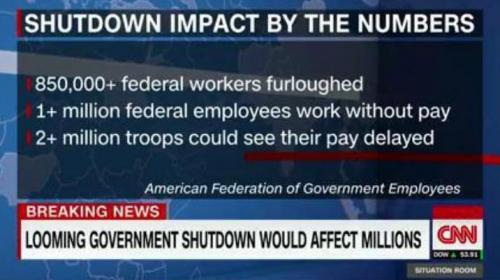 The question is – will government ever re-open? As Trump tweeted earlier, the Democrats want to shutdown to dim the success of the tax cuts; and as Goldman noted earlier, for every week of government shutdown, GDP growth will drop 0.2ppt.
CNN is reporting that House Democrats plan a 10am meeting tomorrow to discuss a stopgap bill.
The battle of the hashtags has begun – #RepublicanShutdown, #TrumpShutdown, or #SchumerShutdown.
All of which distract from the only hashtag that really matters currently – #ReleaseTheMemo.
*  *  *
Update (6:20 pm ET): Democratic Sen. Heidi Heitkamp says she will vote for a 5-day stopgap plan being hashed out by a group of senate Republicans. While Mulvaney has expressed optimism that a deal will be reached within the next 24 hours, Mark Meadows, leader of the House Freedom Caucus of conservative Republicans, said the 5-day agreement is a nonstarter – Which an administration insider confirmed.
Heitkamp represents North Dakota – a state where Trump won more than 60% of the vote in 2016 – and will be running for re-election in November. Her seat is viewed as vulnerable by some Republicans.
According to the Washington Post, Heitkamp also supported the Republican plan for a one-month extension, as did Indiana's Joe Donnelly and West Virginia Sen. Joe Manchin III. All three senators face a difficult path to reelection in heavily Republican states.
Meanwhile, Mitch McConnell announced on the Senate floor that a procedural vote on the troubled 4-week extension has been scheduled for for 10 pm ET. Senate Democrats will meet at 8:30 pm ET.
* * *
Update (5:40 pm ET): OBM Director Mick Mulvaney says he "thinks there'll be a deal in the next 24 hours."
Meanwhile, a White House aide said a proposed 5-day bill is a non-starter – echoing sentiments expressed by Freedom Caucus head Mark Meadows.
* * *
Update (5:20 pm ET): Trump tweeted that he had an "excellent" meeting with Schumer, and that he's working with both Democratic leaders, as well as Paul Ryan and Mitch McConnell to hammer out a four-week extension.
Excellent preliminary meeting in Oval with @SenSchumer – working on solutions for Security and our great Military together with @SenateMajLdr McConnell and @SpeakerRyan. Making progress – four week extension would be best!

— Donald J. Trump (@realDonaldTrump) January 19, 2018
* * *
Continue reading at: http://www.zerohedge.com/news/2018-01-19/watch-live-white-house-holds-emergency-press-conference-shutdown-talks-stall