Woman Who Flipped Off Trump's Motorcade Fired From Her Job
By Brian Freeman | NEWSMAX
A picture of bicyclist Juli Briskman giving the middle finger to President Donald Trump's motorcade as it passed her by on a wooded road as he left his golf course in Sterling, Virginia that went viral led to her being fired from her job, the HuffPost reported on Monday.
Her employer, government contractor Akima LLC, fired her after it said she had violated the company's social media policy by using the photo as her profile picture on Twitter and Facebook.
Briskman, a 50-year-old mother of two who worked at Akima for more than half a year, defended herself by saying that she wasn't on the job when the incident happened and that her social media pages do not mention her employer.
She also accused the company of hypocrisy, saying that a male colleague was reprimanded but allowed to keep his job after he deleted a profane comment he had posted on his Facebook page, which even featured Akima as his cover photo.
Akima did not return a request for comment, the HuffPost said.
Briskman, a Democrat, said she planned to look for a new job with an advocacy group in which she believes.
Asked why she made the gesture, Briskman said that her "blood just started to boil" as the presidential motorcade went by.
"I'm thinking, DACA recipients are getting kicked out. He pulled ads for open enrollment in Obamacare. Only one-third of Puerto Rico has power… [and] he's at the damn golf course again," she added.
She also said she had no regrets about what she did and is happy to be an image of protest that represents the feelings of so many Americans, even adding that "in some ways, I'm doing better than ever."
___
http://www.newsmax.com/US/juli-briskman-fired-job-trump/2017/11/06/id/824290/
---
What follows is an excellent comment that completely rebuts what Briskman said was her reason for such exhibiting such profound disrespect toward the POTUS.
Many liberals couldn't care less about following photo of  bicyclist Juli Briskman and what it really represents. When Hillary Clinton called the patriots on the Right "deplorables", "irredemables" and a "bucket of losers", she was really talking about her own supporters. And this picture below proves it.
---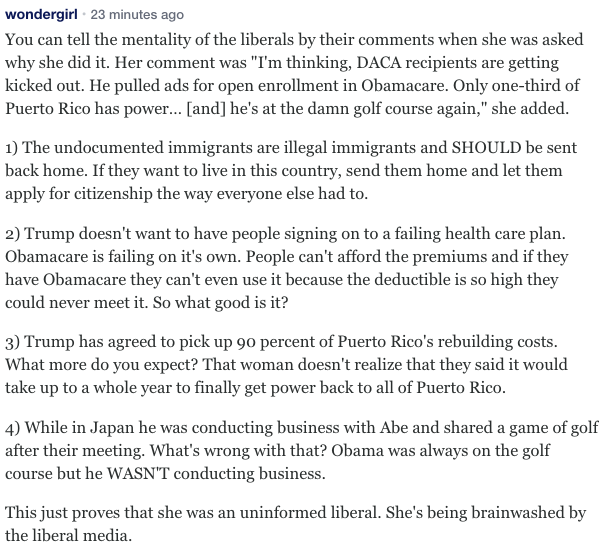 ---