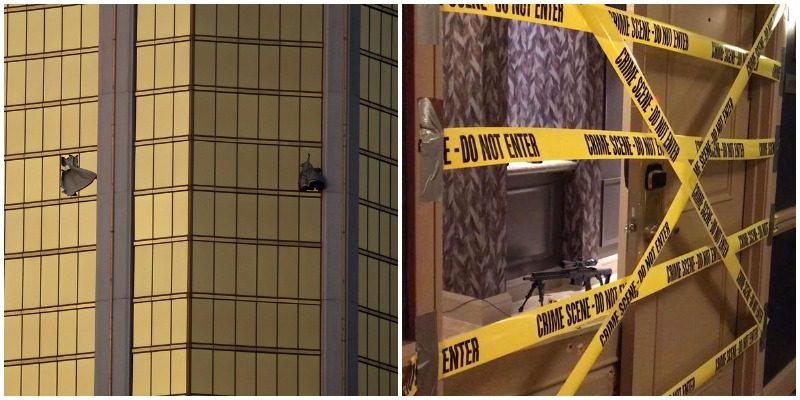 Written by Carey Wedler
(ANTIMEDIA) Las Vegas, NV — Earlier this week, police investigating the Las Vegas shooting made headlines when they changed the official timeline of events in the deadly massacre on October 1.
They had initially reported that gunman Stephen Paddock shot Mandalay Bay security guard Jesus Campos after he fired into the crowd at the Route 91 Harvest Festival. Campos was credited with stopping the attack. This week, the Los Angeles Times further summarized the original timeline:
"In a timeline released last week, investigators said Paddock had stopped firing at the concert across the street at 10:15 p.m., and the first police officers arrived on the floor at 10:17 p.m. and encountered the wounded Campos at 10:18 p.m., who directed the officers to Paddock's suite."
This summary came from a report released Monday of this week when the official story first changed. This week, Clark County Sheriff  Joe Lombardo announced Paddock had fired on Campos at 9:59 pm, a full six minutes before the attack began — not after he stopped shooting into the crowd. This created new questions as to why Paddock stopped firing on concertgoers considering it apparently was not a result of Campos diverting his attention.
Now, just days later, police have again changed their timeline, clarifying that Paddock did not actually shoot Campos six minutes before the rampage began. The Chicago Tribune reports that amid claims from the MGM Hotel Group that contradict the second timeline offered Monday, authorities altered their sequence of events.
The Tribune noted that "new questions surrounding the shooting have centered on the law enforcement response and the timeline, which had been changed multiple times and challenged by MGM Resorts International, the Mandalay Bay's owner."
The outlet explained further:
"Lombardo had said on Monday that Campos, the guard, was shot at 9:59 p.m. and that the mass shooting began at 10:05 p.m., lasting for 10 minutes. This six-minute gap relayed by Lombardo left uncertain whether there was any lag in alerting police to the source of the gunfire during critical moments. Police said they arrived on the 32nd floor at 10:17 p.m., after Paddock had stopped firing.
"MGM, though, said it was 'confident' that the 9:59 p.m. time was inaccurate and 'was derived from a Mandalay Bay report manually created after the fact without the benefit of information we now have.' The company also disputed the suggestion of a lag and said the mass shooting began within a minute of Campos being shot on the 32nd floor."
According to a statement from MGM:
"We know that shots were being fired at the festival lot at the same time as, or within 40 seconds after, the time Jesus Campos first reported that shots were fired over the radio."
The Tribune summarized Lombardo's most recent explanation:
"Upon investigation, [Lombardo] said, police learned that Campos first encountered a barricaded door on the 32nd floor at 9:59 p.m., and that he was fired upon by Paddock 'in close proximity to' 10:05 p.m., when police say the mass shooting began.
"'He attempted to relay that information via his radio and it was confirmed because he also relayed that information via his cell phone,' Lombardo said. 'So the timeline associated to both of those sources have been verified.'"
The sheriff did not specify when police were informed of the security guard's report.
Earlier in the week, Lombardo expressed frustration at questions over the changing timeline. "Nobody's trying to be nefarious, nobody's trying to hide anything, and what we want to do is draw the most accurate picture we can," he said Wednesday.
Daniel Oates, who served as police chief of Aurora, Colorado, when James Holmes opened fire on a movie theater in 2012, defended police's changing story. "I see this as being ridiculously hard on the people who are trying to get information out, get the totality of that story," he said. "This stuff takes time." The Tribune reported that experts "cautioned that it can take time for even basic information about what occurred during events like the one in Las Vegas to come together" (though, in that article, the outlet did not identify specific experts beyond Oates).
Either way, the jumbled timeline continues to draw questions and skepticism, exacerbated further by reports at the end of this week that Campos 'disappeared' shortly before he was scheduled to appear at a press conference on Thursday. The report is circulating mostly in right-wing corners of the news media; it was reported by Fox News and has been re-reported by several other right-leaning outlets. The general story appears to have been confirmed by ABC journalist Stephanie Wash, who tweeted Thursday evening: "Media scrum tonight as we learn security officer shot in Vegas attack, Jesus Campos' whereabouts are unknown."
Media scrum tonight as we learn security officer shot in Vegas attack, Jesus Campos' whereabouts are unknown. pic.twitter.com/Jk09tRlPsX

— ????????? ???? (@WashNews) October 13, 2017
"Jesus Campos was set to do 5 intvs tonight per union president, but they've lost contact. 'We were in a room & we came out & he was gone,'" she also tweeted.
Jesus Campos was set to do 5 intvs tonight per union president, but they've lost contact. "We were in a room & we came out & he was gone"

— ????????? ???? (@WashNews) October 13, 2017
An independent journalist reported on Twitter that Campos' family is under a gag order, however that remains unconfirmed.
Despite an influx of criticism and claims of cover-ups, Lombardo insists they are simply doing their best to relay information to the public and gather information and suggested the timeline could continue to change.
"There is no conspiracy between the FBI, between LVMPD and the MGM," he said this week. "Nobody is attempting to hide anything in reference to this investigation. The dynamics and the size of this investigation requires us to go through voluminous amounts of information in order to draw an accurate picture."
___
http://theantimedia.org/vegas-shooting-story-change-witness/