Las Vegas Murder Victims Cross Referenced In Different Media Accounts Both Alt & MSM
At least 58 people died in Las Vegas… … …
and there's plenty of proof in the public domain that confirms this number
SOTN Editor's Note:
SOTN has been compelled to post the following information/photos in order to address the emerging Alt Media false narrative that "nobody died" in Vegas.  The following 2 photos of Brett Schwanbeck tell part of the story of the October 1st HARVEST Massacre.  Here's accompanying reference as it appeared in the mainstream media:
---
Brett Schwanbeck, 61, of Bullhead City, Ariz., was among the victims of the Las Vegas shooting on Oct. 1, 2017. (Photo: Facebook)
Age: 61
City: Bullhead City, Ariz.
Schwanbeck, a retired truck driver and grandfather, was remembered by relatives this week as an avid outdoorsman always willing to help a family member in need.
His fiancee, Anna Orozco, hid in a dumpster until the gunfire stopped, niece Carla Van Hoosen reported on a GoFundMe page raising money for his immediate family.
Schwanbeck was carried by bystanders to an ambulance, and he was hospitalized at Sunrise Medical Center in Las Vegas. He died of his injuries Tuesday, according to his niece.
In addition to Orozco, Schwanbeck is survived by three children and five grandchildren.
---
The first picture below is the file photo published by USA Today of Brett Schwanbeck in their article which provides a photo-documentary of all 58 deaths officially registered in the aftermath of the terror attack. Here are all the victims of the Las Vegas shooting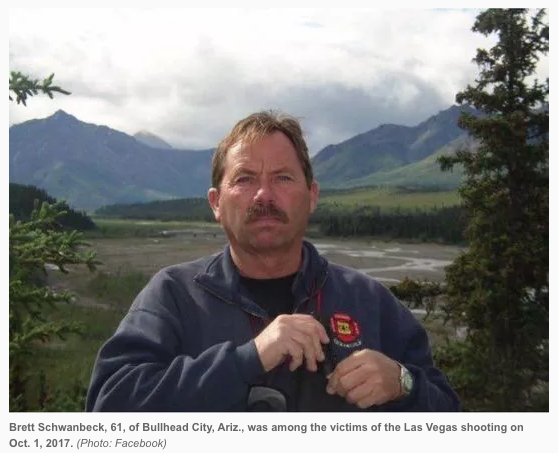 This second photo of Brett Schwanbeck was captured by raw video footage at the Harvest Music Festival venue right after the mass shooting occurred.  The telling conversation in the video indicates that Brett suffered an entry and an exit wound from a gunshot; it ends with an understanding that he died on the spot.  The original video can be viewed here: Raw Footage Of Dead And Wounded Concert-Goers Right After Las Vegas Shooting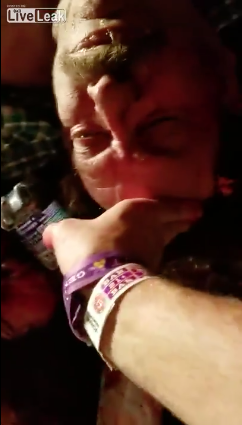 SOTN was reluctant to post the preceding photo and only decided to in an effort to demonstrate that many good folks died on Sunday evening, October 1, in front of the Mandalay Bay.  Their heroic sacrifices need to be properly honored and their families respected during this period of overwhelming grief.
Our deepest condolences to the families of the deceased.  Each and every one of them was an unwitting martyr to a much greater cause.  Truly, that tragic event at the HARVEST  represents a major turning point for the American Republic.
KEY POINT: Of the 58 C&W concert-goers who were brutally murdered, 36 were female patriots and 22 were men.  So it appears that the agents of Deep State who cowardly shot these innocent women quite intentionally singled them out.  Just why did they do that?  Just like the savage ISIS terrorist group, premeditated terror attacks of this type are often calculated to target the mothers of future patriots.
Conclusion
In view of why the Las Vegas false flag black operation was conducted, it's imperative that the Alt Media does not fall into all the usual traps.  The globalists would love nothing more than for the alternative journalists to promote the "nobody died" narrative.  What better way to minimize the profound sacrifices made at the HARVEST event.
While the sacrificial ritual that the Illuminati actually performed on that fateful evening was meant to catalyze their NWO agenda, it has actually galvanized the patriot movement.  This movement is in urgent need of being jump-started, particularly at this critical time of U.S. history.  Hence, the attempted negation by agents of Deep State of the murderous rampage must be resisted.  And, the real deaths that occurred in Las Vegas have to be acknowledged — NOT DENIED — so that their valiant sacrifices can be recognized.
Oh, and by the way, the religious observation of this single truth is enough to help patriots everywhere overcome the tightening stranglehold that Deep State has on American society.  In other words, truly honoring our heroic brothers and sisters will trigger the [EXTRAORDINARY] intercession necessary at this crucial juncture.
State of the Nation
October 11, 2017
Author's Note
For anyone who doubts that many gunshots were fired in Las Vegas, the following video clearly shows that the HARVEST venue was temporarily transformed into a shooting gallery. Definitive Gunfire From Mandalay Bay—Must View VIDEO for the Skeptics
Source
[1] Complete List Of Las Vegas Murder Victims At The HARVEST