by Jim Hoft
Gateway Pundit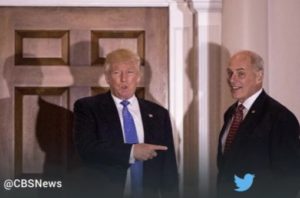 The mainstream media is floating rumors that Trump White House Chief of Staff John Kelly was removed from Air Force One this week and may be resigning.
Kelly has been assigned Trump duties the past few months.
According to conversations with Steve Bannon John Kelly is not allowing President Trump to receive his news from conservative news outlets.
Pajamas Media reported:
Gen. Kelly was originally going to be on AF1 to Vegas with Trump today but was pulled off flight, I'm told.
WH not answering Qs about it.

— Jennifer Jacobs (@JenniferJJacobs) October 4, 2017
Although the White House initially refused to answer her questions about this rather akward move, Press Secretary Sarah Huckabee Sanders eventually said that there's "nothing to read into here," explaining:

He is basically always on the manifest. Sometimes he travels, and sometimes he doesn't.
An important caveat, of course, but Huckabee's explanation did not prevent Scott Dworkin from tweeting that not one, not two, but three people have told him that this may very well be General Kelly's last week as Trump's chief of staff.
I've heard from three people from different circles on the Hill that this may be John Kelly's last week as Trump's Chief of Staff. #AMJoy https://t.co/T9AGHeGR9y

— Scott Dworkin (@funder) October 4, 2017
___
http://www.thegatewaypundit.com/2017/10/reporter-general-kelly-pulled-off-air-force-one-may-resign-end-week/