Former NSA Analyst Offers Latest on Vegas Shooting False Flag
by Jim Stone
My comments on several conspiracies circulating-
Obviously the shooting in Vegas was not what we are told. I am standing by my particular theory of the shooting happening from above the stage.
Obviously the patsy is a patsy, he knew nothing about guns and according to the family was agnostic. That pretty much says it all. That means nothing came from his hotel room, despite the kicked out windows.
On that note, don't forget how damning this Israeli newspaper report is, which happened only 5 hours after the shooting, long before the police could have had any specific answers to report. This bunked news report, released WAY TOO EARLY proves Israel was involved in this shooting: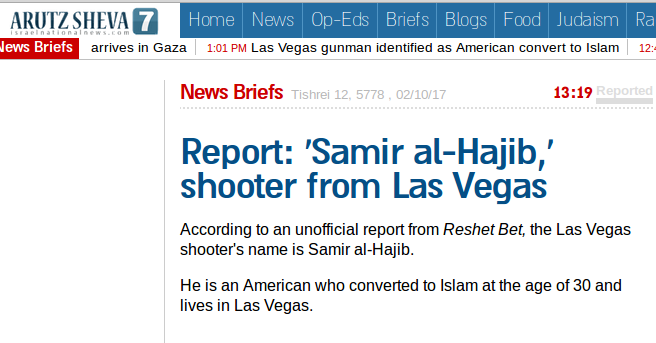 When a screw up is that grave, there's no getting over it. They called the patsy by his "Islamic name" when his family claimed he was agnostic, and did it before the dust settled. How did the Israeli paper come up with such specific Islamic insights so quickly?
Here's a big one:
Mandalay Bay was actually missing 4 windows. That's a screw up as big as the Israeli newspaper screw up.
Obviously the MSM is skipping this part of the story. Yesterday I came across a critical picture. Did you know FOUR windows were kicked out at Mandalay Bay? YEP. Here's the other two, and I'll say how this probably happened – The idiots who staged this psyop did not even have it thought all the way through, and kicked out windows that would not work for the story line. As stupid as this sounds, the question remains – why are two windows missing on the wrong side of the hotel?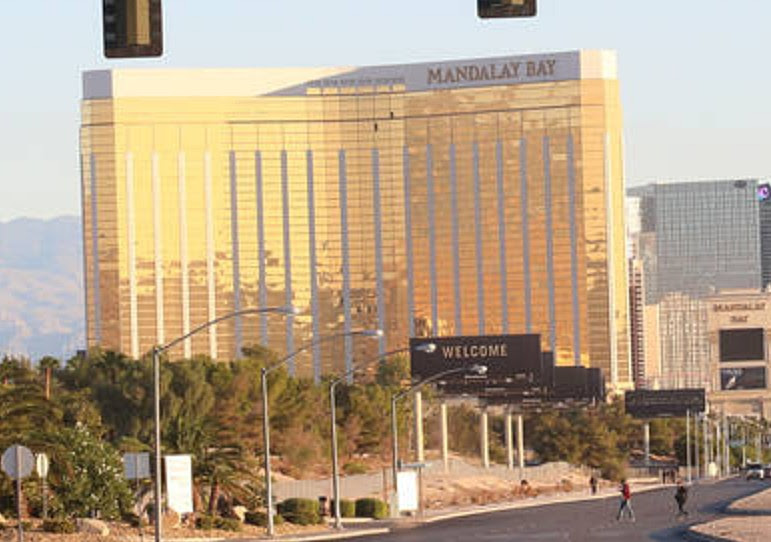 Good question. And it is called "somebody screwed up". WINDOWS MISSING. NO ONE SHOT FROM HERE, and it is a safe bet no one shot from the other two missing windows, it is all part of a partially botched setup.
There are a few people saying the shooting was happening from the 10th and 4th floors, and they are getting mileage. Yet no missing windows, and the windows on these hotels can't be opened. They are saying the shooting happened from these places because they can see muzzle flashes. But it is obviously just reflections of the flashing lights on the police cars that are on the street. Not well thought through conspiracy plot at all. None of the videos show muzzle flashes from where they should have come from either. That's because no one was shooting from there.
My final answer is based on the only hard evidence there was in this event – the volume of the concert in relation to how loud the gunfire was. It's a dead giveaway, no one shot from the hotel, PERIOD. Yes, multiple gunmen. I disagree that they had to be skilled, the target was too easy. They could have been skilled and it would not have made a difference.
So what we have in the end is a total setup, a false flag, multiple gunmen who were not located as stated, a patsy I probably would not have liked in real life but a patsy nonetheless who probably slept up until the bullets started flying (he could probably hear the ruckus below after the music stopped,) suddenly his door got kicked in and it was adios.
And no one could blame anyone for not believing the official story. There are too many consistencies with past proven psyops. Obvious multiple shooters reported early on (Pulse, San Bernardino, Vegas) only to have one dead patsy who shot himself and now can't talk. It's like all of this crap is being done from the same one page set of instructions by a machine that can't diversify at all, with the only changes in the plot forced into it by geography and environmental factors. It worked in Communist Russia. It is not working nearly as well now.
There are going to be countless conspiracy theories because people know they have been lied to. I have said what I think. But only one thing is absolutely certain – we have been lied to. This was a setup. It was too conveniently timed with the Puerto Rico scandal. The target was also too perfect, but one thing communists won't realize (because they hide out at Starbucks and worry about things as little as a damaged napkin) is that shooting at the redneck country music crowd won't cause that crowd to shed a tear. At least not on day 3. They are robust. You can't take their guns that way, they won't just hand them in because something bad happened. If the communists want guns from that particular target, they are going to have to take them the hard way even after half of them are dead.