'It was a horror show': Mass shooting leaves more than 20 dead, 100 wounded on Las Vegas Strip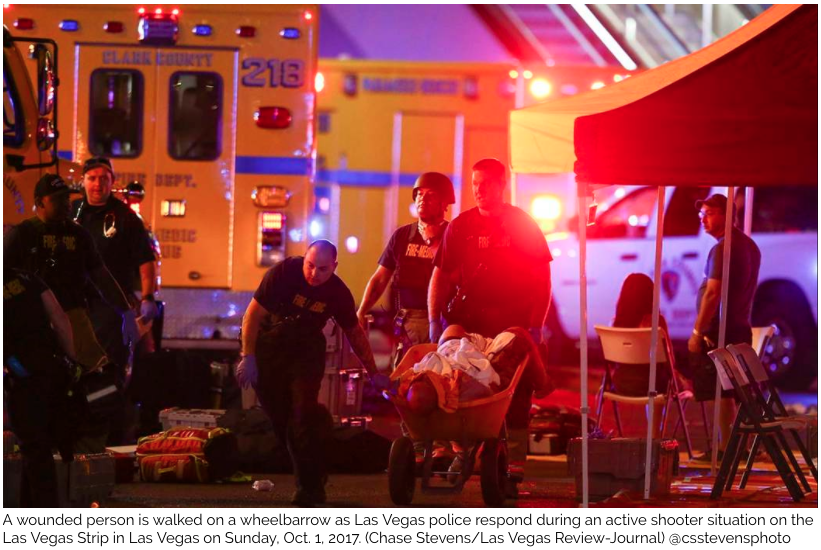 Las Vega Review Journal
Updated October 2, 2017 – 2:46 am
At least one gunman opened fire on an outdoor country music concert near Mandalay Bay late Sunday, killing at least 20 people, injuring more than 100 and sending the Las Vegas Strip into chaos.
One suspect, a Las Vegas man, was killed by police on a high-level hotel floor at Mandalay Bay, Sheriff Joe Lombardo said at a 1:35 a.m. briefing. Lombardo did not provide the man's name. He said police were looking for Marilou Danley, a woman traveling with the suspect. She was described as Asian and 4-foot-11.
Police also were seeking two vehicles, a Hyundai Tucson, Nevada license plate 114 B40, and a Chrysler Pacifica Touring, Nevada license plate 79D 401. 
The attack came during the last performances on the final night of the three-day Route 91 country music festival, which has been held for the past four years on a 15-acre lot on Las Vegas Boulevard across from Mandalay Bay.
Automatic gunfire rang out while Jason Aldean was onstage. Concertgoer Ivetta Saldana, who was there with a friend, said the shots sounded like fireworks.
She said she hid in a sewer.
"It was a horror show," she said at the Town Square shopping center south of the Strip. "People were standing around, then they hit the floor."
One responding officer was critically injured, and another had minor injuries, police said.
False reports of other shooters
At one point police were investigating reports of active shooters at other Strip properties. Those reports turned out to be false.
Mandalay Bay, the MGM Grand and the Tropicana remained on lockdown at 2:25 a.m. Guests were told to stay in their rooms, and the hotel is not letting people into the building.
Roads throughout the area, including I-15 between Blue Diamond Road and Charleston Boulevard, were shut down. The Metropolitan Police Department is asking people to avoid the south Strip.
It appeared the shooter was firing down at concertgoers from upper-level rooms at Mandalay Bay. He was killed on the 32nd floor, police said.
Scores of victims were transported to hospitals across the valley. One off-duty police officer from Bakersfield was among the victims.
'It was relentless'
Matt and Robyn Webb from Orange County said they sheltered underneath their seats as burst after burst of gunfire rained down from the direction of Mandalay Bay.
"It just kept coming," Robyn Webb said. "It was relentless."
They eventually evacuated toward Reno Avenue, where they said they saw as many as 20 people lying in the street bleeding.
"That's when we knew for sure it was real," Matt Webb said.
They ended up at Hooters Hotel Casino, but they said they had to flee from there with the panicked crowd as more shots rang out.
"We thought we were safe," Robyn said.
They ended up sitting together on a curb next to an empty lot on Tropicana Avenue just east of Koval Lane, trying to get news on their phones and collect themselves as wailing ambulances streamed to and from the scene.
They said they had no way to get back to their room and their two puppies, now on lockdown at the Delano.
Evacuees to Thomas & Mack
Several busloads of people were brought to the Thomas & Mack Center, many of them festival goers in cowboy boots.
They were offered water and restrooms as they waited to catch rides somewhere else or find out if they would be allowed back to their hotels.
First, though, each evacuee was patted down by police before being allowed inside the arena.
One man showed up at Thomas & Mack with what turned out to be a wound on the back of his leg. It was unclear if he'd been shot to struck by shrapnel. He was bandaged and taken away in an ambulance.
A reporter on the scene at Mandalay Bay said people could be seen running from a casino entrance into the ground floor of the parking garage at the hotel.
FBI SWAT as well as SWAT units from Henderson, North Las Vegas and Las Vegas were called to the scene, according to police scanner traffice.
Scores of ambulances, a helicopter and police vehicles were on the scene, and victims were sent to University Medical Center and Sunrise Hospital Medical Center. Health care workers from around the valley were called into hospitals and to the scene. The wounded were moved in wheelbarrows and luggage carts.
More than 25 flights were diverted from McCarran International Airport as of midnight, according to airport spokeswoman Christine Crews. Flights were being held as the flight path was reconfigured to keep airplanes from getting shot.
'We couldn't just sit at home'
Jessica Perez, 21, was in bed at home when she learned about the shooting. Less than an hour later, she had five multipacks of water in the trunk of her car and headed toward the Strip with her brother and cousin.
"We couldn't just sit at home doing nothing," the Las Vegas resident said. "Everyone was begging us please don't go, but we couldn't sit there."
Perez said news reports led them to the staging area at the intersection of Las Vegas Boulevard South and Sunset Road, where a large mix of reporters and civilians were camped out waiting for updates from Metro.
"We knew everyone would be coming here," she said. "My heart hurts and I can't believe this is happening in my home."
___
http://www.reviewjournal.com/local/the-strip/it-was-a-horror-show-mass-shooting-leaves-more-than-20-dead-100-wounded-on-las-vegas-strip/