SHIFTY SCHIFF COULD USE TRUMP-RUSSIAN WITCH HUNT TO LAUNCH SENATE BID
BY DONN MARTEN
Downtrend.com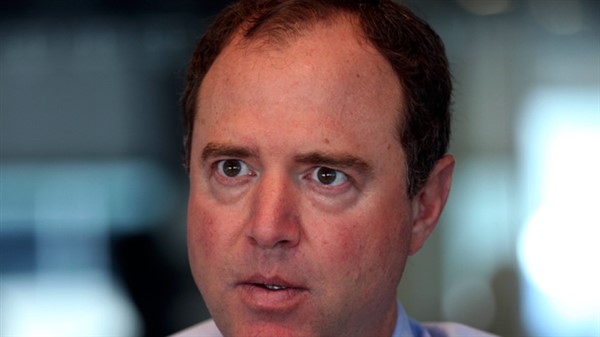 In a story that pretty much sums up what the entire carnival of perversion about the Russians colluding with Trump to cheat Hillary out of the presidency, it is being reported that Adam Schiff is mulling a run for a U.S. Senate seat.
The Democrats' chief inquisitor who has done his best imitation of Tail Gunner Joe in the obscene and ridiculous farce that is the House Intelligence Committee investigation into Russian election meddling could benefit hugely from the exposure.
The Hollyweird based congressman was until recently a no-name schmuck back bencher but saw his opening for fame and fortune by heading up the witch hunt against President Donald Trump and his associates over innuendo and evidence-free allegations.
Schiff's dog and pony show was badly hamstrung after Intel Committee leader Devin Nunes appeared to have found real evidence of mass surveillance – including Trump's campaign team if not the POTUS himself – and is currently in limbo.
But the hearings have already nicely served the agenda of shifty Schiff who is reportedly seeking to parlay his newfound name recognition into high political office.
Political is reporting "Schiff could use Russia probe as Senate springboard":
The congressman from Hollywood has landed his breakout role — investigating President Donald Trump's ties to Russia — and it might be Adam Schiff's path to the Senate.

As the top Democrat on the House Intelligence Committee, the California congressman has become a daily, sometimes hourly, fixture on cable news, winning rave reviews from Democrats for his lawyerly and occasionally devastating takes on the Russia probe's latest developments.

Schiff's near-constant presence on TV is valuable in a state with 53 members of Congress who compete for attention with movie stars. And it's practically a requirement for achieving name recognition in a state with eight major media markets that make it nearly impossible to reach voters through commercials.

His fast-rising profile is fueling speculation he might be laying the groundwork for a run for higher office — for the Senate or governor's mansion, or maybe even the White House.

Schiff himself acknowledges harboring grander ambitions but adds the obligatory qualifiers in an interview: He's busy with his current job and hopes that Dianne Feinstein, California's 83-year-old senator, will seek reelection in 2018.

AND

Several California newspapers have listed Schiff as a possible candidate for Senate if Feinstein decides to retire, while also noting the fourth-term senator appears to be preparing for another run. There are many other possible Democratic contenders, including Los Angeles Mayor Eric Garcetti, State Senate President Kevin de Leon, Secretary of State Alex Padilla, former Rep. Ellen Tauscher and billionaire Democratic activist Tom Steyer.

But Schiff's frequent appearances on national TV, including a recent sit-down on Comedy Central's "The Daily Show with Trevor Noah," would give him an advantage if the Senate seat opens up.
While Schiff won't come right out and say it, like millions of Americans he must be secretly hoping that the mummified DiFi finally calls it a career next year. I mean how long can these mummified career politicians continue to stick around?
With the angry loons who have now seized control of the Democratic Party and have embraced wild-assed conspiracy theories as holy writ it would seem that Schiff would be a natural leader for them. Who knows, if California ever does secede from the U.S. then Schiff could even become its king.
___
http://downtrend.com/donn-marten/shifty-schiff-could-use-trump-russian-witch-hunt-to-launch-senate-bid