A Selection from Your Thoughts Are Not Your Own by Neil Sanders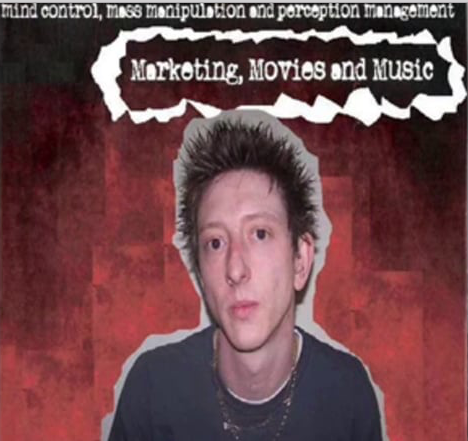 "Today the concept of celebrity is more pervasive than ever. Nearly all television channels have programmes dedicated to elevating some lucky member of the public to the status of the stars; The X-Factor, Pop Stars and the bafflingly inaccurately titled America/Britain Has Talent are all recent examples. For those who have not achieved stardom (yet), we can bask in the reflected glory of association with the alpha people of the world, either as fans or by making our lives similar in some small way to those we admire.
This is how products related to celebrities become so highly desirable. The power of association is incredibly psychologically powerful, if you can be a little like the celebrity, you can become like the celebrity. Celebrity success invades our thoughts and teaches our children the required trappings that would prove they are a success too. This leads to a narcissistic desiring of products, the trappings of success act as a symbolic representation of the quality of our lives.
The documentary film Starsuckers cites a 1950's study conducted at Yale University which showed that at the time, 12% of teenagers had narcissistic tendencies. The same study showed that by 1989, narcissistic tendencies were found in at least 88% of teenagers questioned. In the same documentary, Chris Royek of Brunel University described the public's relationship with celebrities. Royek defined this as a para-social relationship, based on what you believe you know about the person through the influence of the media. This is despite the fact that you have never met and the idea of the celebrity could not possibly truly represent the personality of that person.
This is similar to the relationship to God in religion. Therefore, we process celebrity endorsed products on an emotional level rather than in a rational, logical manner and those emotions are then absorbed in an impulsive, instinctual way. There is a psychological explanation for this, which also explains the public's obsession with gossip. We stare at pictures of celebrities as, 'in our tribe', they are the successful, dominant members. Psychologically, it is vital for our social success to gather useful societal information on the powerful. If we act a little like the successful, we can become like the successful.
The more I learn about the methods devised by the alpha male of the group, the more I can learn in order to increase my chance of survival. This is also seen in the animal kingdom, in various species and habitats. In experiments, chimpanzees will go without food in return for pictures of the dominant male in their group. The chimpanzees will happily trade sustenance in return for the 'more important' social information.
Christopher Lasch's most famous work, The Culture of Narcissism: American Life in an Age of Diminishing Expectations, posited that social developments in the 20th century (for example, World War II and the rise of consumer culture in the years following) gave fuel to a narcissistic personality structure, in which individuals' fragile self-concepts had led, amongst other things, to a fear of commitment and lasting relationships (including religion), a dread of aging (i.e., the 1960's and 1970's 'youth culture') and a boundless admiration for fame and celebrity (nurtured initially by the motion picture industry and furthered principally by television). Lasch expanded on the effect that the celebrity-driven culture has on the individual; "In his emptiness and insignificance, the man of ordinary abilities tried to warm himself in the star's reflected glow."
"The narcissist divides society into two groups: the rich, great, and famous on the one hand and the common herd on the other."[147]
People live vicariously through celebrities and often this 'idea' of the celebrity is a carefully constructed and marketed image very different to the real person. For example, Rock Hudson, Montgomery Clift and Cary Grant were all promoted as heterosexual icons but were privately homosexual.
Recently Trudi Styler, the wife of singer Sting, has revealed his legendary reputation as a tantric sex god was a joke that the public ran with and believed. Although flattered and delighted that the rumour stuck, Sting had to admit that the story was fabricated: "Speaking to The Sun, Styler said that the rumor came from an interview Sting and Geldof did together years ago. She told the paper: "Geldof said he was a three-minute man, but, as Sting did yoga, he could probably go for hours. Sting then added, 'Haven't you heard of tantric sex?' It sort of became a cause célèbre. The tantric hours got extended and, suddenly, I was doing it all day long. Well, if only." Styler added that she believed the myth would continue existing, regardless of denials, as it had been going for over 20 years already; "Sting said that 21 years ago. He has just turned 60, and I imagine the tantric story will carry on going until he drops."[148] Researchers such as
David Icke and Freeman have identified that a surprising amount of top actors, entertainers and politicians are in actuality related not only to each other, but to aristocratic bloodlines also. As a small example, Britney Spears, Madonna, Tom Hanks, Marilyn Monroe, Brad Pitt and Angelina Jolie are all related to the Windsor-Bush bloodline that also contains the majority of U.S. presidents and all European royal families. This can be evidenced through Burke's Peerage and the New England Historic Genealogical Society. Even the adoration of celebrities is stoked to encourage others to join in with the mob mentality. Famously, Brian Epstein hired groups of girls to scream at the Beatles, therefore hyping up the rest of the crowd and creating sensation. Frank Sinatra's press agent George Evens paid girls $5 a time to scream at 'Old Blue Eyes' and also to 'faint' on demand. Recently, when promoting the fourth Mission Impossible film in India, Tom Cruise was met by an adoring crowd, highlighting his popularity and giving a photogenic opportunity to further promote the film. It later transpired that the majority of those present were actually hired extras, who were there to give the impression of organic popularity.
This was reported in Indian magazine Firstpost Bollywood and reiterated in the NME in the U.K., with an anonymous member of the crowd quoted as saying: "I don't know who he is or what he does. We were told to come here by 1pm today and wait for a foreign VIP to come out of the airport gate and scream and shout when he came." "None of us know who Tom is. There was a buffet lunch also for us and we were paid Rs 150 for this job today. We do this for television shows and other such events where crowds are required."[149] This is not merely to bolster Tom Cruise's ego, but rather to promote an understanding of the symbol of Tom Cruise. The perception of Tom Cruise in the subconscious of the public is that he is popular, successful and, from a marketing angle, he literally draws a crowd.
Christopher Lasch has argued that these defined roles are what allows the narcissistic society to prevail; "The narcissist divides society into two groups: the rich, great, and famous on the one hand and the common herd on the other. Narcissistic patients, 'are afraid of not belonging to the company of the great, rich, and powerful, and of belonging instead to the 'mediocre', by which they mean the worthless and despicable rather than "average" in the ordinary sense of the term.' They worship heroes only to turn against them when their heroes disappoint them."[150] Shows like The X-Factor, The Voice or Pop Idol reflect a narrowing of mainstream culture. We have the same format of show, with the same type of artists recording covers of the same old songs to be spoon-fed to the masses. This appeals to the lowest common denominator and uses the most profitable business model, at the expense of what little art is contained.
Through continued media saturation, the mediocre is extolled as something special and sold back to the public. Reality TV narrows the output by drawing from an increasingly small pool of talent, whilst simultaneously making the public believe that they could be the next big star. The lifestyle seems genuinely attainable to the viewer. Again, the required qualities for a successful applicant are quite different to the expectations of the public. The casting director for the American television show Wife Swap explained in the documentary Starsuckers, "I'm interesting is a real turnoff to us…I want to piss my parents off, that will get you on TV". Tom Bateman, of the BBC's Today programme, asked the question: has pop gone posh? Whilst the article's main focus was that the industry was becoming far more elitist, it also served to show the narrowing of perspective in the output of today's pop acts. In the programme he revealed, "An article in the December issue of music magazine The Word claimed the majority of UK chart acts were now either privately educated or from prestigious stage schools. The magazine compared a Top 40 from a week in October 2010 to the same week in 1990, when it found nearly 80 per cent of artists were state school educated.
Those who promote the argument that rock has gone 'posh' point to the emergence of a swathe of privately educated artists: Singer songwriter Laura Marling, and Lily Allen – daughter of actor Keith, who attended the prestigious boarding school Bedales. The list continues with other popular acts; Florence Welch, Jack Penate, Jamie T, and Chris Martin, the Coldplay frontman who attended the independent boys school Sherborne. Leading members of so-called 'Nu-folk' bands Noah & the Whale and Mumford & Sons went to St Paul's School in Barnes and King's College School, Wimbledon… But the private-versus-state school debate may be the wrong prism through which to study the dynamics of the contemporary music industry. In reality, many new acts are alumni of either the BRIT School in Croydon (importantly, a state-funded performing arts school) or of the X Factor."
The increasing saturation of artists from stage schools, which directly influence the direction and output of the said artists, shows the inorganic nature of the genres and individuals being promoted. This includes so-called urban acts billed as genuine voices of the disenfranchised working class youth; U.K. grime artists Bashy, MS Dynamite and Akala all went to exclusive stage schools. The artist must be financially viable and a benefit to the reputation of the school that spawned them. R&B singer Jay Sean (also marketed as urban) was a student at Latymer Upper School, the same private school that Hugh Grant, Heston Blumenthal and Lily Cole attended. Amy Winehouse, The Noisettes, Lynden David Hall, Leona Lewis, Katie Melua, Kate Nash, Jessie J, Dane Bowers, The Kooks and Adele all went to The BRIT School for Performing Arts & Technology (the operational name of The London School for Performing Arts & Technology). The BRIT School is an independent, selective technology school, partly funded by the BRIT awards and located in London, England. Lucian Grainge, the chairman and chief executive of Universal Music Group, has called the school "remarkable" and "superb" and hinted at the influence of the establishment by saying "If you're an A&R person to have a profile at this school would be very beneficial".
Florence Welch is the singer from the highly successful British indie band Florence and the Machine, toasts of the BBC Introducing radio and television programme and darlings of the NME. Welch too appears to come from an extremely privileged background. She is the daughter of Evelyn Welch, a Professor of Renaissance Studies and Academic Dean of Arts at Queen Mary, University of London, and Nick Welch, an advertising executive. Her family is certainly no stranger to fame; Florence is the niece of the renowned satirist Craig Brown and granddaughter of former deputy editor of The Daily Telegraph and former Daily Mail parliamentary sketch writer, Colin Welch. Florence was educated at Thomas's London Day School. Thomas's London Day Schools (also known as Thomas's Preparatory Schools or simply Thomas's) consist of four private preparatory schools in London, U.K. They are described as "a family run establishment", meaning they are very exclusive and have come to be seen as a feeder for major British public schools such as Eton, Dulwich, City of London, Radley and Westminster. Florence later went onto Alleyn's School, an independent, co-educational public day school situated in south London, England. Such schools were originally termed 'public' in the sense that they were open to anyone who could pass the entrance examinations and afford the fees, without religious or other restrictions. Members of the general public are not encouraged. Upon leaving school, Florence studied at Camberwell College of Arts (formerly known as Camberwell School of Art and Crafts). This is a constituent college of the University of the Arts, London and is widely regarded as the world's foremost Art and Design institution. Her marketing makes scant mention of her privileged background, rather focusing on the more saleable aspects that ensure an appreciative and large following.
Recent pop sensation Lana Del Ray has also come under a degree of scrutiny due to her seemingly manufactured image, which falls in contrast to her marketed public image, that of a self-made internet sensation, making it into the big time with sheer determination, talent and a Youtube account. Del Ray is set to be a huge success within the music industry, with pre-order sales of her album having propelled it to the top 25 album list on Amazon.com and various music retail sites, even prior to its release date. The Guardian reported; "Lana Del Rey, a 25-year-old sultry, seductive songstress who is the current hottest name in US music and whose debut album is one of the most eagerly awaited events in the industry this year… After first appearing on the internet last year with an apparently home-produced video of a song called Video Games, she became a cult hit."[151]
However, this is not Del Ray's first foray into the music industry. She previously released an album under her given name Lizzy Grant. When she recorded and performed under her original name, her image was remarkably different, far less sexualised, with none of the vintage Hollywood glamour and confident intimacy that Del Ray exudes. When Lana Del Ray's first single Video Games was released, it became an underground sensation praised for its authentic, honest feel, with a video set to a backdrop of grainy 'home movies'. It currently has upwards of twenty million views on YouTube, though some critics have felt this authenticity was too good to be true.
"A few critics began to wonder if, far from being some organic wunderkind, the transformation from Grant to Del Rey had been planned all along. Her stage name was chosen by her management. Rather than being an outsider struggling for recognition, Del Rey is in fact the daughter of a millionaire father who has backed her career. People were suspicious of the way Grant's failed album, and all her social media websites, appeared to have been scrubbed from the internet just before Del Rey appeared. There has been much speculation as to exactly when Del Rey teamed up with her current label Interscope and how much influence their savvy marketers might have put into her original emergence. "There are a lot of things that don't seem organic about it," said Steven Horowitz, who wrote a cover story about Del Rey for Billboard magazine. "She's putting on a show. She's here to entertain us."[152] Critics have also drawn attention to the singer's physical appearance which has certain differences to her former incantation as Lizzy Grant; specifically, there is speculation that she has had plastic surgery to enhance her lips. "Pictures of Lizzy Grant when contrasted to Del Rey have led many to speculate that she has had collagen injections in her lips and perhaps even plastic surgery. It is a charge she vehemently denied in a recent interview. "I haven't had anything done at all… I'm quite pouty. That's just how I look when I sing," she insisted."[153]
The truth behind this rumour may never be known, but again we see a different reality to that which is sold to us about the character of our potential heroes. These personalities are literally created, tweaked and manipulated in the public eye to be the most effectively saleable product. The key in this industry is to promote sales through an emotional attachment and connection; in many cases, the image we latch on to is nothing more than a construct. Louis Walsh, manager of boybands Boyzone and Westlife, recently admitted in a televised interview that he never listens to any of the artists he promotes, explaining "I am a salesman, I want you to buy what I am selling, that has nothing to do with my personal preference".
Lady Gaga is another artist who is decidedly more constructed than one would imagine, despite public protestations made by the performer denying this. It was reported on MTV.com that the singer made this strange remark during one of her 2010 London shows: "Now, I don't know if you know this, but for those of you who don't know, I write all my own music. Every single lyric, melody and note was created by me. I am not manufactured. I'm a bad cat and coming for you 'cause I believe in you and I. It's not that I don't like to be humble, it's just that pop music has a pretty bad rap."[154]
Several journalists and internet commentators took umbrage at this statement, including a writer for The Prophet Blog, who helpfully listed some of the numerous people who assisted the artist's career, including the musical producers who actually wrote her songs: "I wonder what RedOne, Darkchild, Fernando Garibay, Rob Fusari, Akon, Martin Kierszenbaum, and about fifty other engineers, backing vocalists, producers, writers, musicians, marketing assistants and A&R reps would have to say about that?"[155]
Lady Gaga's brash statement made whilst performing in London was provably false. As publicly reported, her image was an amalgamation of ideas from several people: her first manager Robert Fusari (who produced hits for Destiny's Child and Whitney Houston), Fusari's assistant Lady Starlight and little known and sadly deceased, disco pop artist Lina Morgana. Lady Gaga has a well publicised back story, portraying the life of a struggling, streetwise rebel with artistic aspirations, growing up in the rougher parts of the Lower East Side area of Manhattan. It has, however, been revealed that Stefani Germanotta (Lady Gaga's real name) actually had a very privileged upbringing and a plush, comfortable lifestyle, which included attending the same high school as billionaire socialite Nicky Hilton.
Rob Fusari, who is acknowledged as the creative talent behind Lady Gaga's hit song Paparazzi, exposed several details of the beginnings of her manufactured personality to the media, after the now-successful singer no longer required his services. Fusari revealed that Gaga had initially been discovered in a New York nightclub singing under her own name, Stefani Germanotta. She was initially approached as a possible candidate to front an indie-rock band. Germanotta was found by Rob Fusari's assistant Lady Starlight, singing and playing piano at a New York bar; "Rob said to me, 'I want you to find a girl under 25 who could be the lead singer of the Strokes,' Starlight says, "I looked high and low." Then she randomly caught Germanotta at the Cutting Room."[156]
Germonotta was taken under Fusari's wing and several types of musical styles were experimented with but produced little success or recognition. By chance Fusari happened to read an article concerning female artist Nelly Furtado who had recently re-launched her flagging career. This reinvention and subsequent success was achieved by moving away from her previous foray of folk-based songs and embracing the more commercially viable genre of dance music. Fusari managed to convince Germonotta that dance beats mixed with an image derived from Bowie-esque performance art would be a far more successful avenue to pursue. "I had read an article about women in rock," he says "and how it was getting difficult for women to break through in the rock genre, how Nelly Furtado had moved into more of a dance thing." He told Germonotta that they weren't, "going in the right direction. It wasn't something kids could relate to. They tried something else, dancier, poppier, Euro-inflected, accessible."[157]
The decision to alter not only her sound, but also her lyrical content and musical genre was made by her management team, not Germonotta and was in no way organic. Her now famously outrageous image was also the subject of tweaking by the shrewd marketing team behind her. Her initial image was considered too wholesome to be successfully marketed and so it was decided to add an edge of danger to the fledging artist. Germonotta was at this point still performing pleasant, soul searching middle-of-the-road material and was dressed in a fashion not dissimilar to a university student from a comfortable background. In the eyes of her management, t was felt that her image and physical appearance required an immediate change; "She was a little overweight; she looked like something out of Goodfellas, like she was ready to make pasta any minute".[158] The concerns about Germanotta's image were attended to by Lady Starlight, a well known and flamboyant resident of the very Lower East Side club scene that 'Lady Gaga' later claimed to have spawned from. Lady Starlight revealed how she mentored Germanotta: "I wanted to bring (Germanotta) into my world"
Starlight gave Germanotta something of a tutorial in the downtown art scene, teaching her burlesque and bringing her to the underground dance party Frock and Roll in Long Island City. By this point, Starlight says, the Gaga look was germinating, "She was wearing a version of it. Definitely spandex for sure, some kind of unitard, but casual."[159] The Spandex-inspired look, casual at the time but now taken to wild excess, appears to have come from another acquaintance of Germanotta's from the same era, with whom she first experimented with electronic music. The now-deceased singer-songwriter Lina Morgana appears to be the source of at least some of Gaga's stylings. Morgana's mother publicly accused the star of appropriating her daughter's image; "Lina Morgana was a singer who dressed in outlandish outfits and had a dark, tragic past. Sound familiar? Her mom, Yana, says Lina not only collaborated with Lady Gaga—she inspired Gaga's entire persona. Lina committed suicide in October 2008, less than a year after recording at least a dozen songs with Stefani Germanotta, as Gaga was still known.
Just one month after Lina's death, Gaga was born. Yana says the tragic stories Gaga tells of her past aren't true: It was her daughter who "had a hard life," she says, while Gaga was a rich girl who went to the same high school as Nicky Hilton. The first time Lina's boyfriend saw a Lady Gaga video, he was shocked: "It was the same style, the same look, the same music, the same voice, the same jaw line."[160] Lady Gaga has claimed that she barely knew Lina Morgana, which is clearly not true. Numerous people, including her original management team, have confirmed the artists collaborated together for an extended period. Lina's mother is currently pursuing various legal avenues in an attempt to release material her daughter recorded with Gaga.
It also appears clear that Morgana had the image before she collaborated with Germonotta; videos are available on the internet which show a young Lina in several outfits which would be almost perfectly replicated later by Gaga. Lady Gaga has also given at least three different accounts of the creation of her name. Initially she told Oprah Winfrey that it was a nickname given to her by her arty Lower East Side friends, who believed her to be too "way out" even for them. This was almost certainly a lie. Later Germonotta claimed to Rolling Stone magazine that her name was a result of a misspelling in a text message from her manager Fusari. She has also hinted that her name is in homage to the band Queen and their hit song Radio Gaga. The reality, as revealed in The New York Times, is that the name was the result of an intensive marketing campaign. "That was the name we decided on before we started shopping to the record labels," says a former collaborator who asked not to be named. Her glam-android aesthetic is largely the work of a team she calls, 'The Haus of Gaga' but she also told an astonished Oprah that her look is mainly auto generated. 'This inspiration comes naturally' Gaga said."[161] She made this statement through her teeth, no doubt. The narrowing of output perhaps does not negate actual talent, but it does remove any organic representation of individuality. Authenticity is sidelined in place of a saleable image.
Do we have an honest representation of our musical icons anyway? Music history is replete with, shall we say, inconsistencies. U.K. Manchester-based rock act Oasis were in fact signed to Sony, not independent label Creation as was marketed to the public. The perception of being an 'independent' band helped bolster their image as a band of the people. No doubt they were genuinely working class and also an organic band in their own right, however, the stain of corporate giant Sony was considered to be a detriment to the marketing strategy employed by the label. Sony feared it would cause a separation between the band and their core audience. The image of a group of young friends, signed to a relatively small label, yet again implied that you too could make it in the entertainment industry, just like your heroes.
Alice in Chains, one America's the biggest 'grunge' bands, admitted to being a rock band dressed in 'grunge' clothing by their record label. Sub Pop, the record label that first signed Nirvana, openly admitted that it manufactured the image of Tad Doyle, lead singer of the band Tad, presenting him as a psychotic lumberjack who lived in the mountains. The bands themselves were actually very good and so this is in no way a detriment to their prowess, however, the trend of grunge which arose from the success of bands like Nirvana and was perpetually touted by the media as the 'in thing', was far too great a market to ignore.
Many rap artists portray a gangster image that is not entirely accurate. Hugely successful gangster-rapper 50 Cent barely drinks and never uses drugs but has a song promoting cannabis, called I stay high all the time. Rapper Lil Wayne presents a public charade of being affiliated with the Bloods street gang to a far greater degree than he actually is, as it provides him with street credibility. Joe Strummer, front man of The Clash and an icon of the 1970's punk scene, was famously 'outed' as the product of a prestigious Surrey boarding school. His father was also the British Ambassador to Turkey. Penny Rimbaud of the anarcho-punk band Crass, who promoted anti-elitist, anti-government and anti-capitalist ideals, also admits to having "come from money".
At a 1968 Tavistock conference, Zbigniew Brzezinski released Between Two Ages: America's Role in The Technetronic Era in which he spoke about mass mind control of populations using amusement focus.
This is based on spectator sports or mass events of TV providing an opiate for increasingly purposeless masses, allowing for the introduction of chemical mind control and exterior manipulation. Brzezinski stated: "… In the technetronic society the trend seems to be toward …effectively exploiting the latest communication techniques to manipulate emotions and control reason. Human beings become increasingly manipulated and malleable …"[162]
Theodor Adorno and Max Horkheimer of the Frankfurt School of Social Theory authored The Culture Industry or Enlightenment as mass deception, the central premise being the standardisation of modern culture. In it they made the following comparison: "Popular culture is akin to a factory producing standardised cultural goods- through film, radio and magazines- to manipulate the masses into passivity. The easy pleasures available through consumption of popular culture make people docile and content, no matter how difficult their economic circumstances."[163]
They identified three main problems with the culture industry, namely that it can:
"1. Reduce human beings to the state of mass by hindering the development of emancipated individuals, who are capable of making rational decisions;
2. Replace the legitimate drive for autonomy and self-awareness by the safe laziness of conformism and passivity; and
3. Validate the idea that men actually seek to escape the absurd and cruel world in which they live by losing themselves in a hypnotic state self-satisfaction."[164]
We must be aware that we are being pigeon-holed by the marketing of alternative genres. If we define ourselves solely by the accepted protocols of a genre, essentially, we show our allegiance to our preferred tastes by the products we wear. These are often mass produced products that give us paradoxical collective individualism. We are easier to control if we can be filed. If we are en-masse we reduce our critical thinking in order to be loyal to the greater ideology and it can be very difficult to criticize the larger collective as this is seen as a betrayal. An extreme example would be the army (where you do not question, you blindly follow orders) but this can apply to any collective: the army, the police, even music fans.
This can apply to nationalism, film fanatics and sports teams. It is collectivisation of the masses to an exterior source with its own ideals. The absorption of sub-genres into popular culture appears to follow three stages; for examples of this, look at the development of punk and hip hop/gangster-rap music. These stages are cautionary, curiosity and finally commodity.
The first stage of any new and politically threatening genre is to approach it with caution and advise others to do the same. At first the new genre is a source of fear to the status quo, threatening to change the modern civilization, accompanied by sensationalist headlines in the media and a perception that this will lead to the corruption of the youth. This was seen with jazz, Bill Hayley, The Beatles, Elvis, etc. In the U.K., Mary Whitehouse and various MPs and religious leaders spoke out in the late 1970's against the evils of punk rock. The Sex Pistols/Clash/Damned tour of England was banned in the majority of venues. Later, rave culture and garage music were demonised in similar ways, with lurid newspaper headlines guaranteeing misery, violence and death at every event. In America, gangster-rap was attacked by activist C. Delores Tucker and Vice President Dan Quayle, who tried to make the musical genre illegal.
Later the genre becomes more of a curiosity to the media and the mainstream, the proponents cast as wacky fringe ideologists pursuing a course that is clearly ridiculous to the 'enlightened public'. For example, comedy sketches showing the comedian in silly, over the top punk rock attire, making the genre absurd and therefore safe for the audience; something so ridiculous could never be perceived as a serious threat. This is presently happening with conspiracy culture to neutralize its impact.
Finally, the genre becomes homogenized, accepted and a commodity, reducing the genre's impact and making it a saleable, recognizable entity absorbed into the cultural lexicon. For example, hippies are now an established genre, with codified ideals that are no longer seen as a threat to the establishment. We now see 'punks' promoting clothing lines, major corporations and car insurance, or hip hop artists boasting about diamonds, seemingly as far removed from the elevation of black people as it is possible to be, due to the nature of Africa's diamond mines. Mass-marketed clothing becomes the signifier of allegiance to the genre. To use a quote from popular culture to highlight this, the lament of Danny (the drug dealer in the film Withnail and I) at the end of the hope of the sixties era: "They're selling hippie wigs in Woolworth's, man.
The greatest decade in the history of mankind is over. And as Presuming Ed here has so consistently pointed out, we have failed to paint it black." It could be argued that in today's cynical, media-savvy world, that the anti-establishment danger element of any emerging genre is a vital marketing tool in legitimising any new genre or artist. This is of course, or at least to an extent, contrived. The danger element is the signifier to the youth demographic that this is the product for them, to express their dissatisfaction and individuality."
Start reading this book for free: http://amzn.eu/aY7IxIs
---
———-
Read on the go for free – download Kindle for Android, iOS, PC, Mac and more
http://amzn.to/1WLoAkB