Tornado Outbreak Brings Severe Weather Eastward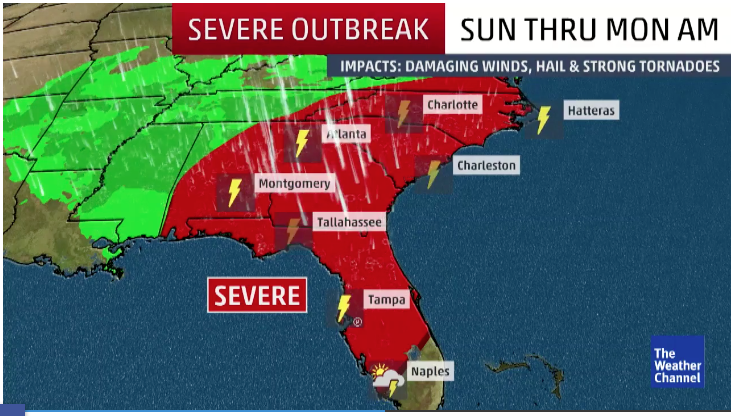 Meteorologist Danielle Banks forecasts the severe weather threat this weekend.
Story Highlights
Tornadoes are possible once again Sunday in the South.
Damaging wind gusts, hail up to tennis-ball size and strong tornadoes are all possible.
Locally heavy rain will bring the risk of flooding, as well.
An outbreak of severe thunderstorms, including tornadoes, is ongoing across portions of the South. Damaging winds, very large hail and tornadoes are likely through Sunday night. There's also the threat of flash flooding from heavy rain.
Since early Saturday morning, a preliminary 29 reports of tornadoes have been tallied up from Louisiana to southern Mississippi, southern Alabama and southern Georgia, according to NOAA's Storm Prediction Center.
(NEWS: Latest Severe Impacts)
A deadly EF3 tornado touched down in Hattiesburg, Mississippi, early Saturday, which caused considerable damage. Possible tornadoes were also reported in Alabama, including near Toxey and Wetumpka, and in Georgia near Perry, Howard and Warner Robbins.
Saturday afternoon, a dozen homes were damaged in Natchitoches, Louisiana, and one man was sucked from his house in an apparent tornado while another was injured in a mobile home as it was struck by a tornado.
Early Sunday morning, a possible tornado touched down in Brooks County, Georgia, where two people were killed, according to WALB News 10.
NOAA's Storm Prediction Center has issued the following severe weather watches: 
A tornado watch valid until 10 a.m EST for southern Georgia, inland portions of the Florida Big Bend and extreme southeastern Alabama. This watch area includes Tallahassee, Florida, Albany and Savannah, Georgia and Dothan, Alabama. Conditions are favorable for intense tornadoes, damaging winds and large hail.
Current Radar, Watches and Warnings
(MORE: Where January Tornadoes Occur | Tornado Central)
Here is our latest forecast timeline.
Sunday
Severe weather, including the possibility of tornadoes continues this morning, mainly in south Georgia and southern South Carolina.
Some areas will get a few hours of breathing time during the later morning hours on Sunday, but this may come with sunshine. Sun in Georgia, Florida and the Carolinas will likely fuel more storms late in the day.
Another round of severe storms will fire up Sunday afternoon and evening from parts of Alabama, Georgia and Florida to the Carolinas.
Damaging straight-line winds, strong tornadoes and large hail are all threats.
Heavy rain and local flash flooding will also be concerns in some areas.
Cities: Atlanta | Birmingham, Alabama | Tallahassee, Florida | Jacksonville | Orlando | Tampa | Charleston
(REMINDER: Overnight Tornadoes Are More Than Twice As Likely To Be Deadly)
Have at least two ways to get alerts that will wake you up if severe weather comes your way.
Rainfall Forecast
Much of the South will receive 1 to 3 inches of rainfall by late Monday. Where multiple rounds of thunderstorms occur, rainfall totals much higher are possible.
Although flooding will be a concern for some areas, this rainfall will be beneficial to areas still in a drought.
(MAPS: Precipitation Forecast)
The good news is that drought conditions have improved since the fall, but significant rain is still needed in some locations. Portions of northern Georgia and Alabama remain in the second-highest drought category, extreme, as of Jan. 17.
Latest drought conditions as of Jan. 17, 2017. (U.S. Drought Monitor)
Only 11 percent of Georgia is not experiencing at least abnormally dry conditions, and 66 percent of Alabama remains in drought, according to the latest drought monitor.
The expected rainfall will help continue the trend of improving drought conditions across the region, but will not end it in areas hit hardest.
Storm Reports
Storm Reports in the Last 24 Hours
Overnight Friday into early Saturday, golf ball-sized hail was reported in Orange, Texas, near Roxie, Mississippi, and near Pinebur, Mississippi. Friday night, a wind gust of up to 70 mph was estimated in Beaumont, Texas.
Even before organized large-scale severe weather could occur, three tornadoes occurred between Jan. 18-19. There was an EF1 in Burkeville, Texas, an EF1 southeast of Birmingham, Alabama, and an EF2 in Simpson and Smith counties in Mississippi.
Heavy rainfall and flooding was reported on Friday in southeast Texas, including the Houston metro area.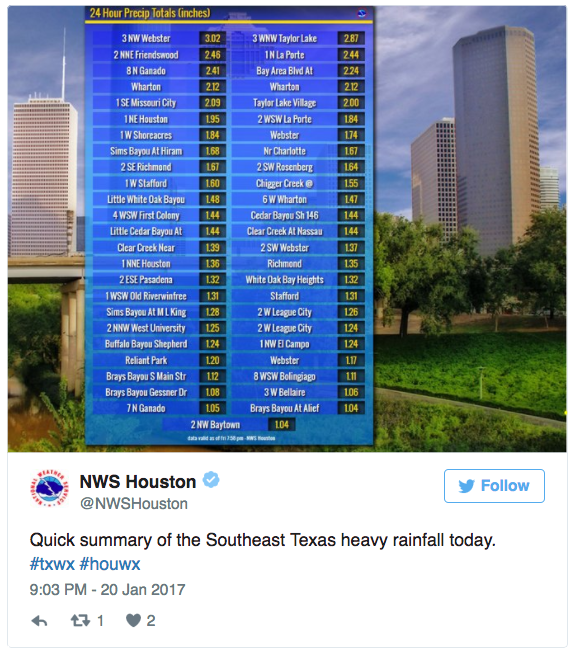 ___
http://weather.com/storms/tornado/news/severe-weather-forecast-gulf-coast-south-january-2017