FACT CHECK: Snopes Founder Busted Globetrotting Asia With Porn Star on Soros-Funded Honeymoon
TRUE PUNDIT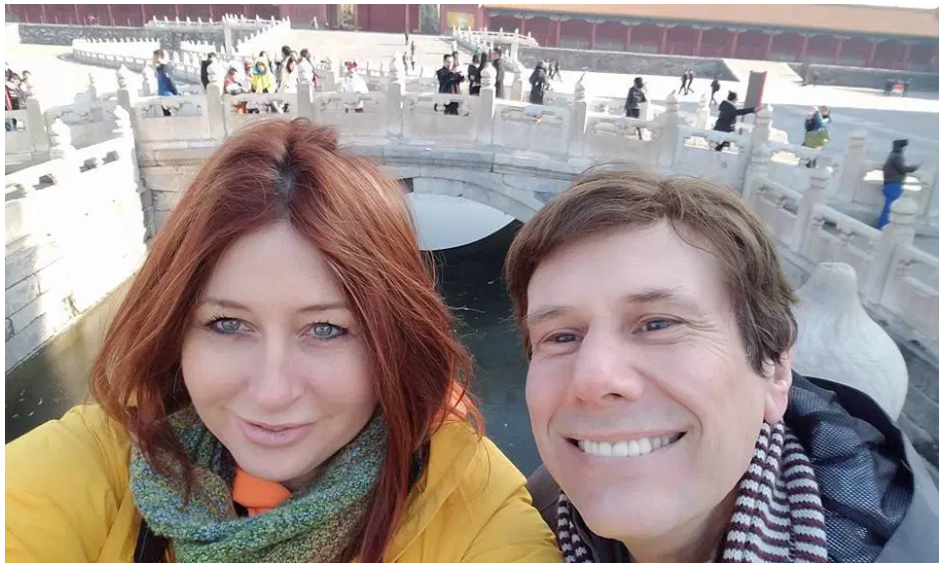 Snopes.com founder and fact-checking flunky David Mikkelson appears to be on a George-Soros funded globetrotting Honeymoon with a pants-on-fire porn star and former call girl.
FACT CHECK: MOSTLY TRUE. 
Mikkelson's ex wife claims he allegedly embezzled funds from Snopes to underwrite his travel junkets. Allegedly stolen funds or Soros funds. Too close to call. Mostly true.
We don't need left-leaning fake myth-buster Snopes.com to verify this scoop though. Mikkelson recently ditched his fact-checking co-founder ex wife Barbara Mikkelson after hooking up with Elyssa Young, who for years worked as a call girl and adult movie star. Perhaps we should say former porn star? And former prostitute? Journalism etiquette for porn stories and female escorts is very vague. And who are we to say she is fully retired? We'll let Snopes fact check it. For once, they have a verified source to ask.
FACT CHECK: TRUE. 
By the way, the former porn star and presumably former escort for hire, whose screen alias is Erin O'Bryn, also works full time for Snopes.
Snopes.com is one of the sources Facebook recently announced it will use use to identify and flag 'fake news.' George Soros has since been linked to funding Facebook's crackdown on fake news which in a nutshell is simply a way for Liberals to silence right-wing themed news. Soros will pump untold millions into the efforts of Snopes and three other partisan libel groups — somehow including fake news generator NBC News — to police Facebook and warn readers of supposed fake news.
But Snopes.com is embroiled in a bitter legal dispute between its co-founders, a recently divorced husband and wife team. Barbara, Snopes CEO, has accused Mr. Mikkelson of using company money for prostitutes and lavish trips, allegedly embezzling close to $100,000 from corporate funds without her knowledge.
Some great fact checking here by Mark Zuckerberg and his crack staff of Indian computer programmers, social justice executives and global warming conspiracy climatologists.
FACT CHECK: TRUE
The $330 billion Facebook social media giant failed to fact check its fact checkers. Sounds like a promising gate keeper to determine what is fake, what is true for its users.
Facebook did not return calls for comment.
In legal papers,Mr. Mikkelson is accused of fleecing Snopes' coffers to travel through India with the former porn star on a 24-day sight seeing junket. Mr. Mikkelson is also accused of attending sporting events and then writing off other personal trips and sightseeing junkets as business expenses.
Mikkelson and his ex porn star and former sex worker bride, have been on a world-wind tour of the Far East for weeks, according to information developed by True Pundit.
FACT CHECK: TRUE.
True Pundit doesn't make mistakes. See below.
The embattled newlyweds returned last week from an impressive international honeymoon that included the following itinerary tracked by True Pundit's crack fact checkers:
Seattle to Vancouver, BC Canada
Vancouver to Tokyo, Japan
Tokyo Disneyland
Tokyo Disney Sea

Akihabara Electronic Towncity Tokyo

Nara, Japan
Narita International Airport Terminal to Shanghai, China

Royal Banquet Hall – Storybook Castle

. Shanghai, China

Hong Kong Disneyland Resort

Star Ferry Cruise Line, Hong Kong

The Royal Garden 香港帝苑酒店

, Hong Kong
Forbidden City Tour, Beijing China
The Great Wall of China, Beijing China
(We have pinpointed all the exact dates too, but why rub it in?)

Exclusive: Mikkelson and Young at the base of the Great Wall of China two weeks ago.
Who says that printing biased reviews of alleged fake news isn't profitable? Legal papers filed by Mikkelson's ex wife said the couple have a joint checking account with a $1.5 million cash balance. Would be interesting to see where those funds originated. International traveling and sight seeing can be fun, especially when you can write it off as a corporate expense extracted from a concocted business of biased reporting camouflaged as fact checking underwritten and legitimatized by partisan liberals.
FACT CHECK: TRUE 
___
http://truepundit.com/fact-check-snopes-founder-busted-globetrotting-asia-with-porn-star-on-soros-funded-honeymoon/