ZeroHedge.com
Angry democrats are lashing out at anyone and anything they think contributed to Hillary's loss while vehemently igoring the simple fact that Hillary, and her many scandals, were the unilateral reason for their crushing defeat.  Be that as it may, it is far easier to blame some combination of Bernie Sanders, Putin, James Comey, "Fake News", Julian Assange, White Supremacists, The Electoral College, Jill Stein…and the list goes on and on.
Of course, as we recently noted, Obama has decided to focus his blame on Fox News and other "fake news" outlets.
http://twitter.com/foxandfriends/status/803955871596179456/video/1
Jennifer Palmieri (Hillary's Communications Director), on the other hand, has chosen to blame "white supremacists" for Hillary's loss…yes, because the Midwest states of WI, MI, and PA that voted for Obama twice by huge margins (Obama won Michigan by 17 points in 2008!) suddenly became overrun with "white supremacists" who showed up in force on election day to hand the presidency to Trump.
"If providing a platform for white supremacists makes me a brilliant tactician, I am proud to have lost.  I would rather lose than win the way you guys did."
Meanwhile, Peter Daou, the former chief executive of Shareblue, an online venture described by the New York Times as "Hillary Clinton's outrage machine," has decided to focus his anger on Bernie….which has resulted in yet another glorious tweet storm from a disaffected Hillary supporter.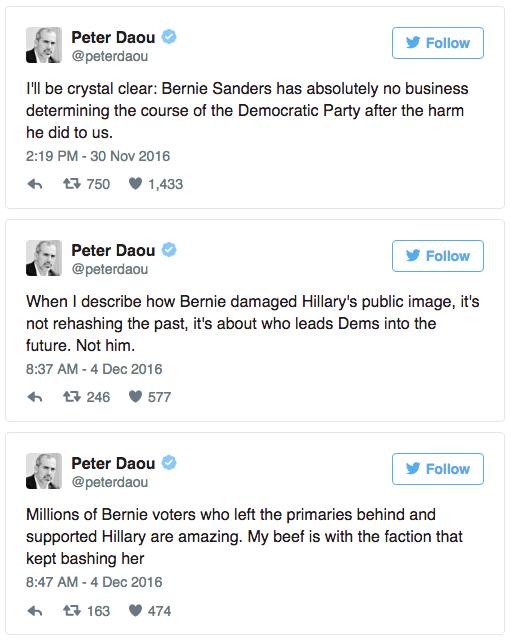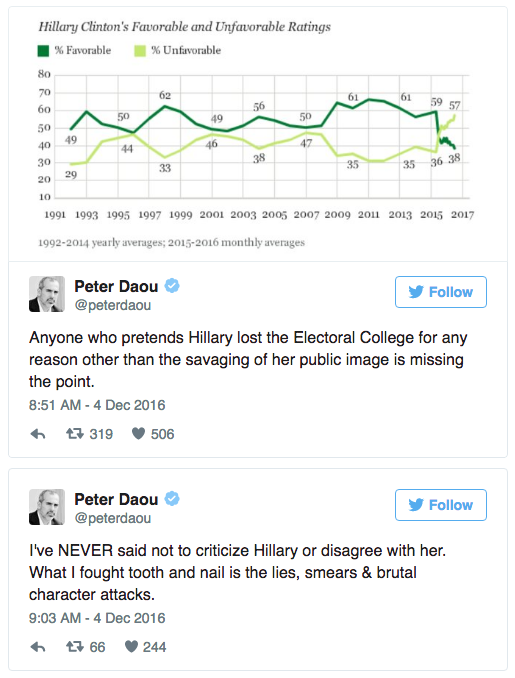 But, The Hill was able to track down at least a couple level-headed democrats who admitted that the blame game is "bullshit" and that "the Clinton people have to stop blaming everybody else for their loss."
The idea that Sanders bears any blame for Clinton's loss is "bullshit,"according to progressive commentator Bill Press, who is also a columnist for The Hill.

"Democrats — particularly the Clinton people — have to stop blaming everybody else for their loss," Press continued. "The idea that they are going to blame it on Bernie, or blame it on [FBI director James] Comey, or blame it on the Russians… The other two [excluding Sanders] were factors but it doesn't take away from the big picture that they lost an election they never should have lost."

Whether Sanders would have won where Clinton failed is a question that will give progressives sleepless nights for a long time. The Vermont senator's wife, Jane Sanders, said in the days after the election that he would "absolutely" have had a better chance of vanquishing Trump. But, she added, "it doesn't matter now."

"Hillary Clinton deserves all the blame she gets for the candidate she was and the campaign she ran," said one Democratic strategist who requested anonymity to speak candidly. "But it is incredibly disingenuous for Bernie Sanders and his team to suggest they would have done better. He couldn't win the f–king primary!"
We wonder whether democrats will ever wake up to the fact that the cause of their loss is actually quite simple and can be summed up in a single picture: