RT.com
Supporters of Julian Assange are appealing to Donald Trump through both social media and a petition to pardon the WikiLeaks founder, who is in exile at the Ecuadorian embassy in London.
They says Assange unveiled the US elite's "corruption" and must be "honored" as a hero.
Over 5,000 people signed the petition aimed at the newly-elected president, asking him to grant "a presidential pardon" to Assange and clear him of "any crimes alleged against him."
"Julian Assange has been persecuted and harried by the very people he has sought to expose for their lies and deceptions against the people of the world," the petition filed on Change.org reads."Mr. Assange has shone a bright light on the corruption of those who presume to rule us."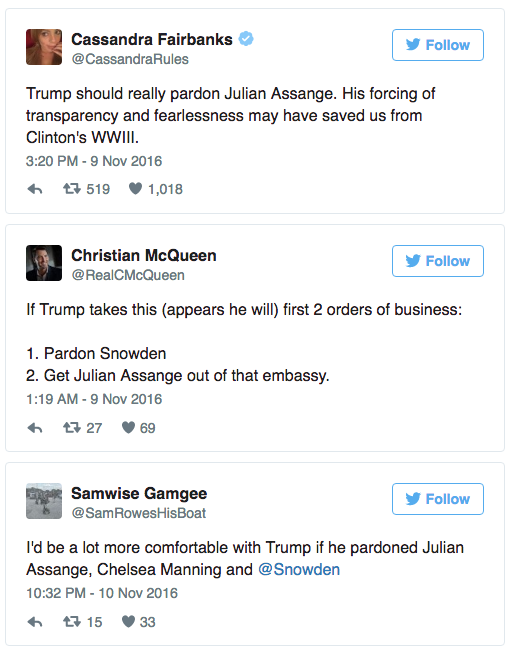 In the past two days, there have been several calls to pardon Assange, with Twitter and Reddit users expressing support for the Australian founder of whistleblowing website.
"Julian clearly helped his cause and Trump is a loyal guy (supposedly). Julian is a hero not a criminal," one Redditor wrote in a forum discussion.
"And while he has the pen in hand, pardon Snowden too. They have both performed a great service to the American People and should be lauded as Heroes. I think a ticker tape parade is in order," another Reddit user wrote.
Trump owes his office to Wikileaks, it will be interesting to see what he does about Assange. A little quid pro quo?? Or was there no deal? https://t.co/MMQK8gYGTS

— Margaret (@MargaretKipp) November 11, 2016
Among those appealing to Trump is Pauline Hanson, the leader of an Australian right-wing populist party, who filed her own petition to both her government and the US to "free" Assange.
"I hope that in light of his great service towards freedom and truth President-elect Donald Trump will consider granting a full presidential pardon," Hanson wrote.
FREE JULIAN ASSANGE: It is time to bring him home. #auspol #PardonJulian #FreeAssange #Wikileaks #whistleblower #Hero #PHON #PaulineHanson pic.twitter.com/zT7IEm9WNH

— Pauline Hanson ?? (@PaulineHansonOz) November 9, 2016
However, there are those who believe that Trump will not pardon Assange, recalling his comments about Edward Snowden in July, when he called the former NSA contractor "a terrible traitor" and suggested his execution.
http://twitter.com/kincannon_show/status/796378346590535680?ref_src=twsrc%5Etfw
Some have pointed out that Trump "does not even have to pardon" Assange, because he is wanted on rape allegation in Sweden, not in the US.
READ MORE: Millions of views: Assange interview to Pilger scores record hits on RT (VIDEO)
While this is a fair point to make, the WikiLeaks founder fears that once he leaves his exile at the Ecuadorian embassy in London, he will be arrested and extradited to the US.
Once there, he could potentially share the fate of Chelsea Manning and other whistleblowers. The US has been investigating WikiLeaks and its founder since November 2010.
WikiLeaks has thanked all of Assange's supporters, saying the hunt for him could be stopped if the Department of Justice closed the case.
Thanks to the many calling on Trump to pardon Assange. Yet all that is needed is for the DoJ to do the right thing: https://t.co/MZU30SlfGK

— WikiLeaks (@wikileaks) November 11, 2016
___
WikiLeaks supporters call on Trump to 'pardon' Assange — RT America