Newt Gingrich has accused TV anchor Megyn Kelly of being "fascinated" with sex and not caring about public policy in a bizarre live interview.
The Republican claimed she showed "bias" for mentioning the groping allegations against Donald Trump.
Ms Kelly retorted she was not fascinated by sex but by who was going to be in the White House.
The Fox News journalist has previously angered Mr Trump for questioning his attitude towards women.
Mr Trump publicly criticised Ms Kelly on a number of occasions after she asked about derogatory remarks he had made – including calling women "fat pigs" – during the Republican primaries in 2015.
But it was the mention of the leaked "sex boasts" tapes – in which the presidential nominee is heard to say he grabbed women by the genitals – which angered Mr Gingrich on the Kelly File on Tuesday.
The former Speaker of the House claimed the media was spending a disproportionate amount of time on the accusations of sexual misconduct, which Mr Trump has denied.
"You are fascinated with sex and you don't care about public policy," he told the bemused anchor.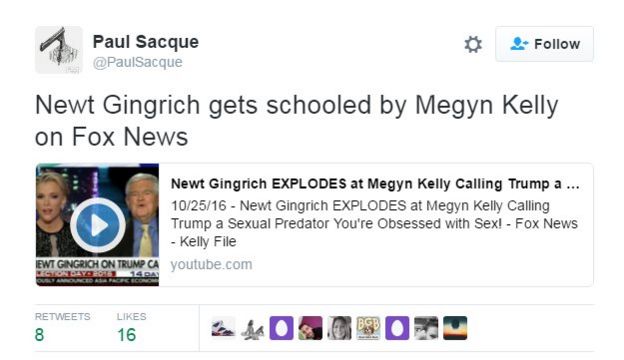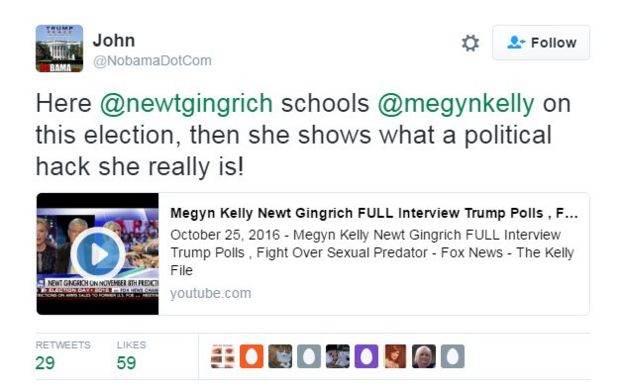 Ms Kelly replied: "You know what Mr Speaker, I'm not fascinated by sex, but I am fascinated by the protection of women and understanding what we're getting in the Oval Office and I think the American voters would like to know."
Mr Gingrich went on to ask why the media was not subjecting the allegations against Bill Clinton to the same level of scrutiny – and goaded the presenter to call Mr Clinton a "sexual predator" on air.
But Ms Kelly pointed out it was not Mr Clinton but his wife Hilary who was on the ticket. Even so, she argued the Kelly File had devoted an entire programme to the claims.
The interview, which ended with Ms Kelly telling Mr Gingrich to work on his "anger issues", has divided social media users in the US, with Republicans claiming it as a victory for Mr Gingrich, while Democrats side with Ms Kelly.
---
Who is Megyn Kelly?
Megyn Kelly is a lawyer-turned-journalist described by Time magazine as "an authoritative voice in cable news".
The mother-of-three, from New York, began her career as a local news reporter in 2003, after nine years in law.
But she was quickly scooped up by Fox News' Washington bureau, and now presents The Kelly File, one of most popular cable news programmes in the US.
Ms Kelly previously raised eyebrows with a "tongue-in-cheek" remark over the colour of Santa Claus' skin in 2013.
But it was her spat with Donald Trump which pushed her into the international spotlight.
In a CNN interview, Mr Trump said the Fox presenter "had blood coming out of her eyes, blood coming out of her wherever" to describe the way she questioned him during the debate over comments he had made about women.
Trump has since refused to come on her programme, and it has earned Ms Kelly – who says she is politically independent and able to "give anyone a hard time" – a number of enemies.
However, her refusal to give either Mr Trump or Hillary Clinton an easy ride has earned respect from other parts of the media, including in the Washington Post.