Unemployment is down, gas is cheap and interest rates remain low. So why is American retail suffering?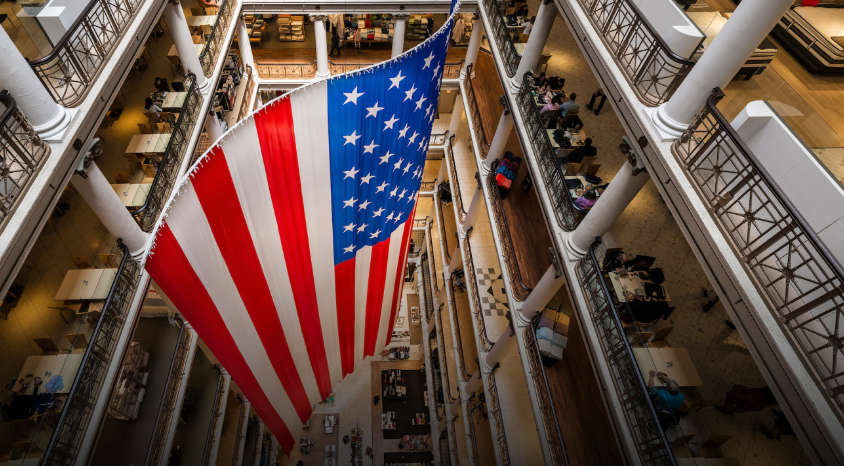 BY LAUREN SHERMAN
Business of Fashion
NEW YORK, United States — The US economy hasn't looked as bright since before the dark days of the Great Recession. In April 2016, the unemployment rate held steady at 5 percent. The same month, 160,000 new jobs were created. (Less than projected and slower than in recent cycles, but still double than what is needed to keep up with population growth, according to economists.)
Gas is also delightfully cheap. As of May 11th, the average price for a gallon of petrol was $2.20, down from $2.70 a year ago. The US housing market is up as well, according to the National Association of Realtors. In March 2016, contracts to buy previously owned homes were the highest they've been since May 2015.
And while Federal interest rates rose in December 2015 — from a range of 0 percent to 0.25 percent to a range of 0.25 percent to 0.5 percent — in March 2016, the Federal Reserve announced that it would halt plans to raise rates further, due to overall weakness in the global economy, a move that would be expected to boost borrowing — and spending.
But while personal income and disposable income increased by 0.4 percent in March, consumer spending inched up just 0.1 percent, according to the Bureau of Economic Analysis. In fact, consumer spending has been decelerating, ever so slightly, for the last three quarters.
In April 2016, retail sales were up 1.3 percent, the largest increase in more than a year, according to the Commerce Department, prompting some to see evidence of a 'comeback.' But US consumers remain skittish.
There is an eery stillness in American retail that doesn't quite add up with the relative stability of the country's economy.
Fashion retailers have certainly been feeling the squeeze. The sluggish momentum is illustrated in the individual earnings reports of brands and retailers. Comparable store sales at Saks Fifth Avenue were down 1.2 percent in the quarter ending January 31, 2016. For the Neiman Marcus Group, comparable store sales were down 2.4 percent during that same period. Gap Inc.'s comps were down 5 percent year-over-year for the quarter ending April 2016. And Macy's weak first-quarter 2016 report — which included a 5.6 percent drop in comps — sent ripples through the stock market, as the S&P 500 dropped for a third week in a row, with apparel stocks falling to a three-month low. "We are seeing continued weakness in consumer spending levels for apparel and related categories," said chief executive Terry Lundgren in a note to executives. "In particular, our sales trend relative to expectations meaningfully slowed beginning in mid-March, and first quarter results are below our original outlook."
There is an eery stillness in American retail that doesn't quite add up with the relative stability of the country's economy. Perhaps it is because of a lack of POS system implementation to improve customer experience? If you'd like to learn more about POS systems check out https://toppossystem.com/best-retail-pos-systems/. In the past year, the US has been viewed globally as a place of opportunity. A still-weak Chinese economy, a turndown in European tourism related to terrorism fears, and an overall uncertainty in the global marketplace made the US feel like a safer bet. But the American shopper remains wary. In fact, the Consumer Confidence Index dropped to 94.2 in April from 96.1 in March.
The whys of these circumstances are wide ranging, and have broader implications than a few months of weak sales. They suggest that retail as we know it is forever altered.
"When oil prices, unemployment, and gas prices are low — and interest rates aren't necessarily high — generally people want to go shopping," says retail and fashion consultant Robert Burke. "I think that there are some factors that did not exist to the degree that they do today that have changed the patterns and the way in which people shop."
One such factor is the increasingly unpredictable weather. The majority of the US experienced an unseasonably warm winter and an unseasonably cool spring, meaning many retailers have already begun marking down their warm-weather product long before the peak of swimsuit season. While some nimble retailers can adjust inventory to an extent to better serve the conditions outside, most are wedded to the merchandise they ordered six months ago.
Another component is the presidential race. While retail is traditionally soft in an election year, the presence of a polarising candidate like Donald Trump has intensified the effect. "I'm in the malls three-to-four times a week, and all we hear about is the uncertainty around the election," says Gabriella Santaniello, retail analyst at A Line Partners. "Sales associates are talking about it in the stores, and that's unprecedented. I do think that it's touching consumers at all socioeconomic levels."
What's more, consumers are still recovering — if not financially, but emotionally — from the Great Recession, which wiped out many retirement accounts and sent millions of homeowners into foreclosure. "A lot of people have post-traumatic stress disorder when it comes to spending," says Todd Knoop, an economist at Cornell College. "The economy has evolved more quickly than people's [thoughts] on how the economy is doing."
But the recession also trained consumers to think differently about pricing. Thanks to season-end fire sales, near-continual markdowns and an increase in off-price retail channels, consumers expect virtually everything to eventually go on sale. "The increase in promotions has had a ripple effect," Burke says. "The luxury shopper used to be embarrassed to compare price or ask about price, and it's commonplace today."
Skittish customers equal skittish retailers, who have been more conservative in their merchandising approach since the Recession. The resilience of skinny jeans — which remain the core of many denim collections — speaks to this. "Retailers are afraid of making a statement," Santaniello says. "We've been looking at relatively the same trends for the past five years." When retailers do a adopt a new look — such as the off-the-shoulder blouse — they tend push every brand to offer their own version, creating more homogeneity within the store.
There has been a shift in values as well. A certain set of consumers — perhaps those with more expendable income — are wedded to buying fewer items of higher quality, turned off by conspicuous consumption. Many have also shifted their spending from things to experiences. "As a whole, the customer is more discerning about how she spends," Burke says.
However, post-recession conservatism is only one part of the equation. The breakdown of the economy happened to coincide with the rise of digital commerce, which has not only allowed consumers to easily comparison shop, but also encourages them to be more brand agnostic. "All of the sudden your consideration set is much bigger when you're searching via the web," says Lauren Kaufman Witten, head of retail at research firm L2. "For example, if you're searching for a Christian Louboutin shoe, three quarters of the first page of Google real estate goes to paid search." That means a consumer will not only see those glossy red soles, but also paid advertisements for often-like-minded brands.
That increase in options has created less loyalty among consumers, who are driven more by pricing and styling and less by the mythology around a name. "When was the last time brand was important, really?" Santaniello asks. "It might have been right before the recession when aspirational luxury was on the rise."
To be sure, brands and retailers alike shouldn't expect a post-recession boom any time soon. "Overall, consumers do seem more cautious than a decade earlier, but that is good news," argues Barry P. Bosworth, senior fellow of economic studies at the Brookings Institute, noting that, over the past three years, the saving rate has remained stable at about five percent of disposable income. "Certainly that is a more conservative pattern of behaviour than in the boom years of the late 1990s and the period before the financial crisis, but it strikes me a quite normal or sustainable type of behaviour."
___
http://www.businessoffashion.com/articles/intelligence/american-shopping-retail-decline-macys-gap-saks-neiman-marcus