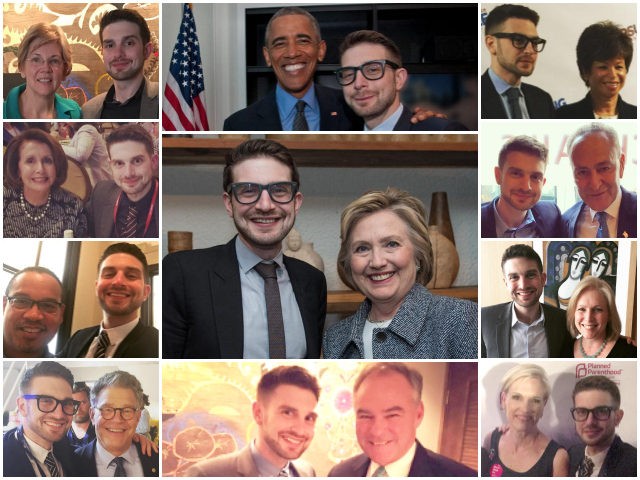 by MATTHEW BOYLE
Breitbart.com
Sen. Tim Kaine (D-VA), Democratic presidential nominee Hillary Rodham Clinton's running mate, dined exclusively with the son of progressive billionaire George Soros on Thursday evening, according to a photo posted on Alexander Soros' Instagram on Friday afternoon.
"Love this man!" Alex Soros wrote along with a photograph of him with the vice presidential hopeful. "Was great to have dinner with a man we need to call one day #vicepresident @timkaine last night! He is definitely the real deal!"
The fact that Alex Soros, who was inspired in his own progressivism by his controversial father, has unfettered access to Kaine—Hillary Clinton's running mate—is unsurprising. The Clinton apparatus has long come under scrutiny for their closeness with high dollar donor class figures, some of which has prompted federal law enforcement to fight for an official criminal investigation into the "Clinton Cash" narrative—one the Department of Justice (DOJ) under Attorney General Loretta Lynch has reportedly shut down. That being said, reports have surfaced that the U.S. Attorney for the Southern District of New York Preet Bharara is in fact investigating—along with the FBI—the Clinton Foundation for such donor class proclivities with the Clinton apparatus.
Even more troubling than the Clinton Cash narrative though is the fact that Hillary Clinton's tax returns—the 2015 returns were released on Friday—show that she and Bill Clinton have made a whopping $240 million since leaving the White House when George W. Bush won the 2000 presidential election. That's a long way from "dead broke," which they said they were at the time, and it's all from their governmental connections and paid speeches.
Alex Soros' Tim Kaine summit comes after a litany of other high-profile meetings he has had with top Democrats. In fact, during the Democratic National Convention (DNC) in Philadelphia, he got a coveted meeting—and photograph—with Hillary Rodham Clinton herself.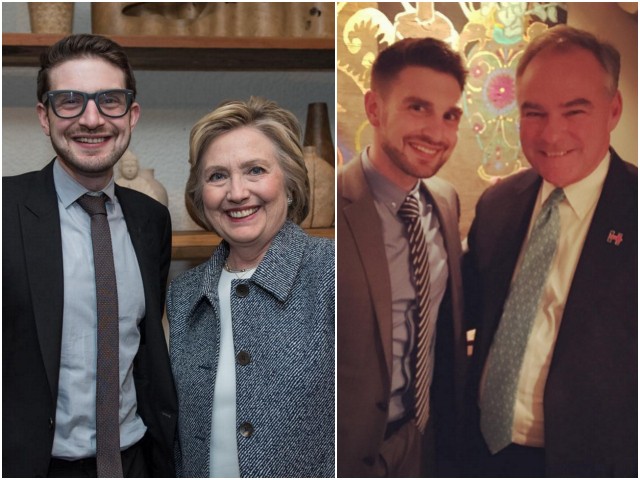 "There can only be one #womancrushwedensday today and that is of course @hillaryclinton, not just for being the first woman to run for president from this nation's two largest political parties, but I believe the best presidential candidate this nation could have today! Looking forward to seeing her crush it tomorrow! #wcw #hillaryclinton," he wrote about his meeting and photograph with Clinton herself.
In the past few months, he's gotten at least a couple of meetings with the sitting president of the United States—Barack Obama—photos of which he posted on Independence Day, July 4, and June 14. In the July 4 posting, Soros bashed the United Kingdom's decision to vote to "Leave" the European Union—called Brexit.
"A special #july4th #mancrushmonday for president @barackobama! Had European leaders and voters taken his advice they wouldn't be in this current mess," Soros wrote with the July 4 Obama picture. "After this farce called #brexit, I have never been more grateful to be American and for the institutions of #federalism, a written constitution, and a leader who doesn't runaway from his obligations! #independenceday #obama #mcm"
Alex Soros has also got photos with his father, George Soros, Sen. Chuck Schumer (D-NY)—the likely next Democratic leader in the U.S. Senate since Senate Minority Leader Harry Reid is retiring—House Minority Leader Nancy Pelosi, Sen. Al Franken (D-MN), Planned Parenthood president Cecile Richards, Muslim congressman Rep. Keith Ellison (D-MN), Sen. Kirsten Gillibrand (D-NY), Sen. Elizabeth Warren (D-MA), and the highly controversial Obama adviser Valerie Jarrett.
Perhaps more importantly here than just donor class globalist access to the Clinton apparatus, this Soros-Kaine summit for Hillary Clinton's campaign highlights how over the past few weeks this presidential election has become a true referendum for the major issues that Donald Trump wants the campaign to be about.
First off, despite her claims to now oppose the mega-trade deal she once supported as the "gold standard" of trade deals, the fate of the Trans Pacific Partnership (TPP) will be decided by voters in November. A vote for Donald Trump is a vote to eviscerate the TPP, and all deals like it, as he made clear in his rally in Erie, Pennsylvania on Friday afternoon.
After Reince Priebus, the chairman of the Republican National Committee (RNC), made a surprise introduction for him, Trump pitched himself as America's "Secretary of Keeping Jobs In the United States." He hammered the TPP, which is now dead and buried until after the election thanks to House Speaker Paul Ryan's primary challenger GOP businessman Paul Nehlen forcing the Speaker to take a position by which it cannot be resurfaced until at least the next president takes office.
While Hillary Clinton says she opposes it now, everyone knows that she would simply make a few minor changes to it, repackage it and force it through Congress on the fast-track Trade Promotion Authority (TPA). Trump, meanwhile, would nuke it entirely and offer Americans a whole new approach to trade policy that puts Americans first.
"Did you see her yesterday?" Trump asked the rallygoers in Erie of Hillary Clinton. "She has no clue what we're talking about. She has no clue. She has no clue. Crooked Hillary—she doesn't know anything about it, and by the way if she did she couldn't do it anyway because the donors don't want to do it."
Trump noted that "We've lost thousands and thousands of companies and we've lost millions and millions of jobs" thanks to the Clinton-backed trade policies, like the North American Free Trade Agreement (NAFTA). Pennsylvania, Trump said, has "lost one in three manufacturing jobs since NAFTA."
"Massive—that's massive," Trump said. "Since NAFTA. NAFTA was signed by Bill Clinton."
It's worth noting that Hillary Clinton still supports her husband's administration's major trade deal, NAFTA, and has not specified what exactly she would do on trade policy—so her history on the issue must be trusted.
George Soros, Alexander's father, supports the Trans Pacific Partnership on the condition that it add China into the mix—something Hillary Clinton has not ruled out, while Trump has.
"The Trans-Pacific and Trans-Atlantic Partnerships, which are currently being negotiated, could offer an excellent opportunity for a two-pronged strategy but the current approach is all wrong," George Soros wrote of the TPP and the Transatlantic Trade and Investment Partnership (T-TIP). "At present China is excluded; indeed the partnerships are conceived as an anti-Chinese alliance under U.S. leadership."
In addition to trade policy, on immigration policy, Soros supports mass amnesty for every illegal alien in America—something Hillary Clinton has promised to do within her first hundred days in office. Trump, meanwhile, opposes amnesty for illegal aliens and supports securing the U.S. border with Mexico once and for all with a wall.
Soros also backs the free flow of "refugees" from the Middle East—among other places—into the United States and Europe, despite the obvious risks and threats they pose to the local communities as evidenced by what happened to a 5-year-old girl in Twin Falls, Idaho, who was raped brutally by a group of "refugees." The local police department there, as Breitbart News has reported, has been filled with many of these "refugees"—in fact, 10 percent or seven of the 72 officers are "refugees."
Hillary Clinton wants to increase the number of refugees the United States is bringing in from everywhere in the world, including specifically 550 percent more from Syria—where the Islamic State is on the rise and Bashar Al-Assad's regime is oppressing people. Donald Trump wants to stop the flow until people are actually vetted, and use the power that the U.S. Constitution and federal law grants to the president of the United States to stop the flow.
Progressives and the leftist media have been befuddled as to how, despite a certainly rough past few weeks that really stretches back a couple months, Donald Trump is still standing. Hillary Clinton's campaign, and her allies in the media, thought Trump would be gone by now.
Sen. Jeff Sessions (R-AL) made this point on the Fox News Channel earlier on Friday.
"Donald Trump has had everything including the kitchen sink thrown at him," Sessions said. "And he's still standing in key battleground states. He's neck and neck with Clinton and I think as his message continues to roll out and the American people realize they have a chance to change the direction from this failed status quo, to a growth agenda that can make their lives better, he's going to move forward in the polls. He's leading in states that we haven't carried in 12 years. You can't win in this race without doing well in Ohio and Pennsylvania and some of these other states and he's doing very well there. He was leading in a poll recently in Iowa. This is strong even though it's been a rough, rocky week or 10 days here."
___
http://www.breitbart.com/big-government/2016/08/12/globalists-unite-hillary-clinton-running-mate-tim-kaine-dines-george-soros-son-donald-trumps-rise-terrifies-world-elite/