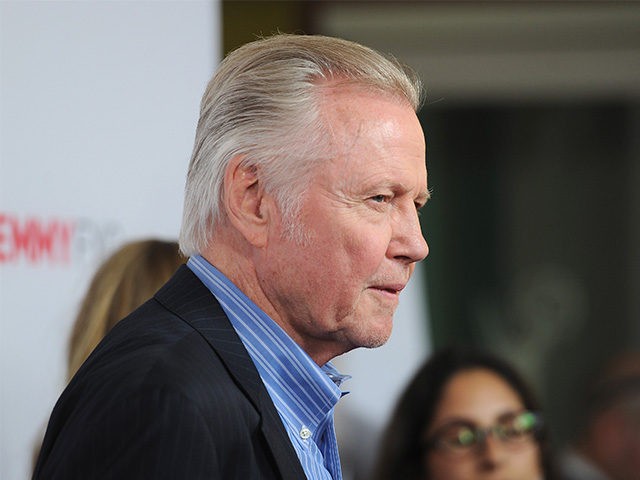 Actor and Donald Trump supporter Jon Voight lashed out at the media Tuesday for mischaracterizing the Republican presidential nominee's now-famous "Second Amendment" comment, which news outlets were quick to insinuate was a violent threat against Democratic candidate Hillary Clinton.
"People are trying to make him look foolish," the 77-year-old actor said of Trump in an impromptu interview with TMZ at a restaurant in Beverly Hills. "He's a terrific guy. I know him personally. He's got a good sense of humor. He's off the cuff. He's a lot of fun."
Trump made the comment in question during a Tuesday campaign stop in North Carolina while discussing what Clinton might do if she were to win the presidency.
"Hillary wants to abolish — essentially abolish the Second Amendment. By the way, if she gets to pick, if she gets to pick her judges, nothing you can do, folks," Trump said, adding: "Although the Second Amendment people, maybe there is, I don't know."
News outlets were quick to paint Trump's comment as a violent threat against Clinton's life, while the candidate's campaign and supporters said he was referring to the political power of Second Amendment supporters to exert pressure on politicians.
"He didn't say that word," Voight protested when the TMZ reporter said Trump had joked about "assassinating" Clinton. "Don't do that, don't distort what he said."
"You can be in a lot of trouble if people want to distort your words," the actor added. "That's what he goes through. All the time, every time. He's being attacked continuously. They're taking apart everything he does. He made a wonderful speech yesterday. Everybody should sit down and listen to that speech, because it's full of substance and it tells you what the problems are, and it tells you how to answer those problems."
Voight first endorsed Trump in an interview with Breitbart News's Joel Pollak in March.
"He's an answer to our problems. We need to get behind him. The Republicans need to unite behind this man," Voight told Breitbart in March. "We need somebody to go in and reconstruct us in a sort of way, get us back to where we were, who we need to be."
___
http://www.breitbart.com/big-hollywood/2016/08/10/jon-voight-rips-media-distorting-trumps-2nd-amendment-comment/