< span style="color: #000000;">Andrew Kaczynski
BuzzFeed News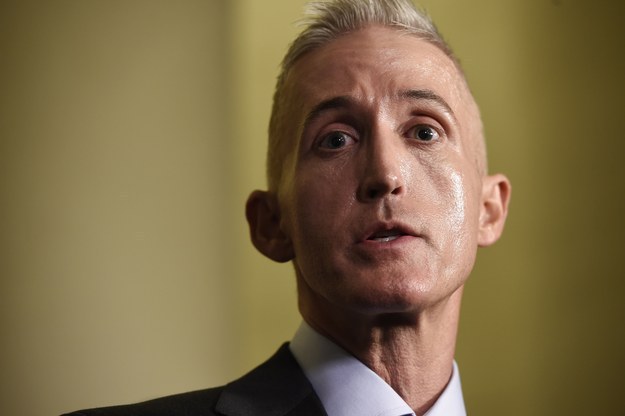 Saul Loeb / AFP / Getty Images
Benghazi Committee Chairman Trey Gowdy of South Carolina characterized the private email usage of former Secretary of State Hillary Clinton as "a smoking gun," in discussion on whether Clinton put U.S. intelligence information at risk by sending classified information over her private email account.
"I am very glad that our committee was the first committee to uncover the fact that here emails were not in public domain," said Gowdy on Tuesday on Kilmeade and Friends, a Fox News radio show before adding he was only interested in emails related to the Benghazi attack.
Gowdy, a former federal prosecutor, said he trusted the director of the FBI to recommend charges against Clinton if her actions proved criminal.
"I actually trust Jim Comey, who's the Director of the FBI, and I am not a trusting guy, I am not trusting of the government in general, but I think Comey is a straight arrow and if there is something to the national security or the potential criminality, I trust the Bureau to uncover it and we will all know about it," he said.
"I know we will," Gowdy assured Kilmeade, who said he wasn't sure we'd know if Clinton committed criminal acts.
"I was hired by Bill Clinton," he said. "The thing I love about federal prosecutors and FBI agents is there is no discussion of politics. These are career law enforcement officers. I'll tell you this, there are political appointees at DOJ, there are some, but the bulk of the folks who work there transcend administrations."
"If there is a good case presented for indictment or for prosecution by the FBI and that good case is turned down, you and I and the rest of the world will know about it and then the ultimate jury will weigh in in November 2016," he added.
Gowdy called Clinton's private email system the "smoking gun."
"We're up north of a thousand documents that have been retroactively classified as classified," he said. "Some of which may have been classified at the time they were received. When you're dealing with a handful of things sometimes the explanation is X, when you're up north of a thousand documents – I can't even fully get to that point. Because we have talked for so long about this unusual email arrangement she has had with herself. We have a tendency to just gloss over the fact that for two years none of her emails were in the public domain, so whether it is classified or not classified, this transparent administration that wants everybody to know everything did nothing for two years for us to find out what happened at the State Department. People want a smoking gun; I think her email arrangement is your smoking gun."
___
Trey Gowdy: Clinton's Email Arrangement Is "A Smoking Gun" – BuzzFeed News