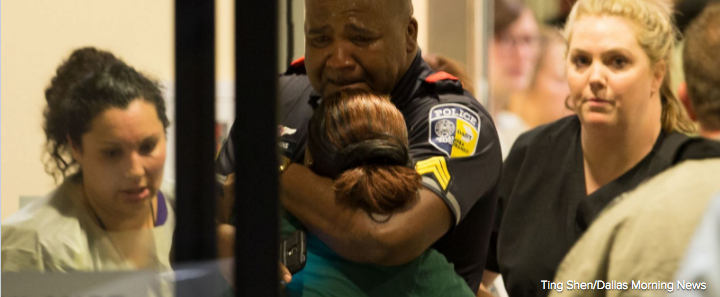 By DAVID CAPLAN EMILY SHAPIRO and MORGAN WINSOR
ABC News
Eleven police officers were shot ambush-style, including five fatally, in Dallas Thursday night by at least two snipers, amid a protest against the recent police shootings of two black men, Alton Sterling in Louisiana, and Philando Castile in Minnesota, according to the Dallas Police.
One of the suspects had engaged in a standoff for several hours with police, but a Dallas city official announced around 3:30 a.m. that it was over. It was not immediately known what his condition was.
The condition of the six wounded officers remains unknown. One civilian was also injured.
Officials said the gunmen aimed to kill as many officers as possible.
Among the officers killed, at least one was a Dallas Area Rapid Transit (DART) officer. DART tweeted it was "grieving the loss" of Officer Brent Thompson, 43. Three other DART officers were injured: Omar Cannon, 44; Misty McBride, 32; Jesus Retana, 39. A DART spokesman said "they are expected to recover from their injuries."
The number of dead initially was four, but around 2 a.m., Dallas police announced a fifth officer had died.
"It is a heartbreaking morning to lose these four officers that proudly served our citizens," said Dallas Mayor Mike Rawlings. "To say that our police officers put their lives on the line every day is not a hyperbole, it's a reality."
By 12:30 a.m. local time, three suspects were in custody and cops were in negotiations with a fourth, who was exchanging gunfire with officers.
Two of the individuals were taken in after one of them was seen carrying a camouflage bag walking quickly down Lamar Street in downtown Dallas. The individual then threw the bag in the back of a Mercedes and sped off. Police followed the vehicle and performed a traffic stop.
A woman was also taken into custody in the vicinity of the El Centro parking garage.
The fourth suspect was the individual engaged in a shootout with Dallas SWAT officers, police said, and a suspicious package was found near the suspect's location. Police said the package is being secured by the bomb squad.
That suspect told police "the end is coming…and there are bombs all over the place," according to Dallas police chief David Brown. That suspect also said that he planned to hurt more officers.
However, Maj. Max Geron of the Dallas Police Department said no explosives were found during primary and secondary sweeps of the city's downtown, in and around where the shooting took place.
Police say that their current assumption is that all suspects were working together.
"We're leaving every motive on the table," Brown said. It was yet to be determined if the attackers were part of the rally, but they appeared to be working together Brown added.
Police initially identified a man on Twitter as a "suspect" and distributed his photo. He subsequently turned himself in, and was later released by police. His relatives had said he was a protester and not a gunman.
Despite the suspects being in custody, Brown said during a press conference early Friday morning the department doesn't have "complete comfort level" that they "have all the suspects."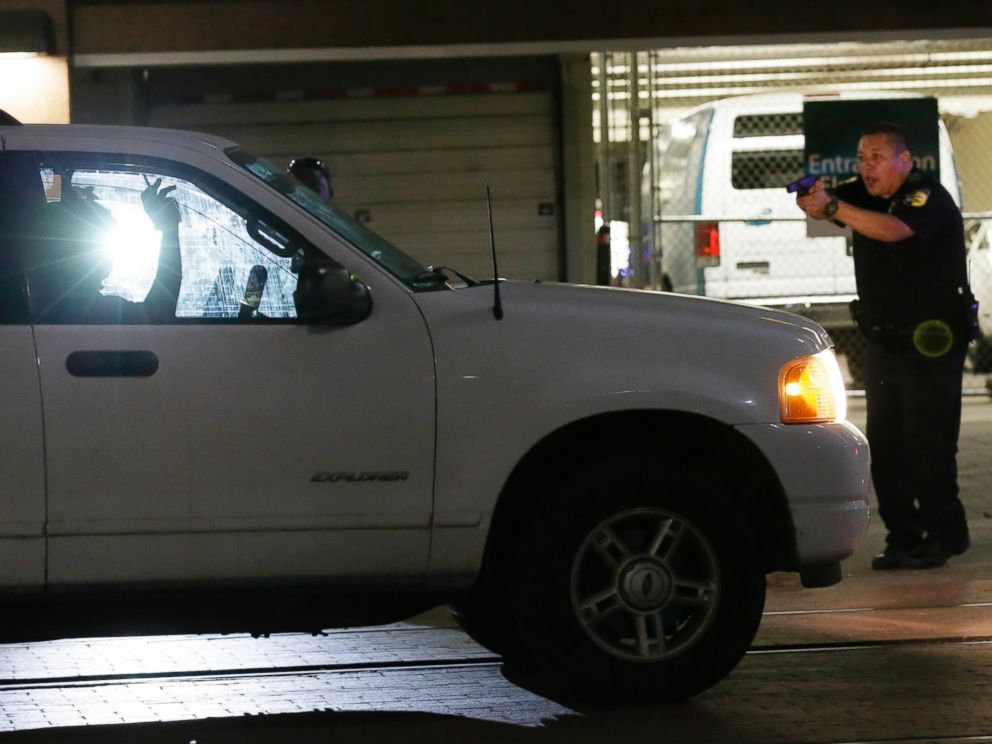 Dallas police stop a driver in downtown Dallas, July 7, 2016, following shootings of police officers.
Chaos erupted just before 9 p.m. when at least two snipers in elevated positions opened fire on officers, who were protecting protesters, police said. The family of 37-year-old Shetamia Taylor, the injured civilian, tells ABC affiliate WFAA that while at the rally with her four sons, she jumped on top of her son as shots were fired. She was shot and injured instead.
Some of the 11 officers were shot in the back, police said, adding that one civilian was wounded.
In an earlier statement, Brown said that two of the officers were in surgery and three in critical condition.
Police said the suspects were situated on two different perches or garages.
Marie Saavedra, a reporter with ABC Dallas affiliate WFAA tweeted, "MANY gunshots heard in video I captured in #Dallas, just before 9p as rally marched through downtown."
Following the reports of shots fired, public transportation was suspended in downtown Dallas: "DART rail and bus service in Downtown Dallas has been suspended due to criminal activity," read a tweet. The FAA also placed a temporary flight restriction over Dallas airspace, from 12:35 a.m. to 6:30 a.m.
Witnesses to the mayhem took to social media, including the Instagram user below, who shot video of individuals running frantically, while shots being fired could be heard.
Earlier in the evening, however, the atmosphere was significantly different, as depicted by these images and video the Dallas Police Department tweeted of the demonstrattion.
U.S. President Barack Obama called the Dallas shooting a "vicious, calculated, despicable attack" while speaking to reporters Friday morning in Warsaw, Poland. He described the killings of officers as a "tremendous tragedy" and as "senseless murders."
"We will learn more about their twisted motivations," Obama said of the suspects. "Let's be clear: There is no possible justification."
Obama, who arrived last night in Warsaw for the NATO Summit, is receiving regular updates on the shooting. The president was briefed this morning and asked his team to keep him up to date on any new information, according to White House press secretary Josh Earnest.
In a statement released early Friday morning, Texas governor Greg Abbott said. "Our thoughts and prayers are with the Dalllas law enforcement community and the Dallas Area Rapid Transit (DART) officers killed and injured this evening…In times like this we must remember — and emphasize — the importance of uniting as Americans."
___
http://abcnews.go.com/US/shots-fired-dallas-amid-protest-recent-police-killings/story?id=40422456