How do all of these shootings avoid the obvious discussion of pharmaceutical medications?

SOTN Editor's Note:
There have been countless shootings across the USA where it was conclusively determined that powerful prescription drugs, especially psychoactive and psychotropic medications, were being taken by the shooter over protracted periods of time.  This exact situation has been documented time after time without the MSM ever pursuing the real back story.
The article posted below in its entirety is another tragic example of a woman with mental instability who was quite likely on medication who simply went off.  It is not every day that a mother shoots both of her beautiful daughters in cold blood … in the street.  Something obviously made this woman explode with uncontrollable rage … and that something is quite likely to be her medication.
There has only been talk about mental illness in the press reports thus far; however, a closer examination would probably reveal a daily regimen of pharmaceutical drugs. Nevertheless, that side of the story never came out.  The MSM (mainstream media) is so beholden to Big Pharma that they are always certain to bury any possible drug connection to these shooting.  It's almost as though the pharmaceutical companies are holding their ad business over the head of the networks like the Sword of Damocles.
______________________________________________________________
Author's Note:
One alternative media platform really wrote some facts about this case which predicated this SOTN article.  The link below contains the following vital information for the investigative reporters among us to track down, especially where it concerns the prescription drug connection.

"Police Have Been Called to Sheats' Home 14 Times in the Past, Including for 3 Suicide Attempts"
(Source: Christy Sheats: 5 Fast Facts You Need to Know)
______________________________________________________________
Clearly, judging by the extremely expensive and intensive drug advertising ritual that Americans are treated to during the evening news, the ad revenue streams generated are quite HUGE!  Hence, there is a great incentive for the MSM outlets to squash any mention of the influence of drugs during so many crimes of passion carries out with firearms.
There are 3 crucial points
First, that Americans are the most addicted on the planet to their pharmaceutical drugs. Whether those medications are strong opiates for pain relief or SSRIs for depression and anxiety, the USA is number one in the per capita use of these dangerous drugs.
Secondly, Big Pharma derives massive profits from the most addictive drugs on the market.  Therefore, they have an inordinate incentive to push those medications through the offices of their glorified pharmaceutical salesmen—medical doctors.  Physicians have the trust of their patients and usually follow the doctor's advice.  The ignorance and gullibility of this captive audience has greatly contributed to a veritable public health disaster nationwide.
Thirdly, it has been established circumstantially that the drug companies work diligently behind the scenes to ensure that the true correlation between the truly spontaneous shootings (not the government-coordinated false flag mass shooting) and prescription drug never sees the light of day.  That's not to say that mind-altering drugs are not purposely utilized used when mass shootings do occur.  All of the patsies chosen to conduct those black operations are invariably on meds, and often have psychiatrists who have been treating them.
With this understanding it is now quite clear that many violent crimes against family members, neighbors, and co-workers are committed while under the direct influence of powerful psychoactive drug, as well as other forms of toxic pharmaceutical medications.
When will the American people wake up to this fact of life?  Much more importantly, when will they go after the drug companies that have been empowered to poison them by their government(s)?!
State of the Nation
June 28, 2016
Special Note:
SOTN sends our deepest condolences to the family and friends of the Sheats family.  We also send our most heartfelt prayers to those who are grieving.  Truly, this very sad saga has touched many people very deeply, both present and afar.
The upshot of this tragedy cannot be ignored or else similar episodes will continue to occur all over the country.  Hence, we also pray that the true reasons underlying Christy Sheats' acts of irrational violence emerge so that the necessary public discourse will not be denied. The presstitutes in the MSM, which have assiduously avoided this public health catastrophe, are now as responsible as the drug companies that push their poisons on the unsuspecting and lied-to public.  The complete lack of media attention on these drug-correlated shootings has always been a function of the massive money inflows made by Big Pharma (drug profits) and the MSM (advertising revenues).
~~~~~~~~~~~~~~~~~~~~~~~~~~~~~~~~~~~~~~~~~~~~~~~~~~~~~~~~~~~~~~
Why did Christy Sheats Texas mom shoot daughters dead?
BY CHRISTOPHER KOULOURIS
scallywagandvagabond.com
What led to Christy Sheats Texas mother shooting dead her own two daughters? Family home had been scene of prior police visits while neighbors recall 'great family'.
Christy Sheats a 42 year old Texas mother has died after been shot dead by police after earlier opening fire on her two daughters after a family dispute erupted and dragged out on to the street in a normally quiet suburb just outside Houston.
Killed at the mother's hands were daughters, Taylor Sheats, 22 and Madison Sheats, following an altercation spilling from inside the family home and onto the street in Flusher, Texas on Friday.
The mother's death came after Christy Byrd Sheats refused to drop her gun as responding police officers arrived at the family home.
At the time, daughter Madison was declared dead at the scene while elder daughter, Taylor died soon after being airlifted to hospital.
Did Christy Sheats object to Juan Sebastian Lugo, daughter's fiance?
Taylor Sheats killed by Christy Sheats three days before her wedding
Did Christy Sheats history of mental illness lead to shooting?
Christy Sheats husband, Jason: 'Don't do this. They're our kids.'
Christy Sheats gun lover: 'I want to protect my family'
A report via KPRC tells of the commotion beginning just after 5pm Friday, after police received an emergency call early Friday evening after a barrage of gunshots were heard.
Upon arriving, police found daughters Taylor and Madison lying outside in the 6000 block of Remson Hollow Lane, unresponsive. 
Upon their arrival, Christy Sheats was still holding a pistol, with a Fulshear police officer forced to shoot the defiant mother after refused to put her weapon down, said Troy Nehls, a Fort Bend County Sheriff.
Of question is whether the Christy Sheats was pointing the gun at the responding police officer or at one of her daughters.
A report via the Houston Chronicle told of the husband and father being home at the time, but not injured. The father was later taken to a hospital suffering from shock.
Told Sheriff Nehls: 'It was a family argument that turned into a shooting. But we're still trying to put the pieces together.' 
Asked why the mother resorted to killing her daughters, the police man said it was too early to establish a motive, adding: 'Right now, all we can do is try to pray for the father and the husband so he can try to work through this.'
An acquaintance of the family said 'they were always cheerful.'
Neighbor Austin Enke, who said he had attended school with one of the daughters, told KHOU: 'It's crazy. The neighborhood has never seen this kind of thing before. It's always quiet. This is surprising. They never showed any kind of thing that was wrong with them whatsoever.'
Told a neighbor via KTRK: 'Those parents are good. They are hard-working,'
'I do not know how this happened.'
However, other neighbors say there may have been marital problems.
Of note, authorities had been called to the family home multiple times in the past, but it remains unclear why.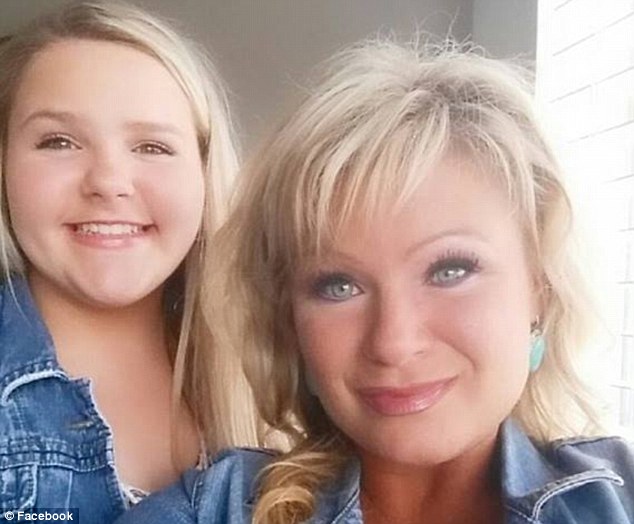 On September 2015, Sheats posted a photo of her two daughters on Facebook, writing: 'Happy Daughter's Day to my two amazing, sweet, kind, beautiful, intelligent girls. I love and treasure you both more than you could ever possibly know.' 
Tributes poured in for Taylor on Facebook on Saturday, where friend Joanna Higgins wrote on their high school alumni page: 'I'm in utter shock. She was so talented and had a heart of gold. God rest her soul and those mourning her loss.'
Madison's former teacher Whitney Mae Bruce wrote: 'My heart is broken this morning to find that my sweet Madison Sheats lost her life. Always positive and smiling, Madison quickly became one of my favorite students four years ago while teaching for the first time in Katy. 
'A wonderful student/person/babysitter will be missed enormously. Please pray for her father.'