SOTN Editor's Note:
Absolutely no disrespect intended but even Justice Antonin Scalia's eldest son, who is an attorney, appears to be clueless about the normal procedures which are necessary to determine the official cause of death.
How can a BAR-registered attorney even make such a foolish and uninformed statement except by coercion or force? His response defies all legal protocols and generally accepted medical practice where it concerns the official determination of anyone's cause of death.
That Justice Scalia was an extremely prominent SCOTUS Judge makes the son's statement all the more unbelievable and even more suspicious.  Is this the same son who cancelled his engagement to be with Justice Scalia at the luxury resort in Marfa, Texas where he was killed died?
Is the son bring trotted out on the media circuit to promote the official party line?!  Clearly he is not speaking as a law professional. It doesn't even sound like he wants to know the truth about his father's extremely untimely and suspicious death.
Again, something is VERY wrong with this whole picture.  Any failure to fully and objectively investigate the true cause of death will serve as another nail in the coffin of the American Republic.
State of the Nation
February 18, 2016
~~~~~~~~~~~~~~~~~~~~~~~~~~~~~~~~~~~~~~~~~~~~~~~~~~~~~~~~~~~~~~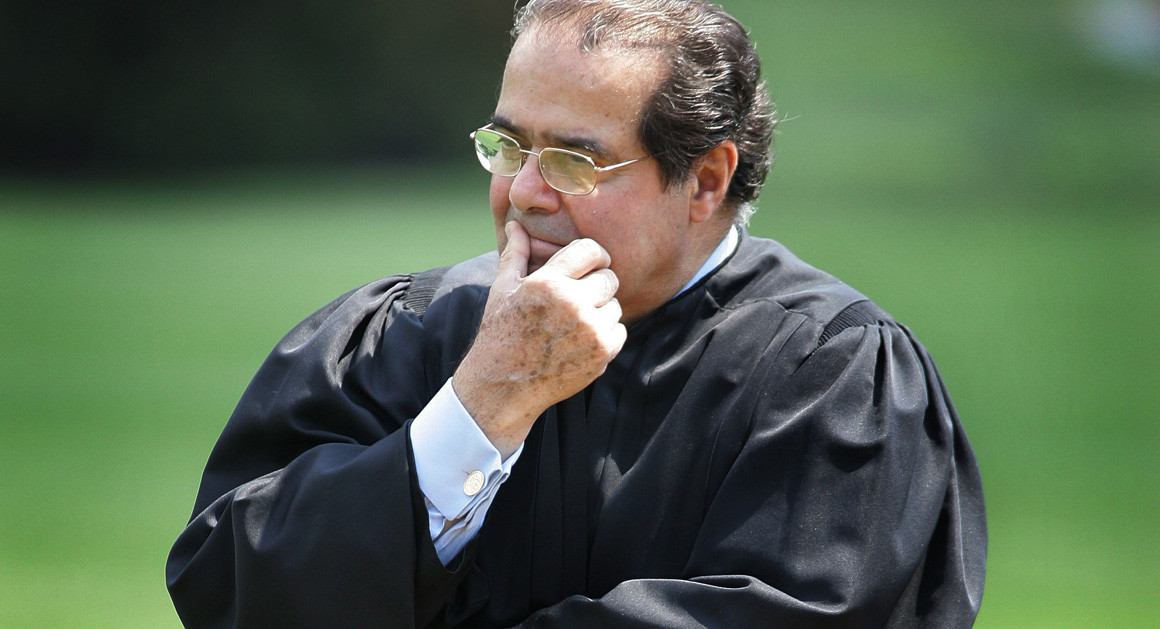 "Our family just has no doubt that he was taken from us by natural causes," Eugene Scalia said on the Laura Ingraham show on Wednesday. | Getty
Antonin Scalia's Son Just Revealed What He Really Thinks Caused His Father's Death
By JENNIFER SHUTT
POLITICO
The oldest son of Supreme Court Justice Antonin Scalia believes his father died of natural causes.
"Our family just has no doubt that he was taken from us by natural causes," Eugene Scalia, 52, said on theLaura Ingraham radio show on Wednesday. "We accept that. We're praying for him. We ask others to accept that and pray for him."
Scalia, who is an attorney, understands why people would have a hard time wrapping their minds around his sudden passing.
"My father, he was like a force of nature," he said. "He seemed sort of a permanent institution. But he'd have been the first to tell you — the first — that, you know, we're from dust, we return to dust. Your life can be taken from you at any instant. He was a month shy of 80 years old. He led this incredibly full and active life. But I knew, and he knew, that he was in a place in life where he could be taken from this world at any time, and that's what happened last week."
Scalia is one of nine children the late justice had with his wife of fifty-five years, Maureen. "Everybody loses their dad at some point," the oldest son observed. "And I feel blessed that it's not just the family who feels that he was great, but that there are millions of people who feel that and so many, like you, who are honoring it."
Eugene told Laura Ingraham that his mother is a strong woman who is holding up well. "I don't know that the Lord could design a better support network," he said. That includes "a built-in priest," the justice's son, Paul.
Justice Scalia, who was a devout Catholic, joked during an interview that Eugene and the other sons were relieved when Paul decided to "take one for the team" and become a priest.
The Associated Press reported on Tuesday, "The funeral [for Justice Scalia] will be held at 11 a.m. on Saturday at the Basilica of the National Shrine of the Immaculate Conception in Washington, D.C." The shrine is the largest Catholic Church in North America.
Scalia's body will lie in repose at the Supreme Court on Friday, where the public may pay their respects.
Ceremonial draping of Justice Scalia's chair. Photo courtesy of US Supreme Court.pic.twitter.com/zhucmCETRb

— Shannon Bream (@ShannonBream) February 16, 2016
As reported by Western Journalism, the late justice no doubt would have hoped the occasion of his funeral will be used to preach about "Resurrection of Christ, and the eternal life which follows from that."
"Weddings and funerals (but especially funerals) are the principal occasions left in modern America when you can preach the Good News not just to the faithful, but to those who have never really heard it," Scalia wrote in a private letter following the death of Justice Lewis Powell in 1998, which has since been published.
___
http://www.politico.com/story/2016/02/scalia-death-conspiracy-theories-family-reaction-219376?cmpid=sf