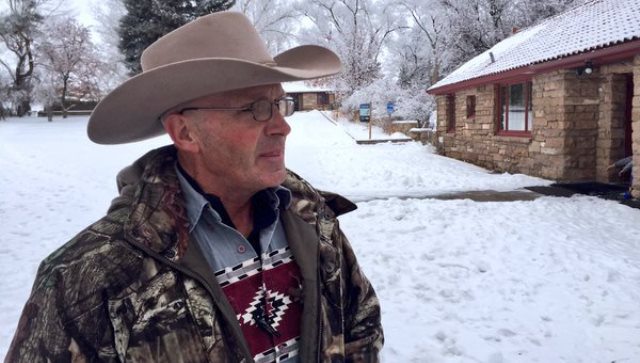 SOTN Editor's Note:
The following video shows exactly what happened with the shooting of LaVoy Vinicum.
His hands were up.  He posed no threat to anybody.
He was shot dead by officers who were at the roadblock site.
His cold-blooded murder by the state needs to be thoroughly investigated, and those guilty of this must be prosecuted to the fullest extent of the law.
VIDEO: Video of the Murder of LaVoy Vinicum
State of the Nation
January 29, 2016
The following 3 screenshots capture the moment-to-moment events just before, during and after LaVoy Vinicum was murdered.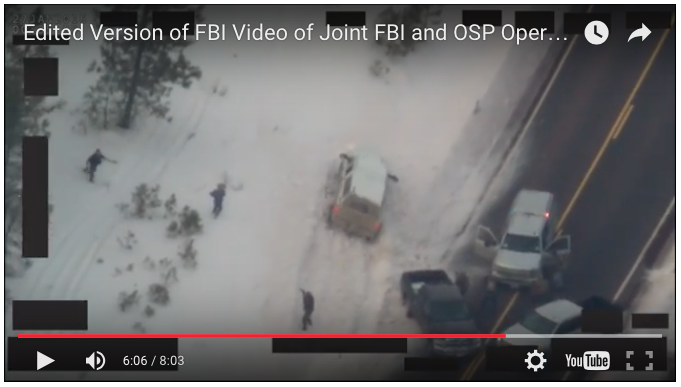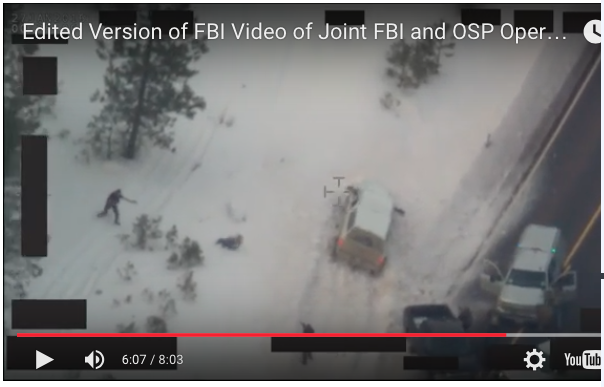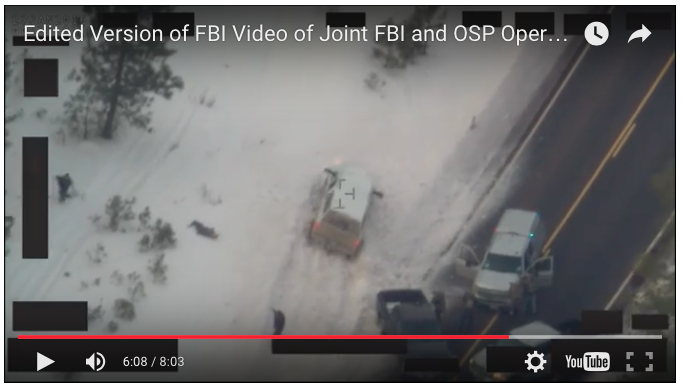 ~~~~~~~~~~~~~~~~~~~~~~~~~~~~~~~~~~~~~~~~~~~~~~~~~~~~~~~~~~~~~~
FBI Releases Video Of Shooting Death Of Oregon Occupier
ZeroHedge.com
On Tuesday, the FBI and state troopers arrested Ammon Bundy, his brother Ryan, and several others on their way to a speaking event some 20 miles north of Burns, Oregon.
Robert "LaVoy" Finicum – the self-styled "spokesperson" for the militiamen occupying the Malheur National Wildlife Refuge – was shot and killed by authorities in the arrests.
In the wake of Finicum's death there were conflicting accounts as to what exactly led police to shoot the 55-year-old Arizona rancher. Some suggested he was shot while his hands were in the air.
On Thursday, the FBI sought to dispel any misconceptions by releasing the following footage of the incident.
Edited version:
Full version:
While there's no sound and the video is shot from an FBI plane making it difficult to discern exactly what happened, it certainly appears as though Finicum reaches into his pocket – twice. 
It's true that he emerges from the truck (which had careened into a snow bank after swerving to avoid a police roadblock) with his hands raised, but for whatever reason, he reaches for his hip on two seperate occasions. The second time he reaches down, police open fire. "As state troopers trained their guns on Robert 'LaVoy' Finicum along a secluded eastern Oregon highway, he reached twice for a pocket that police say contained a 9 mm semi-automatic handgun," The Oregonian writes. "That's when they fatally shot Finicum, a video released Thursday by the FBI appears to show." Here's more:
It began as Oregon State Police officers and FBI agents stopped a Jeep and a white pickup as they traveled north on U.S. 395 toward John Day.

Finicum, an Arizona foster parent and rancher who acted as a spokesman for the occupation, drove the truck. It and the Jeep carried key leaders of the occupation that began Jan. 2. They were headed to a community meeting in John Day, with plans to spread their message against federal land control.

Instead, at 4:26 p.m., they were pulled over about 20 miles north of Burns.

Three occupants of the Jeep — including Ammon Bundy, the son of controversial Nevada rancher Cliven Bundy and a leader of the refuge takeover – got out.

In another frame, the video shows another occupation leader, Ryan Payne, getting out of the truck driven by Finicum, with his hands up. Three others remained in the pickup with Finicum, Greg Bretzing, a special agent with the FBI said.

As police stood by with guns trained on the truck, Payne was arrested.Finicum and his passengers remained in the idle truck for about four more minutes as officers hollered for them to surrender, Bretzing said. 

That period was blacked out in the [edited] video, which resumed with footage of Finicum's truck speeding away from the scene. As officers trailed in a black SUV and fired shots at the truck, it rounded two bends in the road, then rammed into a snowbank to avoid a police roadblock.

As it came to a stop, the truck nearly hit an officer who was standing alongside the road.

His hands raised, Finicum ran out of the car and toward the snowbank, yelling at police. Then, as police approached with guns drawn, he reached toward the left side of his waist. He began to put his hands back up, then reached down again.

Bretzing said Finicum was reaching toward a jacket pocket that contained a loaded 9 mm semi-automatic handgun.

The video shows Finicum being shot, then falling on his back. He raised his arm, then lay still.
"Actions have consequences," the FBI said, and "as the video clearly shows, it was a reckless action."
"On at least two occasions, Finicum reaches his right hand toward a pocket on the left inside portion of his jacket. He did have a loaded 9 mm semiautomatic handgun in that pocket," special agent Bretzing continued.
There were two loaded .233 semi-automatic rifles and one loaded .38 special in the truck. Although police wouldn't specify how many times they shot Finicum, they did say it was "in the single digits." He received medical attention once all of the truck's occupants had surrendered.
Finicum's death prompted calls from other armed militias for members to go by the "thousands" to Harney County where five occupiers remain holed up in the bird sanctuary.
Four of the five are free to go, while one is facing charges. The group says they'll leave if those charges are dropped.
"If they're not willing to do that, we're all just kind of willing to stay here and see what happens," one of the holdouts said. "Are they really going to kill five people for refusing to drop a charge on a man?"
We don't know, but based on the video shown above, it's probably not a risk the men should take.
___
http://www.zerohedge.com/news/2016-01-29/fbi-releases-video-shooting-death-oregon-occupier