by Sid Kirchheimer
AARP: SCAM ALERT
Just as sweepstakes scam season kicks off – these prize lies tend proliferate in spring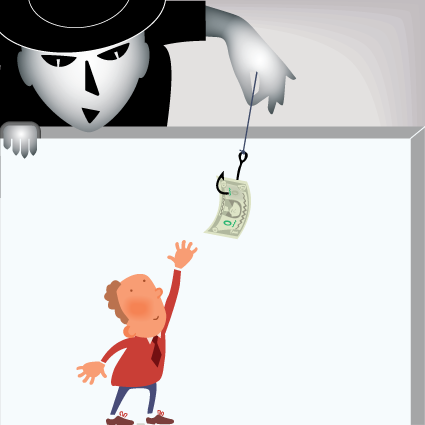 through summer – fraudsters have conceived a clever new con.
In random telephone calls, crooks claim there are "unclaimed" Powerball prizes that you can win by picking random numbers. Do that, officials say, and you may get a follow-up phone call alleging that your numbers won a lower-level prize of a new car and/or a boatload of cash.
But know this: "They seem to be 'casing' the consumers for future scams, asking them general financial questions about their investments and the values of their homes," warns theWisconsin Department of Agriculture, Trade and Consumer Protection.
Although this new ruse recently surfaced in the Badger State, it may be occurring elsewhere.
In one way, this scheme is a departure from the traditional M.O. of lottery and sweepstakes scams – which involves mailing you a bogus partial-payment check that you're asked to deposit and then having you forward a certain amount back to pay for taxes or processing fees, or requesting your bank account or personal information for a supposed direct deposit of winnings that never arrive.
In another way, however, it's an old trick. Some scammers identify potential victims by soliciting opinions, habits and personal wealth to gauge vulnerability to different schemes. Such info is shared in"sucker lists" bought and sold on the black market, sometimes detailing information about a target's finances and personal interests, along with specific fraudulent pitches that past victims have fallen for.
Considering that sweepstakes and lottery scams are huge – and nab those ages 55 to 64 at twice the national average and those older three times as often, according to the Federal Trade Commission – here's what you should know:
Powerball prizes don't include cars. Indeed, with nine ways to win, Powerball offers more bounty than just that well-publicized grand prize (sometimes akin to the gross national product of some countries). But the lower-tier prizes are only in cash – not merchandise – and while there's a $1 million prize, others are just $4.
And no matter the number of lucky numbers, you need to hold a dated ticket for drawings held twice weekly. Also know that officials do not call people – entrants or not – to offer a "second chance" to cash in; real winners must come forward with a matching ticket.
Unclaimed Powerball prizes are kept by the lottery jurisdiction, which includes 43 participating states and the District of Columbia. That money is either put back into future drawings or rolls into the state's general fund. So if real winners don't come forward to claim their prize, you certainly won't get it. Answers to other Powerball questions can be found here.
>> Get discounts on financial services with your AARP Member Advantages.
If you receive an unexpected "winning" check, it's a scam. That's not happening in this new Powerball ruse, but it's the bread and butter of similar scams. No legitimate sweepstakes or lottery issues partial-payment checks and asks for a portion back for taxes – or anything else.
If you win a legitimate contest, a portion of your jackpot may immediately be withheld for federal and state taxes, and you're responsible to pay any balance when filing that year's taxes (the IRS and your home state are notified of winners).
Those bogus partial-payment checks, with instructions to forward back some portion for taxes or other fees, work like this: The checks are counterfeit, even though your bank may immediately accept them and credit your account. It can take up to two weeks for banks to discover a fake check, and when that occurs, you could be on the hook for any money drawn from its deposit – including the amount forwarded for the alleged taxes.
If you didn't enter, you didn't win. End of story. No matter what you may be told.
For information about other scams, sign up for the Fraud Watch Network. You'll receive free email alerts with tips and resources to help you spot and avoid identity theft and fraud, and gain access to a network of experts, law enforcement and people in your community who will keep you up to date on the latest scams in your area.
___
http://blog.aarp.org/2014/04/02/powerball-scam-unclaimed-prize-claims-casing-you-for-future-fraud/