Ryan's rebuke of Thomas Jefferson's rules a 'non-starter' with conservatives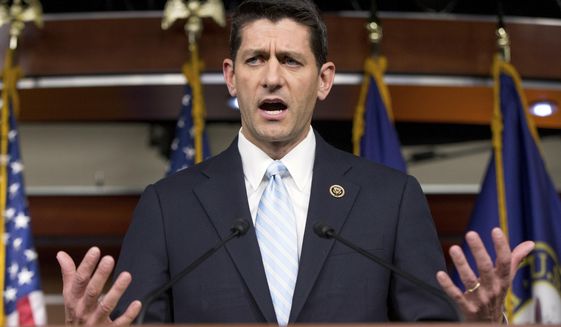 By Anjali Shastry and Tom Howell Jr. – The Washington Times
An influential Republican conservative said at least one of Rep. Paul Ryan's demands for becoming House speaker is a "non-starter" as the GOP gathered Wednesday morning to figure out if enough members can unite behind the young star.
Current Speaker John A. Boehner, who is retiring, told lawmakers the GOP will hold an internal vote next Wednesday to select their replacement, and then the whole House will vote Thursday to confirm Congress's top constitutional office.
Mr. Ryan had said he would only take the speaker's job if Congress eliminated the power to oust the speaker mid-session — something Rep. Raul Labrador, Idaho Republican, said would undermine the checks and balances that have been in the system since Thomas Jefferson first wrote the parliamentary rule book.
"That's something that's in the Jefferson's rules. This is something that if it's good enough for Jefferson, it's got to be good enough for Paul Ryan," Mr. Labrador said.
Known as the motion to vacate the chair, the parliamentary maneuver in question is a way for insurgents to topple their chief — similar to a vote of no confidence in parliamentary systems.
Such a motion was part of the trouble faced by Mr. Boehner, who is retiring amid intense dissatisfaction from conservative Republicans.
The House GOP has been struggling to fill his shoes, with general consensus that Mr. Ryan is the best man for the job. The Wisconsin Republican, however, has been reluctant, first saying he didn't want to spend the time away from his children that being speaker requires, and then saying he could do important work in his current job as chairman of the Ways and Means Committee.
But facing overwhelming calls, Mr. Ryan has reconsidered. On Tuesday he said he would take the job if his colleagues unite behind him and if they agree to drop the ability to force the ouster of the speaker.
It's unclear whether he can earn the 218 votes needed to win the speakership from Republicans, with grumblings from some members who emerged from Wednesday morning's meeting.
"I don't think the speakership is a 9 to 5 job," said Rep. Tim Huelskamp, Kansas Republican.
Those from several of the influential conservative caucuses said they are asking Mr. Ryan to meet with them Wednesday so he can make his case, and they can ask him questions.
One of those, the House Freedom Caucus, has officially backed Rep. Daniel Webster, Florida Republican, in the speaker's race, and members said that position hasn't changed — though they are willing to listen toMr. Ryan's pitch.
"We've been consistent — it's all about policy and rules and rule changes to make sure the members have an equal place in terms of potential legislative priorities," said Rep. Mark Meadows, the North Carolina Republican who offered the motion to vacate the chair that brought Mr. Boehner's situation to a head.
http://www.washingtontimes.com/news/2015/oct/21/paul-ryans-demands-include-non-starter/