House Leadership Under Threat Especially Boehner's Mafia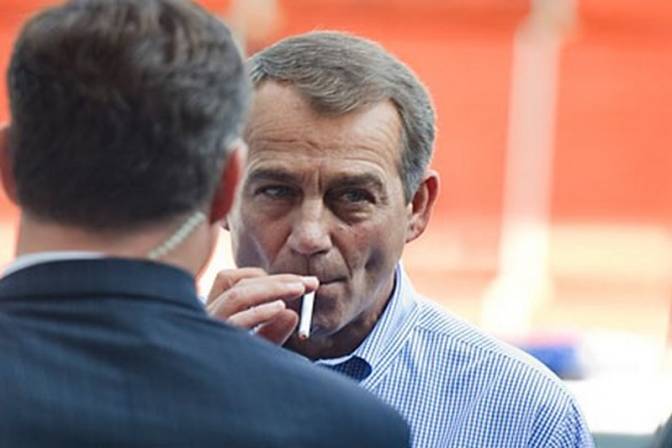 SOTN Editor's Note
It has never been so transparent as Speaker John Boehner's treacherous subversion of his own GOP House representatives.  His constant and reckless betrayals of Republican Conservatives are unlike anything ever seen in modern American politics.
Shocking and stunning are the only two words that describe Boehner's untrustworthiness and audacity.  As House leader, he has pulled off more perfidious acts of duplicity than anyone has ever witnessed in the House of Representatives.  And he has committed these deceits with such carefreeness and coolness … as though he would get away with them all.
For those who are uninitiated in the true workings of American government, it is important to understand that the Speaker is NOTHING but the ultimate political pawn. He is told exactly what to do by messengers from the Shadow Government that really runs the show.  Which is why John Boehner smokes so darn much … and always looks tan.
Boehner knows that ex-Speaker Denny Hastert was only prosecuted for a non-crime and sexual indiscretion at this late date as a direct message to him, Boehner  — Don't disobey your masters, or you will suffer the next highly publicized indictment. 
~~~~~~~~~~~~~~~~~~~~~~~~~~~~~~~~~~~~~~~~~~~~~~~~~~~~~~~~~~~~~~
GOP congressman launches bid to oust John Boehner as House speaker
By Mike DeBonis
The Washington Post
A Republican congressman has filed a request to oust House Speaker John A. Boehner (R-Ohio) in a new and unusual challenge to his leadership from the GOP's right flank.
Rep. Mark Meadows (R-N.C.) on Tuesday evening filed a "motion to vacate the chair," which, if successful, would force the election of a new speaker. Such a challenge has never before succeeded in the House, and only once before — 105 years ago — has it been attempted.
Meadows said Tuesday that he was trying to force a "family conversation" among Republicans on the course of congressional leadership after a series of conflicts between Boehner's leadership team and a cadre of a few dozen conservatives.
"It's really more about trying to have a conversation on making this place work, where everybody's voice matters, where there's not a punitive culture," he said. "Hopefully, we'll have some discussion about that in the days and weeks to come."
Meadows was at the center of a recent tiff when he was stripped of an Oversight and Government Reform subcommittee chairmanship after voting against a leadership-backed procedural vote on trade legislation. The post was restored after an uproar from fellow conservatives, but bad blood has lingered.
Meadows filed the motion a day before the House is set to take its final votes before leaving on a six-week summer recess. While a motion to vacate can be highly privileged under House rules if made on the floor, Meadows instead filed the motion as a resolution, meaning it will be sent to committee rather than the floor.
The resolution accuses Boehner of having "endeavored to consolidate power and centralize decision-making" and using "the power of the office to punish Members who vote according to their conscience instead of the will of the Speaker," among other offenses.
He indicated Tuesday that he will not seek a vote before the recess — and he may not seek a vote after the recess, he said.
"What I'm hopeful for is this provided perhaps the impetus to have a discussion, a family discussion, where we can start talking about how we can make sure that every voice, every vote matters, and really about representing the American people," he said. "Ultimately what I want to is to make sure everyone is treated fairly."
Meadows, while undoubtedly among the House's most conservative members, is not known as particularly fiery presence in the Republican caucus. A soft-spoken real estate developer from North Carolina's mountainous western tip, he is in his second House term.
Boehner's office did not comment Tuesday on Meadows's resolution, which was filed without co-sponsors. Members loyal to the speaker dismissed it, however, as a misguided and counterproductive salvo from a member on the fringe of the Republican caucus.
Rep. Devin Nunes (R-Calif.), chairman of the House Select Committee on Intelligence, called it a "gimmick."
"My guess is, he's probably in trouble in his district so he needs a way to raise money," he said.
Other members worried that Meadows's move, filed ahead of the summer recess, would interfere with Republicans' focus on opposing the Iran nuclear deal during the break — instead redirecting that attention toward an internecine party battle.
"We were focused on the Iran issue," said one Boehner loyalist, who spoke on the condition of anonymity because he did not want to comment before the speaker. "This takes the eye off the ball."
A motion to vacate would be likely to succeed only if Democrats joined with the small minority of conservative Republicans who oppose Boehner. Democratic leaders have suggested that they would be unwilling to join such an effort.
But the move could set up an embarrassing vote of no confidence in Boehner, who has had to fend off discontent from conservatives who have bristled at various legislative and managerial moves. That uproar stands to only grow over the six-week recess, thanks to Meadows's timing.
"I hope the talk show hosts who are so frustrated would pick up on this thing and beat the drum so loud that other members feel like they can be encouraged to join this effort to change the leadership of the House," said Rep. Walter Jones Jr. (R-N.C.), a frequent Boehner critic.
At least one conservative activist group, FreedomWorks, came out in early support of Meadows, praising him for his "courage and willingness to risk everything from committee placements to fundraising in order to do what's right."
"Every time defenders of freedom need a leader, John Boehner has failed us," said FreedomWorks chief executive Adam Brandon. "It's time to remove Boehner from the speakership before it's too late to pass bold reforms."
The move to challenge Boehner appeared to take even some of the House's staunchest conservatives by surprise. Jones said he learned of Meadows's gambit only hours beforehand, but he said he supported it.
"The people in my district are incensed," he said. "The leadership's not listening to the American people. … The frustration is a lot deeper than the leadership knows because they're not in touch with the average citizen, the average Republican."
Added Jones, "I know he feels like many members of Congress. He just has the courage to do something about it."
The full text of Meadows's resolution:
Whereas the Speaker of the House of Representatives for the 114th Congress has endeavored to consolidate power and centralize decision-making, bypassing the majority of the 435 Members of Congress and the people they represent;
Whereas the Speaker has, through inaction, caused the power of Congress to atrophy, thereby making Congress subservient to the Executive and Judicial branches, diminishing the voice of the American People;
Whereas the Speaker uses the power of the office to punish Members who vote according to their conscience instead of the will of the Speaker;
Whereas the Speaker has intentionally provided for voice votes on consequential and controversial legislation to be taken without notice and with few Members present;
Whereas the Speaker uses the legislative calendar to create crises for the American People, in order to compel Members to vote for legislation;
Whereas the Speaker does not comply with the spirit of the rules of the House of Representatives, which provide that Members shall have three days to review legislation before voting;
Whereas the Speaker continues to direct the Rules Committee to limit meaningful amendments, to limit debate on the House floor, and to subvert a straightforward legislative process; and
Whereas the House of Representatives, to function effectively in the service of all citizens of this country, requires the service of a Speaker who will endeavor to follow an orderly and inclusive process without imposing his or her will upon any Member thereof: Now, therefore, be it Resolved, That the office of Speaker of the House of Representatives is hereby declared to be vacant.