SOTN Editor's Note:
The evolving conflagration in Baltimore is neither spontaneous nor unplanned. Every stage of the build-up of tensions and anger has been carefully orchestrated by forces behind the scenes … just like Ferguson.
The only question that remains then is: "Who are those forces?"
All the circumstantial evidence points directly to government agent provocateurs acting directly at the scenes of the crimes to incite violence against law enforcement and property.  They are also obviously working "fast and furiously" behind the scenes engineering the next explosive event.
This is how government (as well as its hidden proxies and covert agents) have always utilized both hard and soft power to trigger the enraged populace anyway they can toward full-scale riots.  It's a formula used in virtually every race riot in American history.  In this way the attention of the citizenry is diverted from the real causes of discontent.
See what the mayor of Baltimore herself is guilty of in contributing to the manufactured lawlessness … and in broad daylight, with no attempt to hide her responsibility for the recent destruction!
"BALTIMORE MAYOR GAVE RIOTERS 'SPACE TO DESTROY'"
~~~~~~~~~~~~~~~~~~~~~~~~~~~~~~~~~~~~~~~~~~~~~~~~~~~~~~~~~~~~~~
Baltimore declares emergency as Freddie Gray riots erupt
BBC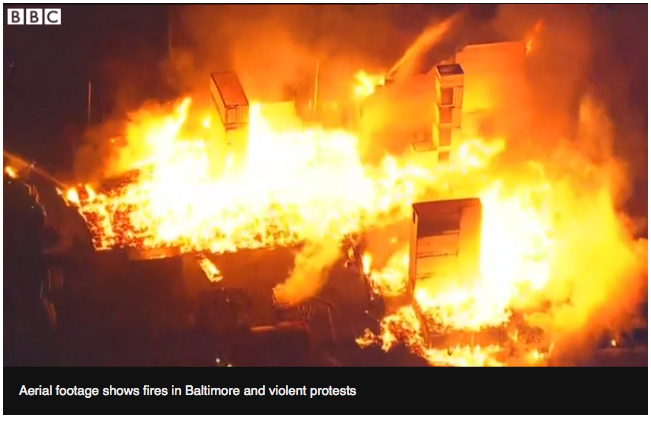 The US city of Baltimore has declared a state of emergency amid violent protests linked to the death of a black man fatally injured in police custody.
A week-long curfew has been announced and as many as 5,000 National Guard troops could be deployed.
After dark, a community building that was under construction was engulfed in flames.
Earlier, dozens of people were seen confronting police, and 15 officers were injured.
African American Freddie Gray, 25, died on 19 April after a week in a coma. The justice department is investigating exactly where and when his spinal injuries were sustained.
Officials have suspended six police officers who were involved in the case.
Monday's clashes began hours after Gray's funeral.
Baltimore Mayor Stephanie Rawlings-Blake said it was very clear there was a difference between the "peaceful protests of those who seek justice" and the "thugs who want to incite violence".
Authorities were "deploying every resource possible to regain control of the situation", she said.
Later, following violence, looting and fires in various spots across the city of more than 620,000 people, she said: "This destruction we've seen this evening is heart-breaking."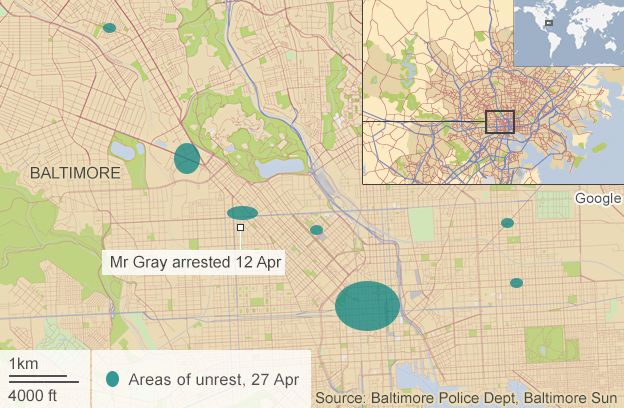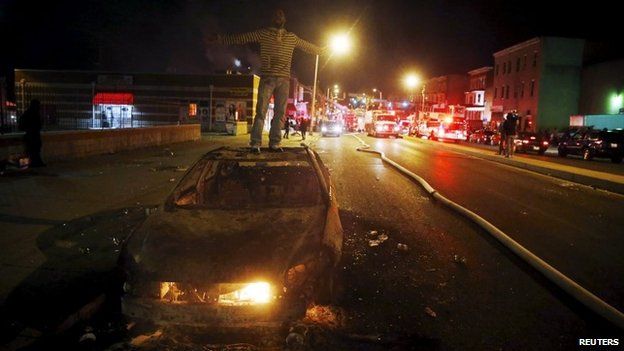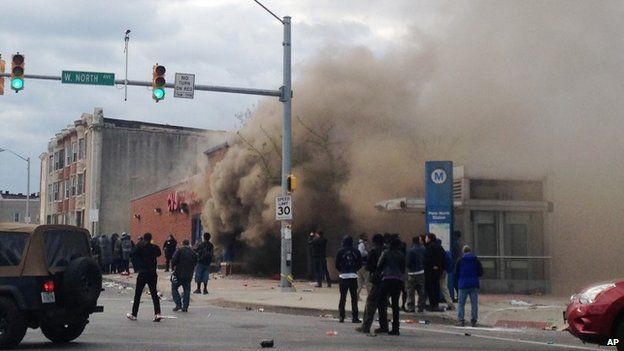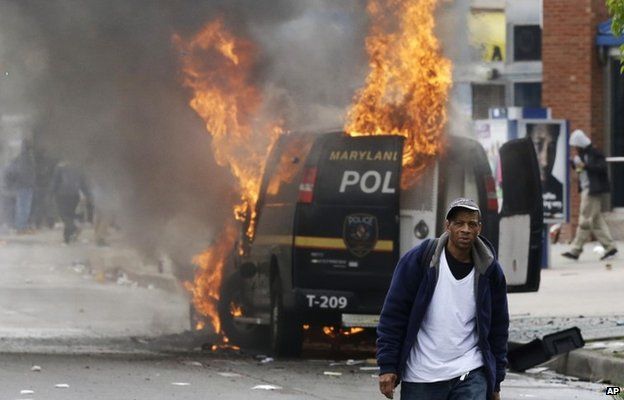 Ms Rawlings-Blake has ordered a week-long curfew from 22:00 to 05:00 (02:00 GMT to 09:00 GMT) starting on Tuesday. Public schools are to be closed on Tuesday.
National Guard commander Linda Singh said that up to 5,000 troops could be put on the streets.
"We will be out in massive force," she said, adding that armoured vehicles would be used, but the city would not be under martial law.
Extra police officers are also being drafted in from the Mid-Atlantic region.
Earlier, President Barack Obama said his administration would provide whatever assistance was needed.
Maryland Governor Larry Hogan issued an executive order to "protect the lives and property of citizens being impacted by this public emergency".
He said calling in the National Guard was a "last resort" and that he had "not made this decision lightly".
Capt Eric Kowalczyk of Baltimore Police said the 15 injured officers were wounded by thrown objects including bricks and bottles. Two remain in hospital.
Police made at least 27 arrests.
On Monday night, fire broke out at a newly constructed community building near a church in the east of the city.
Kevin Harris, a spokesman for the mayor, said the fire was at the Mary Harvin Transformation Centre, described online as a community-based organisation that supports young people and families.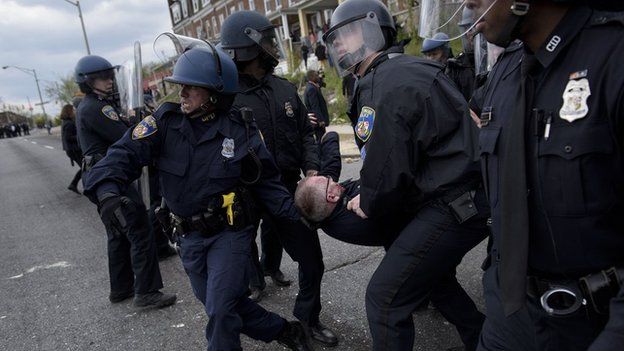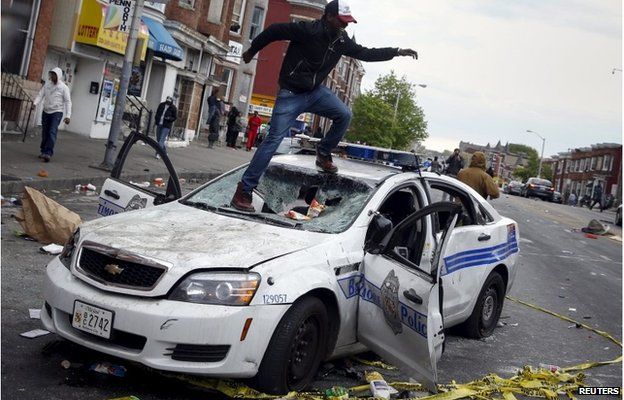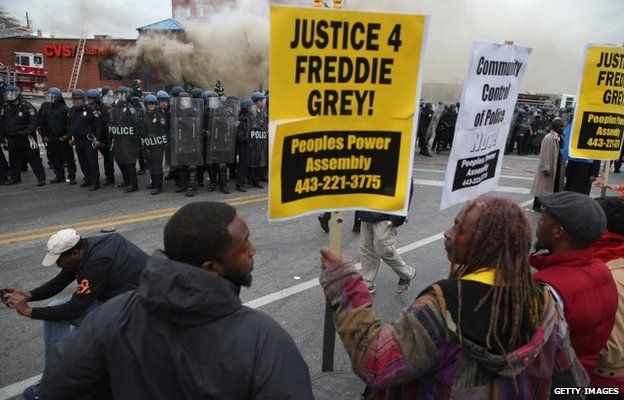 Before nightfall, scenes included a blaze at a CVS chemist, stores being looted and police vehicles being burned and vandalised.
Baltimore's Major League Baseball team the Orioles cancelled Monday night's game against Chicago's White Sox as a result of the violence.
Freddie Gray's death is the latest in a string of high-profile cases where black men have died after contact with the police.
Nationwide protests followed the killing of unarmed black teenager Michael Brown by a white police officer in Ferguson, Missouri, last year.
Baltimore officials likened Monday's violence to scenes witnessed after the 1968assassination of black civil rights leader Dr Martin Luther King and said the city had taken a long time to recover from it, urging calm.
Earlier in the day, a statement released by police said that its Criminal Intelligence Unit learned "that members of various gangs including the Black Guerrilla Family, Bloods, and Crips had entered into a partnership" to target officers.
The violence is an escalation of earlier protests. There were 34 arrests as peaceful demonstrations by about 1,200 people outside City Hall on Saturday afternoon got out of control.