Warning signs in the housing market
Do consumers and investors need to be worried about another housing bubble?
Money.CNN.com

Hopefully, the answer is no. But the question can't be ignored.
The housing market has roared back to life in the past few years. Times are once again good for big homebuilders such as Lennar (LEN) and KB Home (KBH), which both reported solid earnings reports earlier this month.
Other companies with strong ties to the housing market are doing extremely well too.
Home Depot (HD) and Lowe's (LOW) are near all-time highs. Business is booming for paint maker Sherwin-Williams (SHW), mattress king Tempur Sealy (TPX) and appliance manufacturer Whirlpool (WHR).
Look at the chart below. It shows the performance of two key housing exchange-traded funds: the iShares U.S. Home Construction (ITB) and SPDR S&P Homebuilders (XHB) ETFs.
Both of them are now at their highest levels since early 2007.
In case you forgot what happened to the housing market and economy shortly after that, the chart should serve as a painful reminder.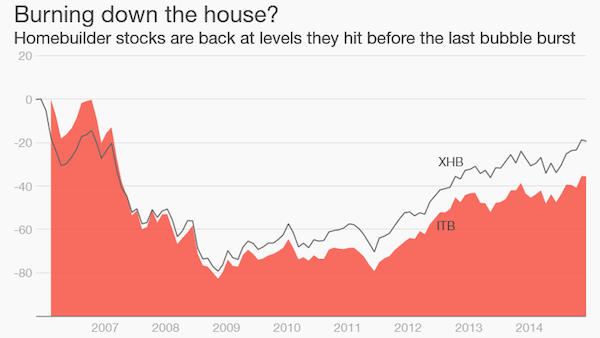 Now I'm not suggesting that the housing market is about to crash again. But with prices starting to perk up once more, some markets may be a bit frothy.
This is purely anecdotal. But it seems like a lot of people have become obsessed with Zillow (Z) estimates for their homes once more. That's definitely a sign that there is some speculative nature to the market again.
How long can this last? Mortgage rates have started to increase and could head higher once the Federal Reserve finally starts to hike interest rates.
At a bare minimum, the refi boom may be over. And if mortgage rates really spike higher, we could start to see a slowdown in both existing and new home sales.
Fortunately, there are no signs of that yet. Home sales topped expectations last month. But building permits plunged in February. Some of that may be due to the weather. But not all of it.
The huge drop in oil prices could hurt demand for housing in markets with close ties to the energy industry. Good luck trying to blame weakness in Texas and Louisiana on the winter weather.
And even though the job market is improving, many younger people are still choosing to rent (or live at home with their parents) instead of buying. That trend may continue if mortgage rates climb further.
Luckily, banks have tightened credit since the last housing bubble. Lenders are in much better fiscal shape than this time eight years ago. There shouldn't be another subprime meltdown.
But don't be surprised if the housing market starts to cool off for a bit given how spectacular the rebound has been. And if that's the case, economic growth may start to slow a little as well.