Will Ferrell's Comedy Skit About Child Trafficking is Disgusting (video)
In a deeply disturbing "comedy skit", Will Ferrell rents clown children to people and jokes about molesting them. Pure Hollywood sickness.
By Vigilant Citizen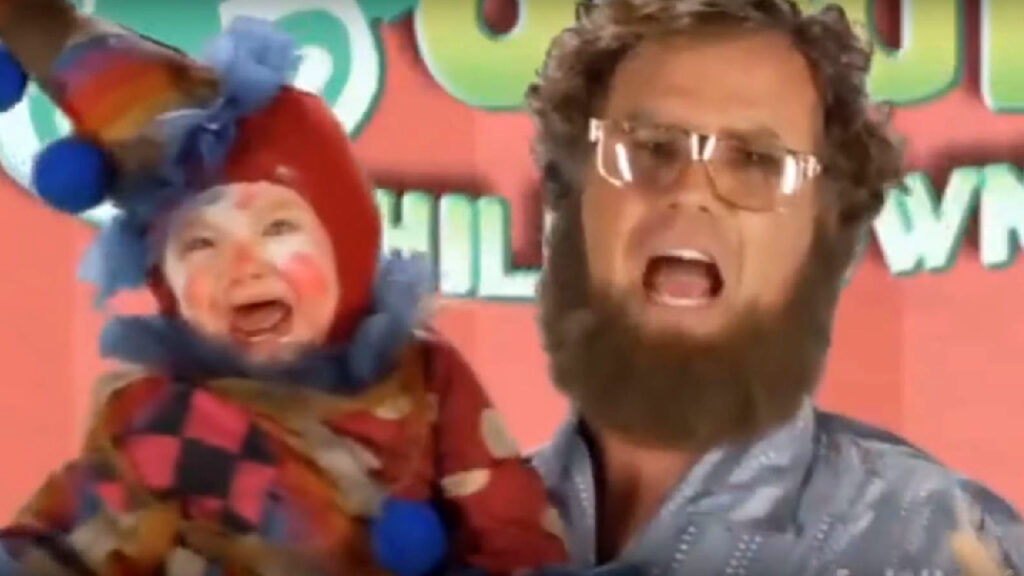 Will Ferrell has been yelling in our ears for decades and has made tons of money doing so. He starred in about seven thousand movies where he played the same exact role of a loud-mouth rube and people laughed every time.
But not this time. This time, it was deeply unfunny. Because this is not a "comedy skit", this is a window into their souls. It is an exposure of the true nature of Hollywood and those who run it. Here it is.
In this AdultSwim comedy skit, Will Ferrell is the owner of a "child clown outlet" who rents clown kids to people. Throughout this annoying skit, Ferrell says that the kids are "his seed" and jokes about "touching" them.
The entire thing is filmed with an annoying and deeply unsettling editing style that is reminiscent of MushroomLand … a viral YouTube channel that was also about the mind control and abuse of children.
In short, the video is about "breeding" children, abusing them, trafficking them, exploiting them, and killing them when they become useless. This is what actually happens in the occult elite's child trafficking system. This is not funny. Unless you're one of the sickos that take part in this.
A Widespread Disease
Why does Hollywood love to joke about abusing children? Nobody finds this funny. The very thought of this kind of stuff generates pure anger and revulsion in most people. But this his Hollywood. It lives in its own bubble. They are so drenched in this depravity that they feel comfortable joking about it.
Sadly, this is not my first article about Hollywood jerks joking about hurting and sexually abusing innocent children. Last year, we discovered in horror the long list of child abuse tweets by Disney director James Gunn. In another article, we looked at a comedy sketch by Dan Harmon (the co-creator of the popular shows Community and Rick and Morty) where he literally takes his pants off and violates a baby.
In both cases, the directors said "i'M sOrru, I dIdn't KnoW :(". They eventually kept their jobs and mass media embraced them with a warm hug because they're all part of the same system.
The main problem with this "comedy" is not the jokes themselves, but the mindset behind it. It is a well-known fact that Hollywood is a cesspool of child abuse and exploitation and these "jokes" are merely a reflection of it. In other words, the only people who find child abuse funny are child abusers.
Here's another thing these people love to joke about: Satanic blood rituals. Here's Will Ferrell (again) in a "comedy skit" about a Satanic ritual to ensure success in show business.
___
https://vigilantcitizen.com/latestnews/will-ferrell-made-a-comedy-skit-about-child-trafficking-and-it-is-disgusting-video/