Hurricane Dorian: 150 mph winds; Storm threatens Florida, Georgia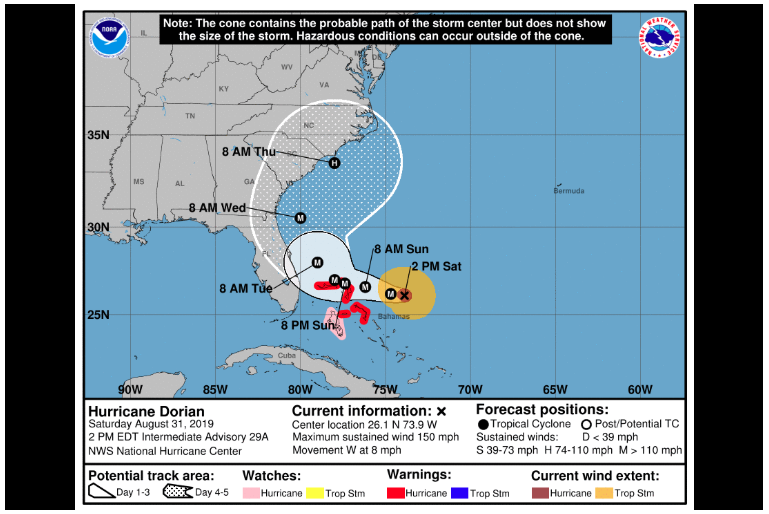 By GateHouse Media South and Wire Reports
Daytona Beach News-Journal
The National Hurricane Center's latest forecast has it off the coast of Florida at landfall, but they stress it could change and Florida residents would still feel its effects.
What you need to know:
Dorian is packing 150 mph winds, and forecasters predict it will flirt with top-of-the-scale Category 5 wind speeds of 155 mph later in the day as it menaces the Bahamas.
States of emergency have been declared in parts of Georgia and the Carolinas, in addition to Florida.
Where Dorian is headed:
The storm is expected to hit the northwestern part of the islands Sunday. Over two or three days, it could dump as much as 4 feet of rain, unleash high winds and whip up an abnormal rise in sea level called storm surge, according to private meteorologist Ryan Maue and some of the most reliable computer models.
After walloping the islands, forecasters said the ever-strengthening Dorian is expected to dance up the Southeast coastline, staying just off Florida's shore and skirting the coast of Georgia, with the possibility of landfall still a threat Wednesday. It will continue up to South Carolina early Thursday.
With peak winds of 150 mph, Hurricane Dorian is as imposing and threatening as ever as it churns toward Florida and the Southeast United States. But because of a shift in model forecasts toward the east, it is possible that Florida may miss the full fury of this severe hurricane while areas farther north into coastal Georgia and the Carolinas face an increasing risk.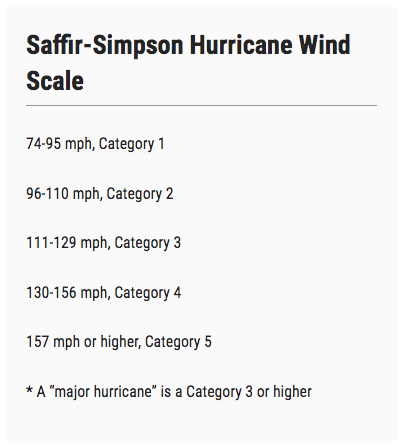 Even so, the National Hurricane Center is urging Floridians not to let their guard down and to continue preparing for an "extremely dangerous" hurricane.
"Life-threatening storm surge and devastating hurricane-force winds are still possible along portions of the Florida east coast by the early to middle part of next week," it wrote as a key message in its 5 a.m. bulletin. "Residents should have their hurricane plan in place, know if they are in a hurricane evacuation zone, and listen to advice given by local emergency officials."
The Hurricane Center shifted its official forecast track east, just off the Florida coast, but still within striking distance of the state. "It should be noted that the new forecast track does not preclude Dorian making landfall on the Florida coast, as large portions of the coast remain in the track cone of uncertainty," it wrote. "Also, significant impacts could occur even if the center stays offshore."
If the storm makes a close pass to Florida, tropical-storm-force winds could arrive as soon as Sunday or Sunday night.
11 a.m. Saturday update: Maximum sustained winds from Hurricane Dorian reached 150 mph Saturday morning as the Category 4 storm neared the Bahamas, the National Hurricane Center said.
In its 11 a.m. update, the storm was 415 miles east of West Palm Beach and moving westward at about 8 mph. It is expected to remain on this slower, westward path at least into the early part of the week.
11 p.m. Friday update: Hurricane Dorian continued to strengthen rapidly Friday night, swelling into a powerful Category 4 storm as it churned across the Atlantic toward Florida.
But the possibility that Palm Beach County may avoid a direct hit improved in the National
The center line of Dorian's latest projected path has it grazing Brevard County as a Category 3 storm Tuesday night, then veering north off the coast of northeast Florida.
That's a significant change from Friday morning, when the forecast's center line pointed squarely at Palm Beach County and meteorologists predicted Dorian would strike as a Category 4 storm.
The northward shift in the forecast comes amid new indications that a high-pressure ridge preventing the storm from moving north may experience "more significant weakness" than expected, the National Hurricane Center said.
The weakening of the mid-Atlantic ridge "allows Dorian to turn northwestward, then northward near the east coast of Florida," forecasters said in the 11 p.m. forecast.
But the hurricane center warned that the storm's center path is an uncertain one and that any area in the cone of possibility is at risk.
"Although the official forecast track has been nudged northeastward to near the east coast of Florida the risk of significant impacts over much of the Florida peninsula remains high," the forecast said.
Even as its track shifted, the storm continued to strengthen Friday night.
Sustained winds rose to a reported 140 miles per hour in the new advisory, a 25 mph jump in six hours.
Dorian is moving at 10 mph, slightly slower than on Thursday, along a western-northwestern path 545 miles east of West Palm Beach.
Preparations for the storm
In Florida
As Dorian closed in, Labor Day weekend plans were upended. Major airlines began allowing travelers to change their reservations without fees. The big cruise lines began rerouting their ships. Disney World and Orlando's other resorts could be at risk.
Still, with Dorian days away and its track uncertain, Disney and other major resorts held off announcing any closings, and Florida authorities ordered no immediate mass evacuations.
But some counties told residents of barrier islands, mobile homes and low-lying areas to flee beginning Sunday — though those orders in Brevard and Martin counties could change.
To prepare, homeowners and businesses rushed to cover their windows with plywood. Supermarkets ran out of bottled water, and long lines formed at gas stations, with some fuel shortages reported.
At a Publix supermarket in Cocoa Beach, Ed Ciecirski of the customer service department said the pharmacy was extra busy with people rushing to fill prescriptions. The grocery was rationing bottled water and had run out of dry ice.
"It's hairy," he said.
Coastal areas of the southeastern United States could get 6 to 12 inches (15 to 30 centimeters) of rain, with 18 inches (46 centimeters) in some places, triggering life-threatening flash floods, the hurricane center said.
Georgia and the Carolinas:
Although the risk of a hurricane disaster has decreased some in Florida, it has become more likely that coastal Georgia to the Carolinas will have to deal with serious effects from Dorian by the middle of next week.
"The risk of strong winds and life-threatening storm surge is increasing along the coasts of Georgia and South Carolina," the Hurricane Center wrote. But even here, there is large uncertainty in the storm track.
Irrespective of the storm's ultimate course near Florida's east coast to the North Carolina Outer Banks – or even inland – significant coastal flooding is likely due to the force of Dorian's winds and astronomically high or "King" tides.
The shape of the coastline from northern Florida through the Carolinas means there is a risk of significant storm-surge flooding there even if the storm's center remains just offshore.
In South Carolina, Gov. Henry McMaster declared a state of emergency Saturday afternoon in preparation for the storm.
"The executive order enables all state agencies to coordinate resources and sets into effect the State Emergency Operations Plan," according to the S.C. Emergency Management Division.
"The declaration by the governor also authorizes state and local emergency management agencies to begin mobilizing assets and resources to be staged along the coast ahead of any potential impact from Hurricane Dorian."
In the Bahamas:
The Bahamas should see hurricane conditions by Sunday, the hurricane center said, with "life-threatening" storm surges that are expected to raise water levels by 10 to 15 feet, with "large and destructive" waves near the coast.
"A prolonged period of life-threatening storm surge and devastating hurricane-force winds are expected in portions of the northwestern Bahamas, particularly on the Abaco Islands and Grand Bahamas Island," the hurricane center said in its 11 a.m. update.
Canned food and bottled water were disappearing quickly from shelves and the sound of hammering echoed across the islands as people boarded up their homes.
"Do not be foolish and try to brave out this hurricane," Prime Minister Hubert Minnis said. "The price you may pay for not evacuating is your life."
___
https://www.news-journalonline.com/zz/news/20190831/hurricane-dorian-150-mph-winds-storm-threatens-florida-georgia