JIM STONE: EPSTEIN GURNEY PHOTOS OF HIM SUPPOSEDLY DEAD ARE FAKED!!!
By: NaturalWisdom
Photo overlay text: Sign says "Please turn off engines," NYPD gurneys, a bunch on a hook, Compressed air hose – This filthy wall would not be in ANY hospital ANYWHERE.
Jim Stone, Freelance Journalist
http://82.221.129.208/.we1.html
EPSTEIN IS NOT DEAD, THE GURNEY PICTURES ARE FAKE AND I CAN PROVE IT!
THEY USED RANDOM TRAINING PHOTOS FOR THE EPSTEIN DEATH HOAX AND ONE OF THEM IS A PHOTO OF EMT'S TRAINING IN A NYFD GARAGE, WHERE THEY PARK THE FIRE TRUCKS. THEY SPLICED EPSTEIN ONTO THE GURNEY IN PLACE OF WHAT WAS PROBABLY A "RESUSCI ANNE" DOLL THAT WOULD BE USED FOR TRAINING. THE PHOTO HAS BEEN POSITIVELY IDENTIFIED AS HAVING ORIGINATED IN AN NYFD GARAGE, AND NOT THE HOSPITAL, WHERE THE NEW YORK POST CLAIMED HE WAS TAKEN.
GET THIS: Epstein's death was not recorded because the jail had "camera problems".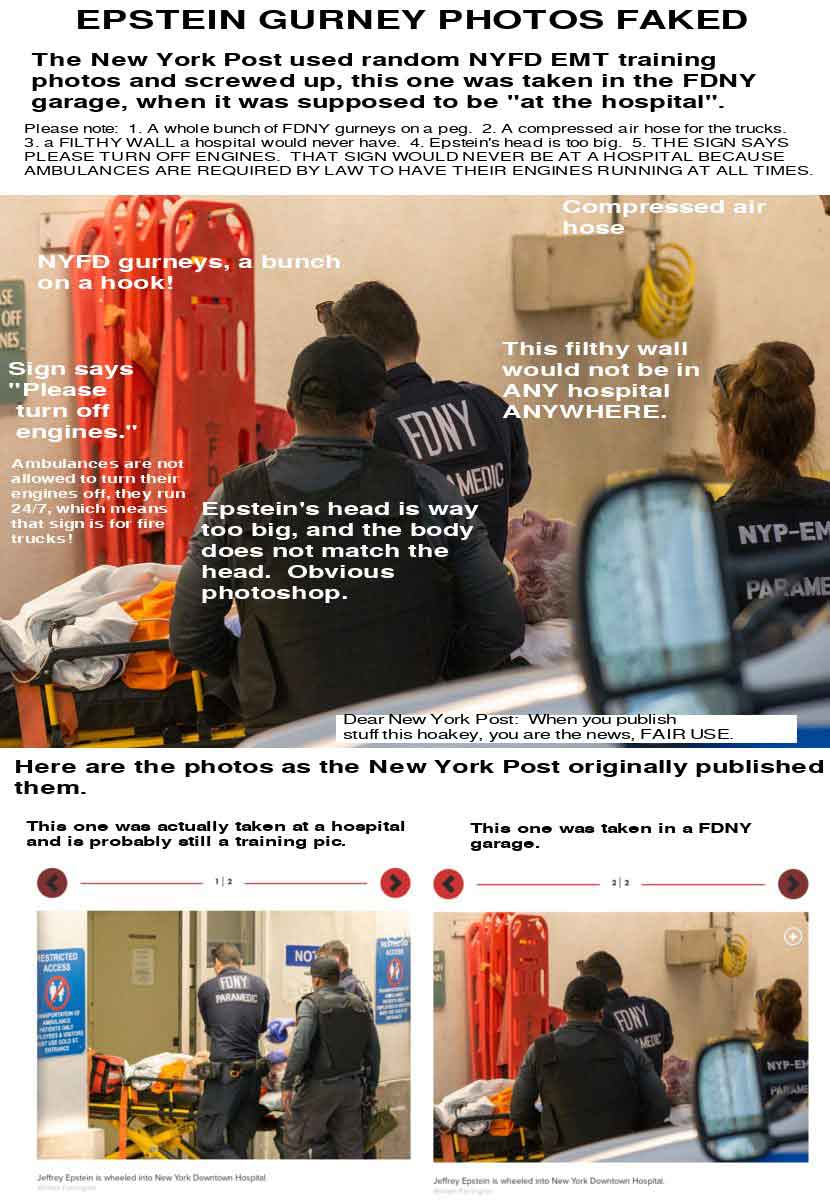 ___
https://www.rumormillnews.com/cgi-bin/forum.cgi?read=128941