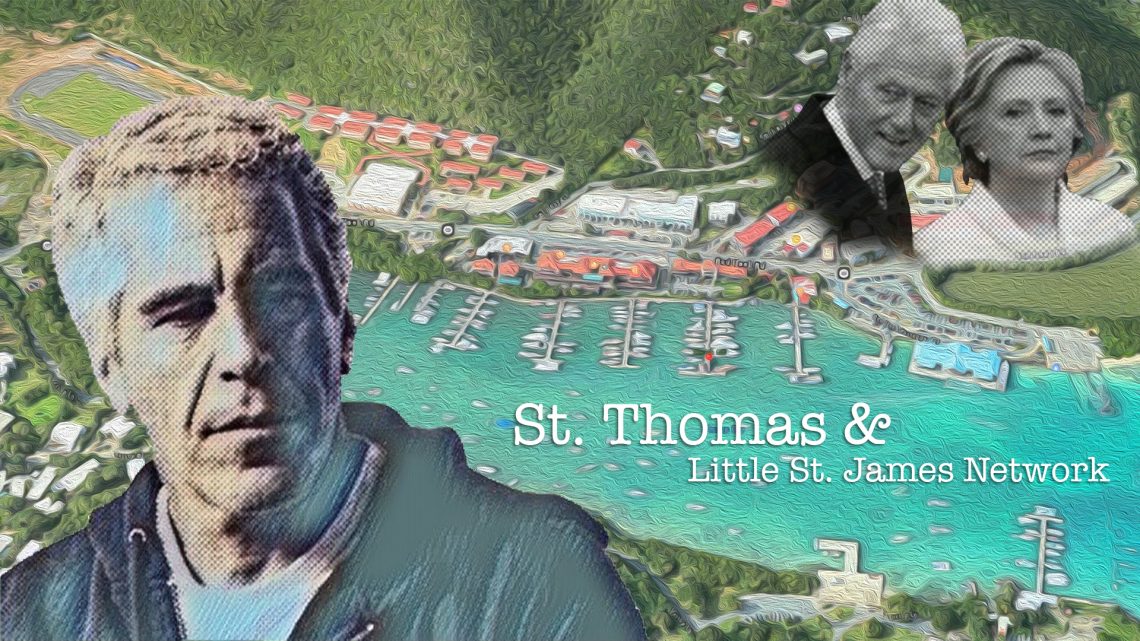 Jeffrey Epstein's St. Thomas Network, Comms, And An Elite School
Coreyis Digs
Convicted sex offender Jeffrey Epstein has quite a network in St. Thomas, VI, from a tax attorney setting up a microwave radio transmission for private comms to Little St. James Island, to owning 50% of a marina with billionaire Andrew Farkas, to a group of fascinating and well-connected ladies on the board of an elite private school that sits on 27-acres where Epstein's attorney was one of the first students. Coincidentally, many of these individuals have direct ties to former President Bill Clinton and the Clinton Global Initiative, in addition to corrupt former Governor of the Virgin Islands, John de Jongh and his wife Cecile. In fact, a big corruption investigation from years back tie some of these folks together.
• Many of Epstein's business addresses in Red Hook Quarter St. Thomas, where his 50% ownership in American Yacht Harbor resides, go to the marina – dock B, slip 3. Coincidentally, so does a CPA's who setup his private comms to Little Saint James.
• This network has tales of past corruption running up through legislators, a Clinton appointee, an Obama campaign bundler, and the former Governor of the Virgin Islands.
• There is an elite preparatory school that resides on 27-acres that is likely a grooming school for high-level positions, and some of the board members have ties to Jeffrey Epstein and the Clintons. Epstein's attorney Paul Hoffman was one of the original 13 students.
Understanding The Network Diagram Below
To put this complex network into a comprehensible structure, a diagram has been created with color-coded lines so that the connections can be fully understood. What does this represent? Antilles School would appear to be the hub of most of these connections. From there it filters out to the board members, most of whom have been on the board in varying positions for years. The ladies listed in the diagram, in connection with the school, are indicated in red. The founders and original 13 students of the school paint quite a picture as well, with one of the students being Epstein's attorney Paul Hoffman.
For example, Pamela Berkowsky is a Clinton appointee with a military background, who was made the former governor of the Virgin Island's chief of staff, until she abruptly resigned over a scandal. This was long after she had served as the assistant chief of staff to secretary of defense William S. Cohen. She is married to Adam Shapiro who operates several medical facilities in St. Thomas, is a plastic surgeon, has a transport pilot license, and was involved in the scandal with Berkowsky. Jeanne Brennan Wiebracht, is a licensed CPA who utilizes Epstein's address for her business, and is on documentation for an Epstein company that setup microwave radio transmission from St. Thomas to Little St. James Island. Claire Starkey is involved with the Clinton Global Initiative via her Fintrac company that was founded in 1990 and operates out of countries that overlap with the Clintons agendas. Marjorie Rawls Roberts was a campaign bundler for Barack Obama, assisted criminals in setting up tax breaks in VI, has worked with the Clinton Global Initiative, and is a political-power-wannabe who would likely do anything just to stand in their shadows. Roberts took Erika Kellerhals under her wing and showed her the ropes, before Kellerhals established her law firm – the firm that maintained the documents for Epstein's Gratitude For America Ltd. Foundation. Cecile de Jongh, former first lady to the Gov. was the manager for Epstein's Southern Trust Company, Inc., a company that donated to Antilles School. Amexa Rivadeneira, the director of foundation accounts for Catchafire, who works with the Clinton Global Initiative, used to serve in the senate office of Kirsten Gillibrand.
Oh what a tangled web they weave, and this is just a snippet of what this web has been up to. The details are in the backgrounds and affiliations, as well as locations they've operated in. All of these ladies diagrammed below, are not only serving the board of Antilles School, they are a tight-knit group, and are all friends on Facebook.
The Community Foundation of the Virgin Islands (CFVI) is another connecting point, that works with Antilles School, the Clinton Global Initiative, Fintrac, and Catchafire. Aside from serving on the board of Antilles School, Pamela Berkowsky, Clarie Starkey, and two other board members not diagramed here also served on the board of CFVI. Beginning to see the arms of control?
So why is former U.S. Attorney General Eric Holder indicated on this diagram? Holder was involved with big investigations into a financial criminal ring that went all the way up through legislatures, telecommunications companies, and the governor himself in the U.S. Virgin Islands. This corruption scandal dragged on for years, and it is alleged that Holder himself had put the brakes on it. The full story and the players involved is documented below.
Take a good look at the diagram below, study it, absorb everything that's been revealed above, and then scroll down to see the individual resumes of these folks with the key connecting points that ties this all together. The corruption scandal follows the resumes.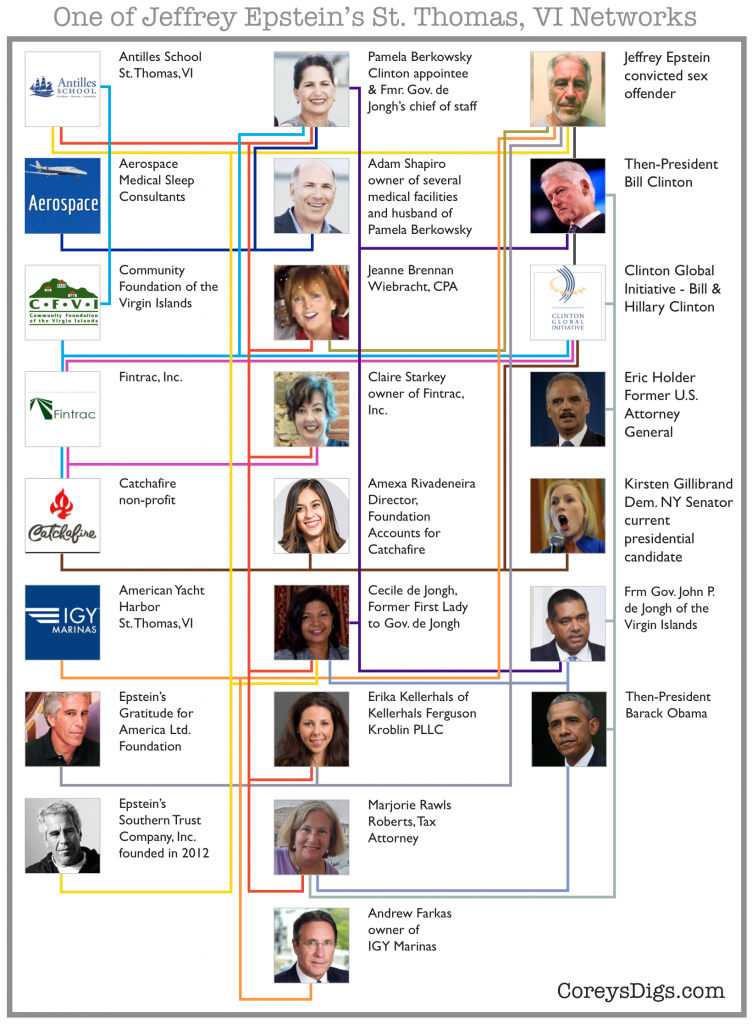 Continue reading at: https://www.coreysdigs.com/trafficking/jeffrey-epsteins-st-thomas-network-comms-and-an-elite-school/