Mitch McConnell Urges Dems to Pass Anti-Semitism Bill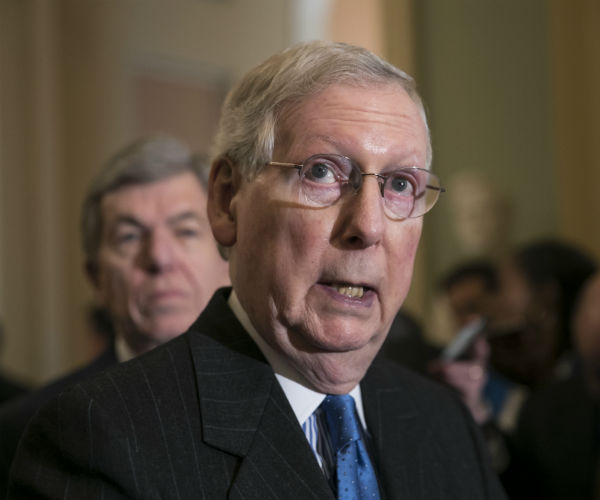 By Todd Beamon |  NEWSMAX
Senate Majority Leader Mitch McConnell on Thursday called on Democratic House Speaker Nancy Pelosi and party members to remedy "a sad and bizarre situation" and pass bipartisan legislation opposing anti-Semitism and condemning economic efforts to boycott Israel.
"Elected members of the Democratic Party are openly urging their leadership not to make them vote on condemning anti-Semitism," McConnell, R-Ky., said in Senate floor remarks. "Because for some reason, it is just too tough a vote.
"What a sad and bizarre situation we find in the House.
"I urge the distinguished Speaker of the House to do the right thing," the majority leader added. "Don't let these far-left voices run the House."
In February, the Senate approved bipartisan anti-Semitism legislation that included a provision slamming the Boycott, Divestment and Sanctions (BDS) movement targeting the Jewish State.
The House has not voted on the bill, though in March it passed a resolution condemning anti-Semitism and other bigotry following comments by freshman Rep. Ilhan Omar, D-Minn., suggesting that House backers of Israel had dual allegiances.
Pelosi, D-Calif., has not allowed the Senate bill, which passed with 77 votes, to come up for a vote.
"Let them vote," McConnell demanded. "I bet we'd see a pretty good outcome — and show anti-Semitism the door."
___
https://www.newsmax.com/newsfront/mitch-mcconnell-anti-semitism-bill/2019/07/18/id/925026/?oRef=mixi