Is Kamala The Chosen One? Top Harris Lawyer Is Same Operative Who Hired Fusion GPS For Hillary
ZeroHedge.com
With former Vice President Joe Biden's appeal fading fast amid campaign gaffes and a royal ass-kicking by Kamala Harris during last week's debate (which was planned months in advance), there is a growing consensus that the 2020 election will come down to Harris vs. Trump.
Not only have Harris's poll numbers been sharply accelerating while both Biden and Bernie Sanders have suffered recent hits, she's the clear primary winner right now according to PredictIt, which allows people to bet on the outcome.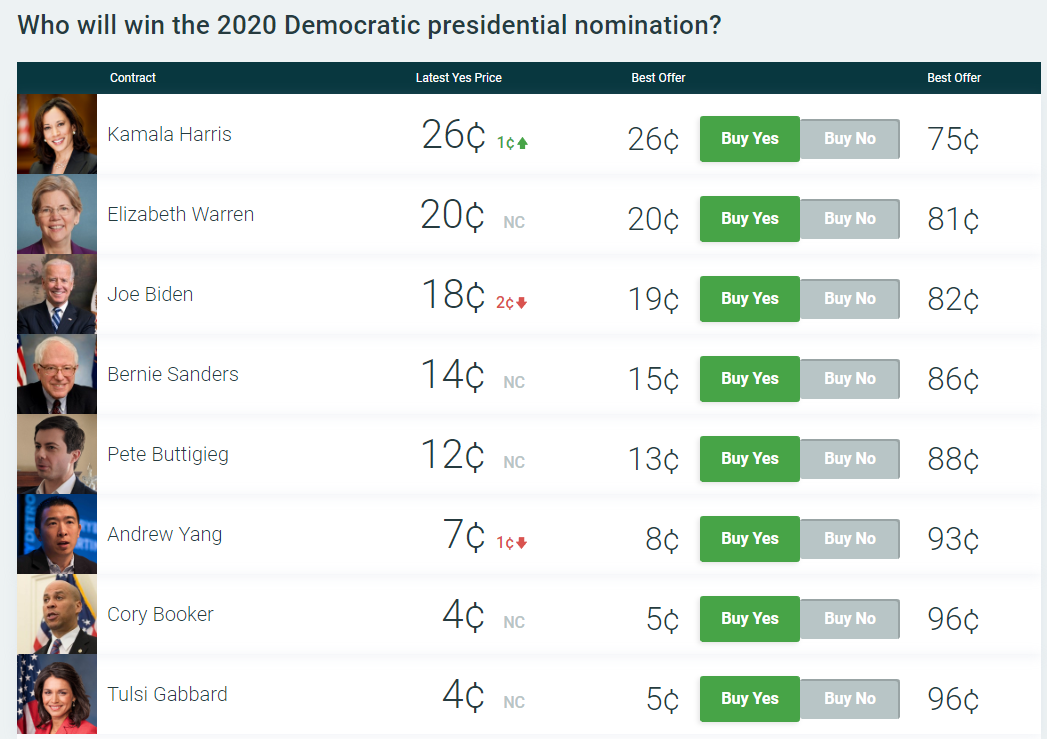 Want to know what else puts Harris at the top of the pack? According to the Washington Examiner's Jerry Dunleavy, her top campaign attorney, Marc Elias, is the same guy who hired Fusion GPS for the Clinton Campaign. 
Marc Elias, who heads Perkins Coie's political law group, became general counsel for California Sen. Kamala Harris' presidential bid this year. Elias, who held the same position in Clinton's campaign, is named in two pending Federal Election Commission complaints and in a recent federal lawsuit alleging that the Clinton campaign broke campaign finance laws when it used Perkins Coie to hire Fusion GPS. –Washington Examiner
Fusion GPS, in turn, hired former MI6 spy Christopher Steele to cook up a dossier full of fabrications about then-candidate Trump and his 2016 campaign, which was then shopped to media outlets and passed along to US intelligence, where it was later used to obtain a warrant to spy on Trump campaign aide Carter Page.
Dunleavy notes that in 2017, former Clinton campaign manager Robby Mook admitted that he authorized Elias to hire Fusion GPS, saying ""I asked our lawyer and I gave him a budget allocation to investigate this, particularly the international aspect." Mook said he received information directly from Fusion GPS or Steele about the Trump-Russia project.
"We were getting briefings that were put together by the law firm with information," said Mook, adding "I'm proud that we were able to assemble some of the research that has brought this to light."
Watchdog groups allege that Hillary for America purposely concealed the hiring of Fusion GPS and Christopher Steele by reporting all the payments that it made to Perkins Coie as "legal services" without mentioning opposition research. Perkins Coie was paid over $12 million between 2016 and 2017 for its work representing Clinton and the DNC. According to its co-founder Glenn Simpson, Fusion GPS was in turn paid $50,000 per month from Perkins Coie, and Christopher Steele was paid roughly $168,000 by Fusion GPS for his work.

Perkins Coie admitted in an October 2017 letter that it had hired Fusion GPS, claiming that "Fusion GPS approached Perkins Coie" in March 2016 with the knowledge that Perkins Coie was representing Clinton and the DNC, and that Perkins Coie then "engaged" Fusion GPS from April of that year until just prior to the November election "to perform a variety of research services during the 2016 election cycle." –Washington Examiner
According to an October 2017 report in the Washington Post, Elias personally "retained Fusion GPS … to conduct the research" which was "on behalf of the Clinton campaign and the DNC."
Meanwhile, don't discount Elias just because the Fusion/Steele/Russia gambit didn't pay off since Trump actually won the election, the guy is a stone-cold Democratic sharp-shooter.
"Marc is known as one of the most skilled professionals in Democratic politics, in addition to being the party's top election lawyer," said former national press secretary for the Clinton campaign, Brian Fallon in 2017, adding "I am damn glad he pursued this on behalf of our campaign and only regret more of this material was not verified in time for the voters to learn it before the election."
Which begs the question, what will Elias be doing for the Harris campaign?
Um… the former Hillary Clinton presidential campaign lawyer who hired the controversial Fusion GPS firm is now working for the Kamala Harris campaign

Kamala Harris is the chosen one #BlackHillary https://t.co/h5na88jlhr

— Ali Alexander (@ali) July 2, 2019
___
https://www.zerohedge.com/news/2019-07-02/kamala-chosen-one-top-harris-lawyer-same-operative-who-hired-fusion-gps-hillary