NYPD CHIEF "COMMITS SUICIDE" 1 MONTH BEFORE RETIRING; WAS DIRECTLY INVOLVED IN ANTHONY WEINER LAPTOP COMPUTER EVIDENCE HANDLING
Hal Turner Radio Show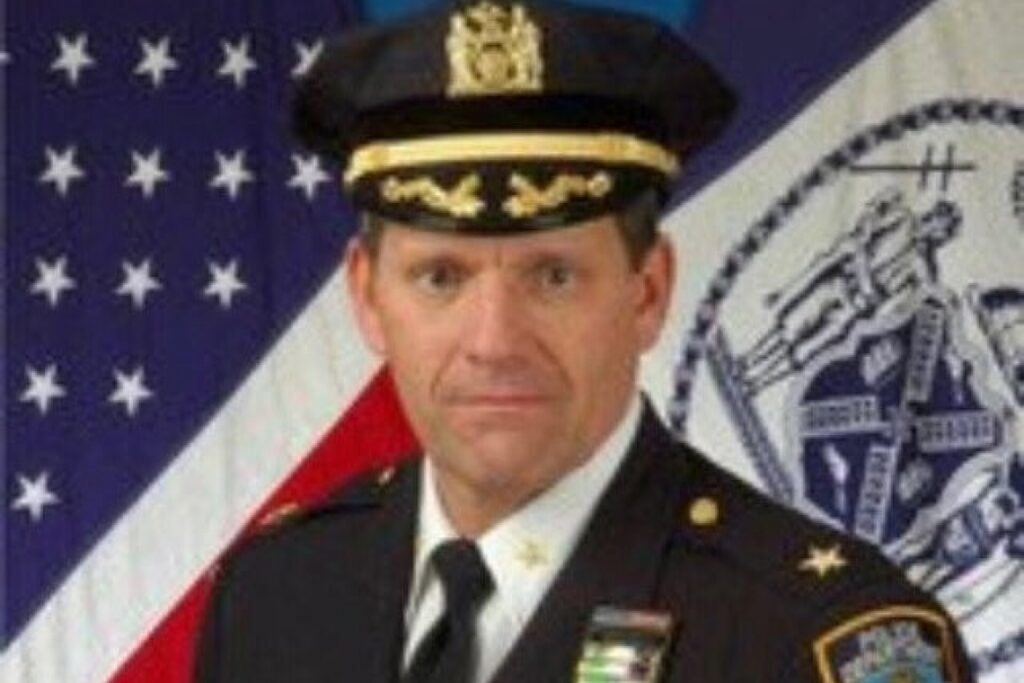 UPDATE 7:08 PM — NOW SECOND NYPD COP "MISSING" ALSO INVOLVED IN LAPTOP CASE . . . .
A high-ranking New York City Police Department officer has died from an allegedly self-inflicted gunshot wound to the head. Deputy Chief Steven Silks was found in an unmarked patrol car wearing civilian clothes Wednesday evening, just one month before he would turn 63 and face mandatory retirement.
He allegedly shot himself in the head, with the gun reportedly discovered beside him.
He was very closely and heavily involved in the investigation of the Laptop seized from former Congressman Anthony Weiner which allegedly held volumes of Hillary Clinton email evidence on it.
A fellow officer told the New York Daily News that Silks was deeply committed to the job. Silks reportedly submitted his mandatory retirement papers the day before.
"His family lives out of state. He's not married. He absolutely lived for the NYPD," the officer said. "He was admired and loved by everybody he worked with. He was aged out. He's the kind of guy who would have served until he died of natural causes."
Sources within the NYPD said Silks had expressed sadness ahead of his mandatory departure from the force. He had served the force for 39 years.
Other sources however, say the Deputy Chief was heavily involved in the sex crimes investigation of former Democrat Congressman Anthony Weiner, and that the Chief PERSONALLY OVERSAW the evidence-gathering from a laptop computer seized from Weiner in that investigation.
That laptop is alleged to have contained numerous emails from Hillary Clinton during her time as Secretary of State, and numerous files in a folder titled "Insurance Policy" which reportedly contained extraordinary details about child sex rings operated by – and for use of — high ranking government officials nationwide.
Ultimately that laptop had to be turned over by NYPD to the FBI, which allegedly "lost it."
Rumors have abounded for years that NYPD top brass took copies of the hard drive because they were suspicious of the feds, and wanted to make certain the evidence was preserved.
One high ranking NYPD official, at the time the laptop was seized, told media outlets he was sickened by what was on that computer, and if the feds did not pursue the necessary investigations, HE would reveal what the laptop contained!
It is now believed that Deputy Chief Silks WAS THAT OFFICIAL, but no one is confirming or denying that information at this time.
Was Chief Silks "Arkancided?"  The world is curious . . .
---
DEAD STATE SENATOR – ARKANSAS
Meanwhile,  authorities in Arkansas say they're investigating a homicide. Human remains were found outside the home of former State Senator Linda Collins-Smith, who Republican Party officials say has died.
An Arkansas State Police spokesman said Wednesday that the remains were found Tuesday outside the home in Pocahontas.
Property records show the home belongs to former State Senator Linda Collins-Smith and her ex-husband, retired Circuit Judge Philip Smith.
Police say the state crime lab is still determining the cause of death, but the local RUMOR mill (not yet verified) claims the Senator died from a gunshot wound.
• She was reportedly working with the US Department of Homeland Security to expose the missing $27M from DHS/Child Protective Services from Arkansas agencies.
• These funds are allegedly being placed into trade, and the dividends are rumored to being filtered back to the Clinton Foundation or owned shell companies, belonging to the Clinton Foundation. The missing $27M was discovered when it was revealed that that DHS in Arkansas allegedly had two separate sets of books.
• It's allegedly connected to a Federal Grant that requires a specific number of children be removed from their families to meet the required quota so that they're able to renew the grant again each year.
When it came out that this former Senator was involved in a Hillary Clinton related investigation a judge sealed investigative files!
The Randolph County prosecuting attorney's office announced Wednesday that Circuit Judge Harold Erwin had sealed documents and statements obtained by police."
---
SECOND DEAD SENATOR – OKLAHOMA
As if the two sudden deaths above weren't suspicious enough, the spate of dead public officials continues out of Norman, Oklahoma:  police are investigating after former state Sen. Jonathan Nichols was found dead . . . of an apparent gunshot wound inside his home.
Police confirmed in a press release Thursday they discovered the body of the 53-year-old inside his west Norman home after receiving a call Wednesday night of an individual with a gunshot wound.
Police say the case remains under investigation and that they are working with the medical examiner's office to determine the exact cause and manner of his death.
The Hal Turner Show is following-up on all these sudden deaths.
---
UPDATE 7:08 PM EDT — 2nd NYPD COP DEAD
BREAKING UPDATE *SEARCH FOR MISSING NYPD HOMICIDE DETECTIVE* His empty vehicle was found near the water off the Belt Parkway in Plumb Beach in Brooklyn.
NYPD on scene by ground, air and water looking for Det. Joseph Calabrese.
This NYPD Detective is a prominent figure, on FoxNews a lot!
Sources inside NYPD confirm this Detective was also involved heavily in the Anthony Weiner Sex Crimes investigation.
UPDATE 6:30 AM EDT (FRIDAY) —
Detective Joseph Calabrese has been found dead with what is believed to be a self-inflicted gunshot wound.
___
https://halturnerradioshow.com/index.php/en/news-page/news-nation/nypd-chief-commits-suicide-1-month-before-retiring-was-directly-involved-in-anthony-weiner-laptop-computer-evidence-handling